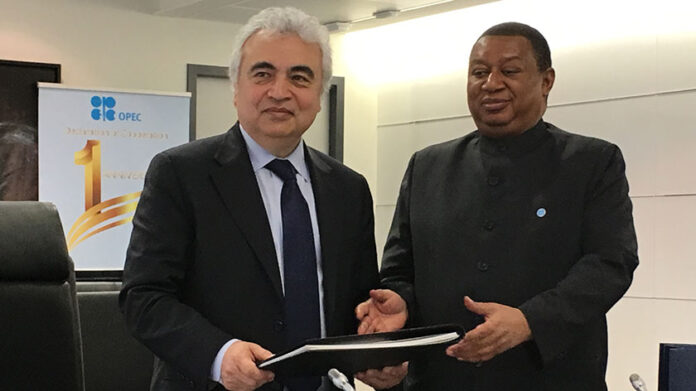 Dr. Fatih Birol, the Executive Director of the International Energy Agency, accompanied by a delegation of senior IEA officials, visited the headquarters of the Organization of the Petroleum Exporting Countries (OPEC) in Vienna today, and met with its Secretary General, H.E. Mohammad Sanusi Barkindo.
Dr. Birol and Mr. Barkindo underscored the growing working relationship between both organizations and their commitment to continued dialogue and cooperation. They also exchanged views on recent oil market developments. Dr. Birol's visit was a timely one, given this new impetus towards greater cooperation. Mr. Barkindo, along  with an OPEC delegation, had visited the IEA's headquarters in September 2016, a month after he had assumed office.
Today's meeting highlighted the sustained dialogue between energy producers and consumers that is necessary to enhance stability, security and transparency in energy markets. Dr. Birol and his team shared their views on current and future energy markets, as well as on cooperation with other international organizations.
Dr. Birol began his career at OPEC before joining the IEA more than two decades ago. He has since emphasized that a healthy dialogue between the IEA and OPEC is critical to help guarantee energy security in an environmentally sound and economically sustainable way.
"Whether it is under the 'umbrella' of the International Energy Forum (IEF), or through coordinated joint research activities, closer 'collaboration' and 'complementarity' between our two organizations have become the watchwords of the day," H.E. Mohammad Barkindo said.
"I am pleased to visit the OPEC Secretary General and the OPEC Secretariat," Dr. Birol said. "This meeting represents yet another fruitful opportunity to exchange views, discuss recent trends in the market and further deepen the important ties between our organizations."
OPEC's Secretary General has been a strong advocate of advancing dialogue and cooperation among producers and consumers.