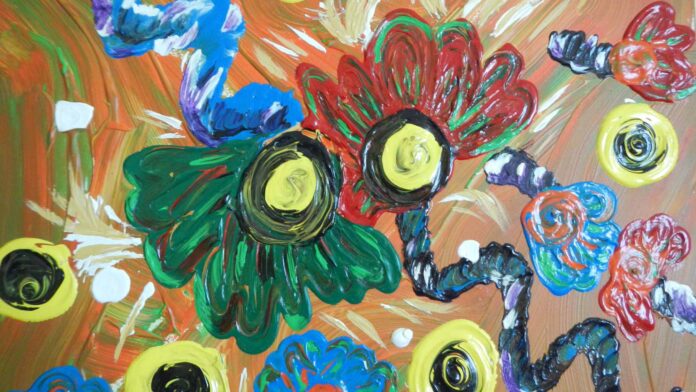 Emirati Artist Sarah bin Hendi's fascinating painting exhibition 'Colours of My Life' at FN Designs promises to take viewers on a walk around a garden full of flowers. Opening for public on 2nd May 2018, the two-day exhibition is the young artist's first solo show in Dubai and absolutely spectacular in every aspect. Featuring 23 paintings themed on 'Modern Abstraction combined with Pop Art', the collection is a kaleidoscope of colours.
Commenting on the intoxicating mix of colours, Sarah, said: "In my exhibition I want to show the viewers how color can affect their mind and soul, so they would live and feel a different and unique experience when they see my paintings. The purpose is to activate and motivate their imagination while examining each painting. More specifically, I want them to feel how each different combination of colors and brush strokes can attract their attention and make them feel the colors rather than just see them. I believe that colors have a tremendous effect on our lives."
Sarah's works are a psychedelic mix of different shapes and sizes. Elaborating on her style she said, "I hope I can introduce a new method on how to not just see artworks but feel the energy instead. In my paintings I always put and place the different shapes in a certain way, sometimes they're connected or aligned and at other times they're just flowing freely in the painting interacting with my color mixtures and brush strokes."
Sensorially rich and immersive, each painting in Sarah's collection has a story to tell. She stressed, " the different organic shapes and flowers in my paintings have their own meanings and stories in my works, but in my exhibition, I want the visitors and viewers to make their own stories and interpretations based on what they see and feel, so everyone would interact differently with each painting of mine.
There is a lot to see and buy at the exhibition. Despite a common theme, each painting is unique with a drastic difference in scale of density. While some are simple others are complicated constructs of colour and pattern. Flowers are the centerpiece in many. Talking about the inspiration behind her beautiful works, Sahar revealed, "I got my inspiration from the different experiences I went through in my life, and the interactions I had with some people who touched my heart and soul in a very deep way emotionally and artistically. So, I would say my art is the result of these emotional experiences combined with my imagination and personal interpretation of these interactions. Colors, flowers and a variety of organic shapes are main elements in my paintings. They symbolize various meanings and feelings to me. Flowers are the most dominant elements in my artworks, because I consider them as the strongest symbols of emotions and I always associate them with people."
Sarah is a Bachelor of Fine Arts from The American University in Dubai. In 2005 Sarah won a competition for Horse Design (Sheikh Mohammad's Sponsorship of Dubai's Celebration of the Arabian Horse). In the same year she also participated in a Post-It Note competition '3M Post-It Competition' whereby her work was selected for an exhibition in Burjuman.
Gallery Location: FN Designs, Alserkal Avenue, Unit #26, Al Quoz 1, Street 8, Dubai, UAE
FN Designs Timings: 10 am to 6pm from Sunday to Thursday
For media contact:
Hina Bakht
Managing Director
EVOPS Marketing & PR
Mob: 00971 50 6975146
Tel: 00971 4 566 7355
Hina.bakht@evops-pr.com
www.evops-pr.com