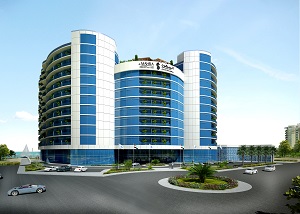 Luxury hotel units at Al Mahra Resort by Cristal can now be purchased in Bitcoin or similar digital currency. The beautiful 4-star luxury resort is the first hotel project in the Middle East to be available through crypto currency. Located in the heart of Al Marjan Island in Ras Al Khaimah, the resort is being developed at an investment of AED 350 million and is expected to open by 2020.
Featuring 548 beautifully designed and furnished rooms, suites and villas equipped with the latest technology and all modern comforts, the property is offering buyers the opportunity to purchase the units under strata title. Onsite facilities at the stunning beach-front resort include a trendy lobby café, high-tech meeting rooms, all-day-dining restaurant, rooftop shisha lounge, wellness club, gym, spa for men and women, kids club, water sports facilities, an infinity pool and covered parking.
Al Mahra Resort by Cristal is owned by FAM Holding, a business conglomerate with diversified investments across the U.A.E. Dr. Faisal Ali Mousa Al Naqbi, Owner & Chairman of FAM Holding, stated, "Some of the biggest names worldwide are warming up to Cryptocurrency, therefore it is logical for us to offer people the opportunity to pay in bitcoin or similar currency rather than just fiat currency. Cryptocurrency has radically improved the transparency, speed and security of property transactions with smart contracts, hence it is really ground-breaking to do what we are doing. Of course, paying in bitcoin for this development is just an option. At the same time, we are very pleased to be working with the Cristal Group to open this resort.  We believe that Cristal's premium service and brand will add exceptional value to our property."
The transactions for Al Mahra Resort by Cristal will be processed through cryptocurrency payments. So, property purchases can happen in minutes from anywhere in the world with the speed of sending an email with the security and credibility of blockchain technology.
Mr. Kamal Fakhoury, Chief Executive Officer at the Cristal Group, said, "We are delighted to expand our footprint in the UAE with a project like Al Mahra Resort by Cristal which will be an excellent addition to the destination. Ras Al Khaimah is known for its pristine beaches, marine life and relaxing views of the Arabian Gulf and is attracting local and international travellers in big numbers which is pushing the demand for quality hotels. It therefore holds tremendous potential for investors in the hospitality sector and opening to Cryptocurrency will leverage its appeal among investors."
Available for purchase at Al Mahra Resort by Cristal are Superior Rooms, 1-Bedroom Luxury Suites, 2-Bedroom Luxury Suites and 3-Bedroom Luxury Villas and Suites, with prices starting from AED 532,000, AED 1123,900, AED 1,385,195 and AED 2,909,900 respectively. With flexible terms and 6-year payment plan, the project also offers a host of attractive benefits to buyers such as complimentary stay for 14 days in a year, VIP membership with exclusive discounts, and much more as well as guaranteed 8% return on investment for first 3 years.
For more information and bookings, please visit: www.almahra-resort.com
About Fam Holding
FAM Holding is a conglomerate of business solutions across many industries having diversified investments in the region. Since the founding in early 2006, the company has been moving forward aggressively on many fronts to capitalise on substantial growth opportunities, to deliver and develop existing residential projects across the UAE, and to sharpen its business portfolio's focus on its core businesses. The successful transactions done by the company allowed it to start its activity in Property development in 2014, starting with one project in Sharjah worth AED 54 million (USD 14.7 million) to close 2017 with ten projects worth AED 1.5 billion (USD 408.7 million).
The company has an ambitious plan to exceed the AED 5.7 billion (more than USD 1.5 billion) in 2020, as part of the economic progress expected to be witnessed by the country in that year. 
About Cristal Group
The Cristal Group was established in 2007 to deliver world class hospitality consultancy, technical services, asset management and brand management. Its vision is to be the premier business and leisure hotel operator in the Middle East, Africa and Asia. The company boasts a superb portfolio of hotels and a strong development pipeline.   For more information visit www.cristalhospitality.com
For media contact:
Hina Bakht
Managing Director
EVOPS Marketing & PR
Mob: 00971 50 6975146
Tel: 00971 4 566 7355
Hina.bakht@evops-pr.com
www.evops-pr.com