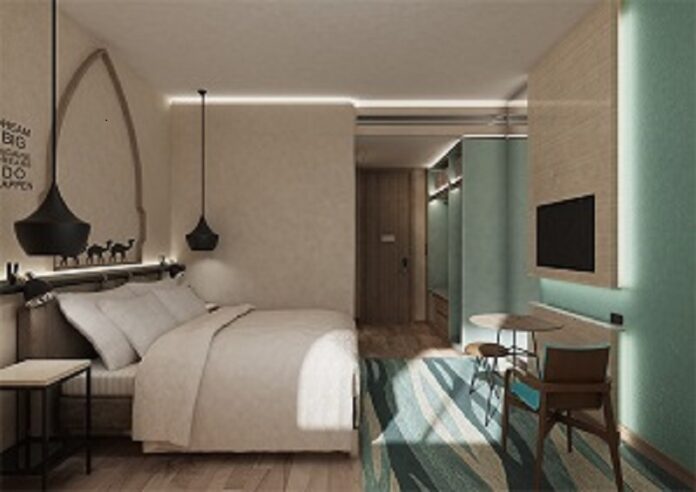 DUBAI – Strengthening its presence in the region, Swiss-Belhotel International will be opening 10 hotels in key destinations across the GCC and Africa by 2019. Laurent A. Voivenel, Senior Vice President, Operations and Development for the Middle East, Africa and India for Swiss-Belhotel International, said, "We have 10 new openings lined up this year and the next in addition to a series of projects under development. These will not only add some fantastic hotels to our portfolio but will allow us to penetrate new destinations such as Saudi Arabia, Oman, Kuwait and Egypt while growing our presence in existing territories. In addition, it marks the debut of some of our brands that will be available in the region for the first time ranging from luxury 5-star to mid-market segments."
Gearing up for opening in the coming months under the Swiss-Belhotel International banner are:
Grand Swiss-Belresort Seef, Bahrain
Swiss-Belresidences Juffair, Bahrain
Swiss-Belhotel Al Aziziyah Makkah, KSA
Swiss-Belboutique Tahlia, Riyadh, KSA
Swiss-Belhotel Riyadh, KSA
Swiss-Belinn Airport Muscat, Oman
Swiss-Belresidences Al Sharq, Kuwait
Swiss-Belboutique Bneid Al Gar, Kuwait
Swiss-Belresort Battersea, North Coast, Egypt
Swiss-Belhotel and Suites Asmarat, Cairo, Egypt
Tourism performance in the main cities across the Middle East is expected to remain strong with the fruition of major infrastructure projects such as airport expansions, increased global connectivity and growth of low-cost carriers, new leisure attractions, enhanced business facilities and a year-long calendar of regional and international events.
Laurent stressed, "The hospitality landscape is developing at a rapid pace and we are keen to take advantage of this massive opportunity. Our aim is to position Swiss-Belhotel International as the best alternative to blue chip companies offering superior returns, unbeatable value and unforgettable experiences. One of the most important differentiators of Swiss-Belhotel International is our award-winning service. The essence of our brands revolves around the heritage of Swiss hospitality with the passion and service of Asia, and our hotels deliver on this promise. Therefore, Passion and Professionalism are the core of our brand culture. Our philosophy is to work hand-in-hand with our owners and business partners to maximize the financial returns and exceed the expectations of our guests, investors and associates."
According to industry sources the Middle East ranks:
8thin the world in terms of travel and tourism's direct contribution to GDP with USD85.0bn in 2017. It is expected to grow by 4.6% pa to USD133.1bn (3.3% of GDP) by 2027.
9thin the world in terms of travel and tourism's total contribution to employment. Generated 2,406,000 jobs in 2017. By 2027 it will rise to 2,986,000 jobs.
5thin the world in terms of visitor exports. USD83.2bn in visitor exports in 2016. By 2027 it is forecast to reach USD148.3bn.
4thin the world in terms of travel and tourism investment with USD49.6bn in 2016. It will rise to USD98.9bn in 2027.
The Middle East reported the strongest annual traffic growth of any region globally for the 6th year running in2017.
Looking ahead, 7.2 billion is the number of global air passengers predicted by 2035. TheMiddle East will see an extra 245 million passengers a year on routes to, from and within the region by 2035 that will continue to support demand for hotels.
Equally promising is Africa's hospitality that sector remains resilient and is poised for further growth over the next five years. According to the World Tourism Organization (UNWTO) international tourist arrivals grew by a remarkable 8% in 2017 in Africa to reach a total of 62 million. Arrivals grew by 13% in North Africa, while Sub-Saharan Africa arrivals increased by 5%. This strong momentum is expected to continue in 2018. The hospitality industry contributed $165.6bn – or 7.8% – to Africa's GDP in 2016 and this figure rose by 2.9% in 2017 as per figures released by World Travel & Tourism Council. Meanwhile, the number of planned hotel chain developments has doubled in Africa since 2009 from around 30,000 rooms in 144 hotels to 73,000 rooms in 417 hotels.
For further information visit http://www.swiss-belhotel.com
For media contact:
Hina Bakht
Managing Director
EVOPS Marketing & PR
Mob: 00971 50 6975146
Tel: 00971 4 566 7355
Hina.bakht@evops-pr.com
www.evops-pr.com
About Swiss-Belhotel International
Swiss-Belhotel International currently manages a portfolio of more than 150* hotels, resorts and projects located in Cambodia, China, Indonesia, Malaysia, Philippines, Vietnam, Bahrain, Egypt, Iraq, Kuwait, Oman, Qatar, Saudi Arabia, United Arab Emirates, Australia, New Zealand, Bulgaria, Georgia, Italy and Tanzania.  Awarded Indonesia's Leading Global Hotel Chain for six consecutive years, Swiss-Belhotel International is one of the world's fastest-growing international hotel and hospitality management groups. The Group provides comprehensive and highly professional development and management services in all aspects of hotel, resort and serviced residences. Offices are located in Hong Kong, New Zealand, Australia, China, Europe, Indonesia, United Arab Emirates, and Vietnam. www.swiss-belhotel.com
*Numbers may fluctuate