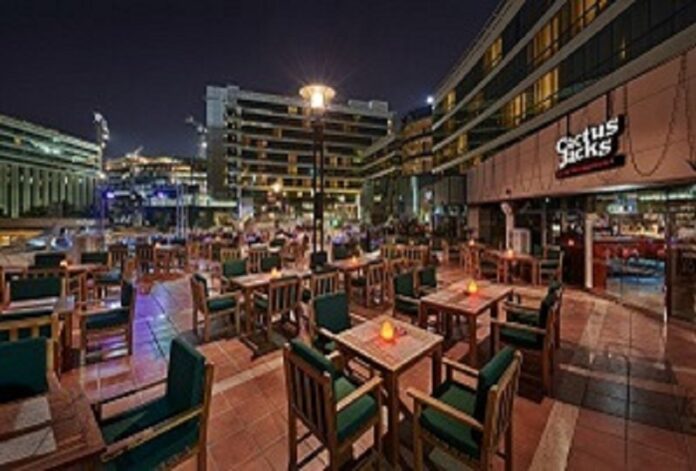 Based on raving reviews, Millennium Airport Hotel Dubai and three of its restaurants – Da Vinci's, Cactus Jacks and Biggles Pub – have been awarded with TripAdvisor 2018 Certificate of Excellence.
Certificate of Excellence recipients are determined by excellent ratings and reviews on TripAdvisor. Mr. Simon Moore, General Manager of Millennium Airport Hotel Dubai, said, "The Millennium Airport Hotel Dubai and its restaurants made an outstanding reputation both locally and internationally, and we are truly grateful to our guests for appreciating our hard work. The superb reviews and feedback on TripAdvisor serve as a great motivation for all our team and help us to improve and maintain our high standards. Also, positive guest experiences go a long way in creating loyal customers which in turn generates better financial performance."
Biggles has been Dubai's favourite British pub for over 20 years, known for its excellent food and live entertainment. This award winning British bar decorated in WWII aviation-themed memorabilia is not only an ideal venue for night entertainment but also a sports pub with 17 screens for ultimate viewing of your favourite sport.
Equally successful is Da Vinci's that opened in 1989 and was the 3rd Italian restaurant in Dubai. Since then, the outlet flourished quickly picking up numerous culinary awards, including 'Dubai's Favourite Italian Restaurant'.
Cactus Jacks is one of the most popular Latino restaurants in Dubai serving Latino food and late night "fiestas" daily. The outlet is known for its famous frozen margaritas and mojitos; with delicious speciality fajitas, great offers and live entertainment. The outlet has been awarded as well as Best Mexican Restaurant last year.
Established in 2000, TripAdvisor is now the world's largest travel site and offers more than 630 million reviews and opinions covering approximately 7.5 million accommodations, airlines, experiences and restaurants. Now in its 8th year, the Certificate of Excellence celebrates and honours hospitality establishments that deliver consistently great service across the world. Approximately only 10% of total businesses on TripAdvisor receive this recognition. To qualify, a business must maintain an overall TripAdvisor rating of at least four out of five, have a minimum number of reviews and must have been listed on TripAdvisor for at least 12 months.
For hotel marketing contact:
Sheryl Aquiatan
Assistant Marketing Manager
Millennium Airport Hotel Dubai
Mob: 00971 56 506 0983
Tel: 00971 4 702 8888
sheryl.aquiatan@millenniumhotels.com
For media contact:
Hina Bakht
Managing Director
EVOPS Marketing & PR
Mob: 00971 50 6975146
Tel: 00971 4 566 7355
Hina.bakht@evops-pr.com
www.evops-pr.com
Millennium Hotels and Resorts, Middle East and Africa
Millennium Hotels and Resorts is a dynamic, global hotel company, which owns, asset manages and operates over 130 hotels worldwide. With almost 40,000 rooms and a portfolio of brands; including Biltmore, Grand Millennium, Millennium, Millennium Place, M Hotel, Copthorne, Kingsgate, Millennium Executive Apartments and Studio M, that serve different market segments, representing quality and value in every class.
Currently operating 35 hotels in the Middle East and Africa, the Group has an extensive expansion strategy in place, with 40 hotels in the pipeline. Each property in the region is unique, catering to the varying tastes and needs of the international business and leisure traveller but with a consistent promise to provide a first class service and a rewarding experience for guests. Millennium Hotels and Resorts is committed to differentiating itself by embracing the true spirit of diverse traditions, with a sincere respect to historical heritage and local culture.
With the motto "More than Meets the Eye", Millennium & Copthorne is committed to a customer-centric philosophy and complete guest satisfaction.
For more information, please visit www.millenniumhotels.com