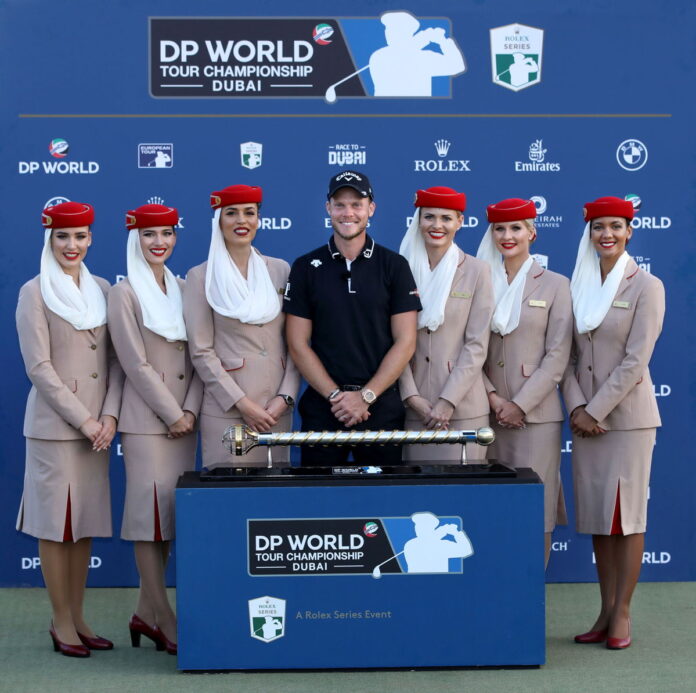 Top golf players battled it out today in the final round to take home the trophy, and Danny Willett came out on top to be crowned as the DP World Tour Champion while Francesco Molinari won the 'Race to Dubai' title.
The final round produced plenty of drama for almost 65,000 fans that attended Dubai's biggest golf event, which has been supported by Emirates for the last nine years.
As the Official Airline of the 2018 DP World Tour Championship, Emirates engaged with fans of all ages at the season-ending tournament. The airline activated its world-class hospitality, welcoming over 650 guests across the four day golf event. Emirates guests enjoyed stunning views of the 18th hole and close-up insight to the fantastic sport of golf, while savouring fantastic service and gourmet cuisine in the hospitality chalet, which was themed around the airline's extensive route network. Guests also had the chance to mingle and take photos with more than eight top rated players like Thomas Bjorn and Alexander Bjork through their regular visits to the Emirates hospitality chalet. Emirates also brought the Ryder Cup to its hospitality chalet and over 200 guests and fans took photos with the prized trophy.
In addition, Emirates also sponsored the Children's Area where Cabin Crew handed out Emirates children's products and took over 600 photos of younger  golf fans with Emirates 'Fly with Me' mascots like Saba the Camel and Lewis the Lion.
Beyond the DP World Tour Championship, Emirates sponsors a number of events across the European Tour, including the BMW PGA Championship, the Nordea Masters, the D+D Real Czech Masters, the Aberdeen Standard Investments Scottish Open, the Portugal Masters, the Italian Open, the Joburg Open, and the BMW SA Open hosted by the City of Ekurhuleni.