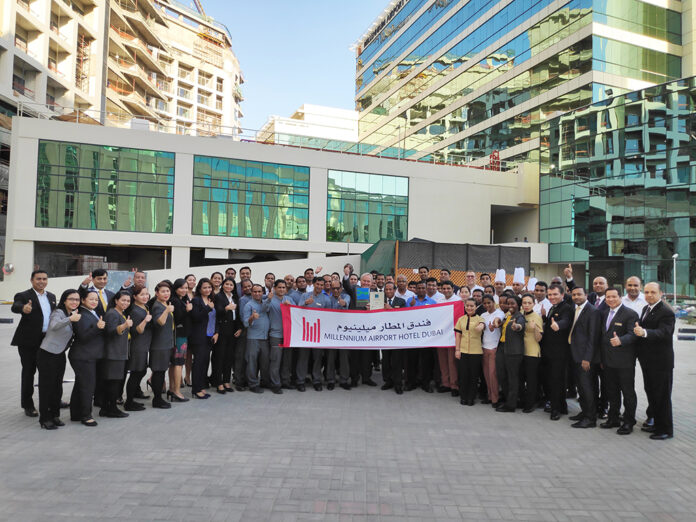 The Millennium Airport Hotel Dubai has been awarded the Green Key which is an eco-label for tourism and leisure establishments. This is awarded to establishments that fulfil a list of environmental requirements and is the leading standard of excellence for environmental responsibility and sustainable operation within the tourism industry. Obtaining Green Key demonstrates the establishments' efforts to develop an environmental friendly, sustainable and responsible business. A Green Key award represents an establishment's promise to its guests that by opting to stay with such a property, they are helping to make a difference on an environmental and sustainability level.
Mr. Simon Moore, General Manager of Millennium Airport Hotel Dubai, said, "We are proud to be part of the Green Key Eco Rating Program. At the Millennium Airport Hotel Dubai, we understand that our business activities impact the earth, our resources and people's lives. We will continue leveraging our sustainability programs and Green Key environmental ideas to conserve resources, preserve natural habitats and prevent pollution that can destroy the earth."
As part of the initiative, the hotel has established its own Environmental Management Committee, responsible for implementing policies, processes and strategies towards a greener environment.
Under the scheme, the hotel has outlined some key focus areas and best practices that include excellent performance in energy conservation and efficiency, leadership in waste management, strong commitment to sustainability, proactive community involvement, working hand-in-hand with guests to build a better world, and ongoing green educational program.
For hotel marketing contact:
Sheryl Aquiatan
Marketing & Communications Manager
Millennium Airport Hotel Dubai
Mob: 00971 56 506 0983
Tel: 00971 4 702 8888
sheryl.aquiatan@millenniumhotels.com
For media contact:
Hina Bakht
Managing Director
EVOPS Marketing & PR
Mob: 00971 50 6975146
Tel: 00971 4 566 7355
Hina.bakht@evops-pr.com
www.evops-pr.com
Millennium Hotels and Resorts, Middle East and Africa
Millennium Hotels and Resorts is a dynamic, global hotel company, which owns, asset manages and operates over 130 hotels worldwide. With almost 40,000 rooms and a portfolio of brands; including Biltmore, Grand Millennium, Millennium, Millennium Place, M Hotel, Copthorne, Kingsgate, Millennium Executive Apartments and Studio M, that serve different market segments, representing quality and value in every class.
Currently operating 35 hotels in the Middle East and Africa, the Group has an extensive expansion strategy in place, with 40 hotels in the pipeline. Each property in the region is unique, catering to the varying tastes and needs of the international business and leisure traveller but with a consistent promise to provide a first class service and a rewarding experience for guests. Millennium Hotels and Resorts is committed to differentiating itself by embracing the true spirit of diverse traditions, with a sincere respect to historical heritage and local culture.
With the motto "More than Meets the Eye", Millennium & Copthorne is committed to a customer-centric philosophy and complete guest satisfaction.
For more information, please visit www.millenniumhotels.com