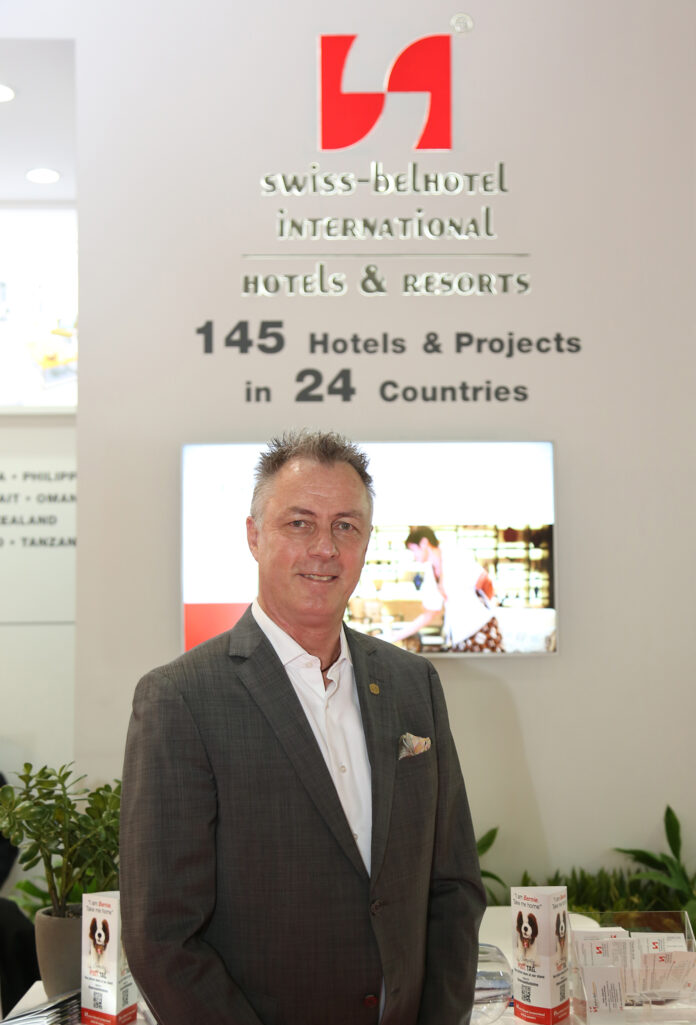 Swiss-Belhotel International has identified the GCC as its main growth market in the MENA region. Unveiling the group's expansion strategy at the Arabian Travel Market (ATM) today, Laurent A. Voivenel, Senior Vice President, Operations and Development for the Middle East, Africa and India, Swiss-Belhotel International, stated, "Geographically speaking, our key focus is to expand and reinforce our position in the GCC through strong organic growth with an objective to have a hotel in operation in every GCC country by the first quarter of 2020."
Laurent stressed, "The region continues to present us with fantastic opportunities to further enhance and diversify our portfolio. We are going to open this year in the GCC seven exceptional hotels – two in Kuwait, one in Oman, two in Bahrain, one in Saudi Arabia and one in Qatar. In addition, we have a robust development pipeline that will double our inventory of keys by 2020."
The Middle East is the third largest growth market for Swiss-Belhotel International after Asia, New Zealand and Australia. Laurent stressed, "With 17% of our global portfolio of hotels centered in the Middle East and Africa region, comprising 3000 rooms, it is a very important region for us. Overall our strategy is to accelerate expansion across the MENA region whereby we have mapped out exciting opportunities. Our target is to have 25 hotels representing approximately 6000 rooms in the region. However, GCC will continue to be our biggest market with 60 per cent of portfolio concentrated here in high-growth business and leisure destinations by 2025."
Elaborating on the development and the ambitious tourism strategy set out by regional governments, Laurent added, "The huge investment in airports, infrastructure and hotels, broadening portfolio of attractions and facilities, diversification of source markets and collaboration between various business sectors are all accelerating the pace of the GCC's growth into the future and at Swiss-Belhotel International we are well-placed to capitalise on the opportunity. The upcoming openings, representing our compelling portfolio of diverse brands, will strengthen our presence in the region while giving more choice to travellers."
Visitors to ATM can find Swiss-Belhotel International on stand HC0825 located in Sheikh Saeed Arena in Dubai International Convention and Exhibition Centre.
For media contact:
Hina Bakht
Managing Director
EVOPS Marketing & PR
Mob: 00971 50 6975146
Tel: 00971 4 566 7355
Hina.bakht@evops-pr.com
www.evops-pr.com
About Swiss-Belhotel International
Swiss-Belhotel International currently manages a portfolio of more than 145* hotels, resorts and projects located in Cambodia, China, Indonesia, Malaysia, Philippines, Vietnam, Bahrain, Egypt, Georgia, Iraq, Kuwait, Oman, Qatar, Saudi Arabia, United Arab Emirates, Australia, New Zealand, Bulgaria, Germany, Italy, Switzerland and Tanzania. Awarded Indonesia's Leading Global Hotel Chain for eight years, Swiss-Belhotel International is one of the world's fastest-growing international hotel and hospitality management groups. The Group provides comprehensive and highly professional development and management services in all aspects of hotel, resort and serviced residences. Offices are located in Hong Kong, New Zealand, Australia, China, Europe, Indonesia, United Arab Emirates, and Vietnam.
*Numbers may fluctuate
For further information visit https://www.swiss-belhotel.com