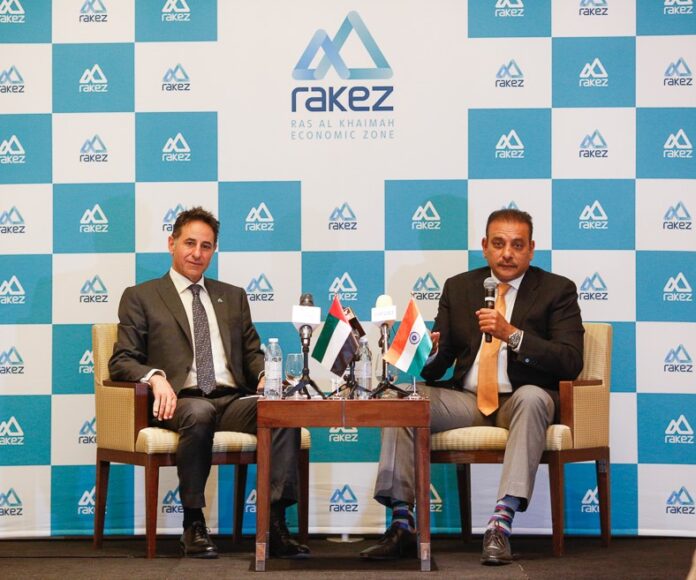 Ras Al Khaimah Economic Zone (RAKEZ) has welcomed Ravi Shastri, Head Coach
of the India National Cricket Team, former India Cricketer and TV
commentator, as its exclusive Corporate Ambassador to the Indian business
community. As the face of RAKEZ, Mr Shastri will be representing RAKEZ in
networking events, business forums and seminars, to build and sustain
business relationships with key accounts and brands.
"This is the first time that we have appointed a Corporate Ambassador, and
we're very happy to have the right man on-board. Mr Shastri was a natural
choice given that he's not only an iconic Indian figure that possesses the
admiration of cricket fans globally; he's also a coach who leads teams to
victories. I'm confident that he's going to do the same for us by taking our
relationship with the Indian business community to the next level – a
relationship we started building almost two decades ago," said Ramy Jallad,
RAKEZ Group CEO.
Commenting on RAKEZ's commitment to the Indian market, Mr Jallad shared:
"Indian businesses have greatly contributed to Ras Al Khaimah's economic
diversification as well as the increase of employment opportunities, hence
our dedication to support them. Throughout the years, we have launched
numerous initiatives for the Indian investors, opened an office in Mumbai in
2006, and conducted roadshows in India to share the benefits of expanding to
the UAE. Our efforts have led to over 3,300 Indian companies choosing RAKEZ
as their business destination. That's 23% of our total company population.
With Mr Shastri joining Team RAKEZ, we're positive that he'll be influencing
more Indian business leaders to set up or expand their operations to the
United Arab Emirates though RAKEZ."
Indian companies in RAKEZ are operating across various industries with over
1,600 flourishing in the commercial field; nearly 1,000 in services; more
than 350 in general trading; and around 100 in the industrial sector. The
rest are spread across media, e-commerce, educational, and more. Due to the
growing demand from Indian investors, RAKEZ has relocated its Mumbai office
to a bigger and more central location in Bandra Kurla Complex in 2018.
Expressing his views on the collaboration with RAKEZ, Mr Shastri said:
"I'm very excited and proud to be the Corporate Ambassador of RAKEZ to the
Indian business community. It is one of the leading business and industrial
hubs in the Middle East region, and home to many famous Indian brands. I've
heard nothing but positive feedback from Indian companies about RAKEZ, so I
am confident that I am associating myself with the right organisation that
has been consistently helping Indian companies go global. My goal here is to
coach more Indian investors to choose the right track and play it right when
it comes to their business."
This first-of-its-kind approach is one of the many other initiatives that
RAKEZ will be launching in the future to attract more investors from all
over the world and boost the economic growth of Ras Al Khaimah.
ABOUT RAS AL KHAIMAH ECONOMIC ZONE (RAKEZ):
RAKEZ is a powerhouse business and industrial hub established by the
Government of Ras Al Khaimah in the United Arab Emirates. It currently hosts
over 14,500 companies coming from over 100+ countries and operating in more
than 50 industries.
RAKEZ offers entrepreneurs, startups, SMEs and manufacturers a wide-range of
solutions, including free zone and non-free zone licences [1], customisable
facilities [2], and first-class services provided in a one-stop shop.
Furthermore, RAKEZ has six specialised zones [3] that are tailored to
specific needs of investors: a Business Zone for commercial and service
companies; Al Ghail, Al Hamra and Al Hulailah Industrial Zones for
manufacturers and industrialists; a Media Zone for the creative firms; and
an Academic Zone for educational providers.
A leading economic zone, RAKEZ, aims to continue attracting diversified
investment opportunities that will contribute to the economic growth of Ras
Al Khaimah.
ABOUT MR RAMY JALLAD, GROUP CHIEF EXECUTIVE OFFICER, RA,S AL KHAIMAH
ECONOMIC ZONE (RAKEZ)
Ramy Jallad is the Chief Executive Officer of RAKEZ. His role is to develop
and drive the strategic growth, creating a thriving commercial and
industrial business hub that attracts and welcomes investors from all around
the world.
Mr Jallad has over 25 years of professional experience, where he has
developed and led various commercial and industrial free zones, business
parks and mixed-use real estate developments.
Previously, Mr Jallad held various key leadership positions in both
government and private enterprises, such as: Vice President – Free Zone &
Properties for Abu Dhabi Airports Company, Executive Director of Business
Development & Customer Services for Dubai Technology and Media Free Zone
(TECOM), and General Manager of Caltex Oil Company.
Mr Jallad is fluent in English and Arabic. He holds a Bachelor of Science
degree in Mechanical Engineering. He is also a Lead Assessor by the European
Foundation for Quality Management and a certified trainer in sales,
marketing, and customer care as well as people management.
ABOUT MR RAVI SHASTRI, HEAD COACH OF THE INDIA NATIONAL CRICKET TEAM
Ravi Shankar Jayadritha Shastri is an Indian cricket commentator, former
Test Cricketer and current Head Coach of the India National Cricket Team.
He played for the India National Cricket Team between 1981 and 1992 in both
Tests and One-Day Internationals (ODIs), and was a member of India's World
Cup winning team in 1983. Although he started his career as a left arm spin
bowler, he later transformed into a batting all-rounder.
The official title "Champion of Champions" was awarded to Mr Shastri when
India won the World Championship of Cricket in Australia in 1985.
In the same season, in January 1985, he equalled West Indian Garry Sobers'
record of hitting six sixes in an over in first-class cricket.
During his career spanning more than a decade, he played in 80 Test and
150 ODIs, scoring 3,830 and 3,108 runs in two formats, respectively,
including 11 centuries in Test and 4 centuries in ODIs. Mr Shastri retired
from playing cricket in 1992.
After his retirement, he served ICC and BCCI in temporary official
capacities, and as a UNICEF Goodwill Ambassador. On July 2017, Mr Shastri
was appointed as Head Coach of the India National Cricket Team.
Under his coaching, the team secured its first-ever Test series win in
Australia in January 2019. He will always be remembered as the coach that
led an Asian side to its first ever Test series victory in Australia.
Outside the playing field, Mr Shastri is a passionate person who defends and
stands by what he believes in. He mentors students in career and life
lessons in partnership with India- and UAE-based Greycells Education
Limited, a leading vocational training provider.
Mr Shastri has achieved success by being a motivator in a world of monitors.
Whether as a player, commentator, coach and mentor, his record at the helm
across all formats is impressive.