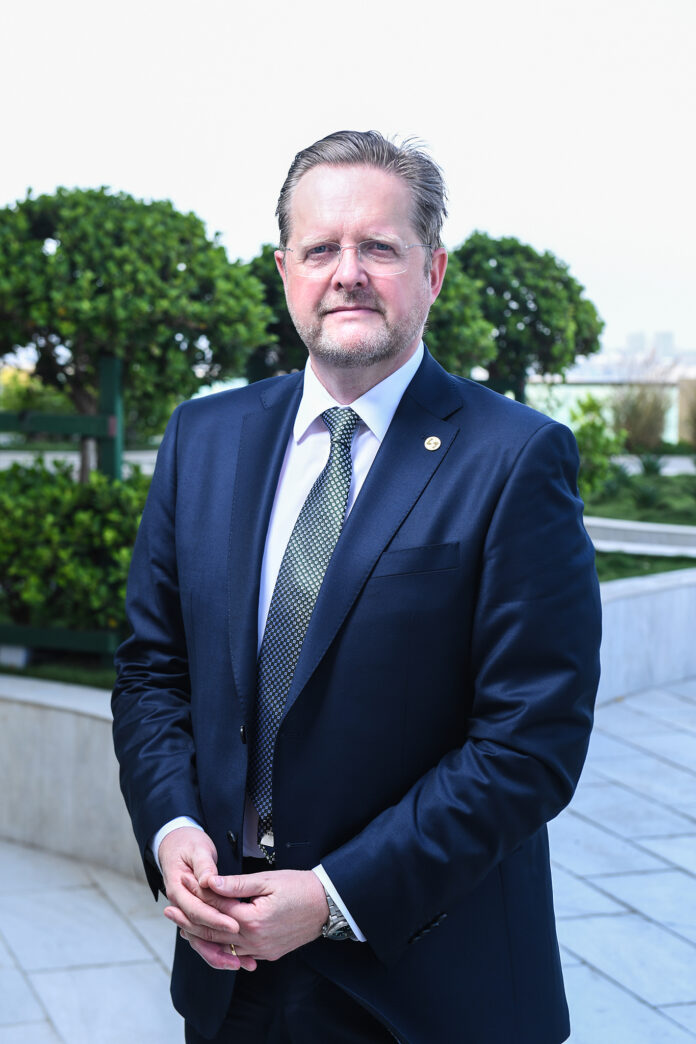 Bahrain – Swiss-Belhotel International has announced the appointment of Peter De Bondt as the General Manager for Grand Swiss-Belresort Seef Bahrain. A Belgian national, with over three decades of extensive experience in the hospitality industry, greater part of which was spent with Accor Hotels, Peter is a seasoned hotelier. The Grand Swiss-Belresort Seef – a 5-star luxury hotel featuring 193 rooms and suites equipped with the finest facilities – is expected to open soon.
Welcoming Peter to the pre-opening office of Grand Swiss-Belresort Seef Bahrain, Laurent A. Voivenel, Senior Vice President, Operations and Development for the Middle East, Africa and India, Swiss-Belhotel International, said, "Peter has a wealth of all-round hotel experience and excellent knowledge of the market and the needs of today's guests. We are confident under his dynamic leadership, the stunning Grand Swiss-Belresort Seef Bahrain will establish itself as a successful new luxury address for travellers provide outstanding service tailored to the evolving market requirements."
Expressing his delight on joining Grand Swiss-Belresort Seef Bahrain, Peter stated, "I am extremely grateful to Swiss-Belhotel International for entrusting me with this challenging and exciting opportunity. The Grand Swiss-Belresort Seef Bahrain is a fabulous hotel enjoying an outstanding location and I look forward to working with the team."
Peter began his foray in the industry with Mercure Hotels in Belgium in 1985 followed by postings in the Netherlands and progressively grew in his career gaining valuable experience in operations and sales. He first took over a general manager's position in 1996 and continued in the role till 2006 at different hotels in the Netherlands. Petersubsequently moved to places such as Guadeloupe, Algeria and Nigeria between 2006 and 2016 before going to Iran. His most recent posting, prior to joining Grand Swiss-Belresort Seef Bahrain, was at the Mercure Grand Hotel Seef in Bahrain.
Fluent in Dutch, French, English and German languages, Peter graduated from Ascanus College Asse and holds a degree in hospitality from COOVI-PIVIT Brussels Belgium.
For media contact:
Hina Bakht
Managing Director
EVOPS Marketing & PR
Mob: 00971 50 6975146
Tel: 00971 4 566 7355
Hina.bakht@evops-pr.com
www.evops-pr.com
About Swiss-Belhotel International
Swiss-Belhotel International currently manages a portfolio of more than 145* hotels, resorts and projects located in Cambodia, China, Indonesia, Malaysia, Philippines, Vietnam, Bahrain, Egypt, Georgia, Iraq, Kuwait, Oman, Qatar, Saudi Arabia, United Arab Emirates, Australia, New Zealand, Bulgaria, Germany, Italy, Switzerland and Tanzania. Awarded Indonesia's Leading Global Hotel Chain for eight years, Swiss-Belhotel International is one of the world's fastest-growing international hotel and hospitality management groups. The Group provides comprehensive and highly professional development and management services in all aspects of hotel, resort and serviced residences. Offices are located in Hong Kong, New Zealand, Australia, China, Europe, Indonesia, United Arab Emirates, and Vietnam.
*Numbers may fluctuate
For further information visit https://www.swiss-belhotel.com