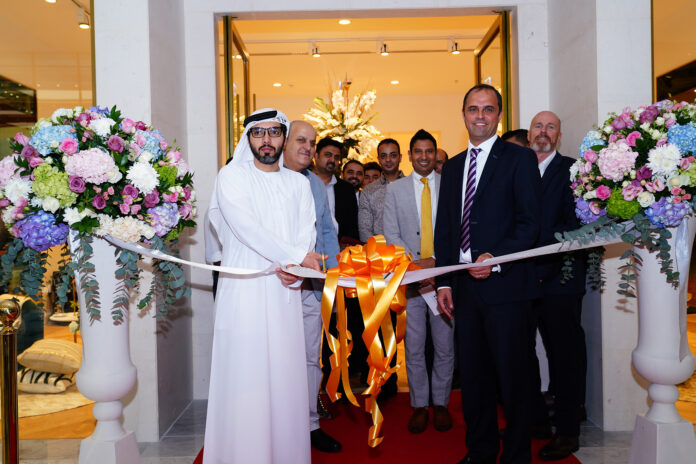 2XL Furniture & Home Décor, the leading luxury furniture retail chain in the UAE, has announced the opening of its 4th showroom in Abu Dhabi at The Galleria Al Maryah Island. It is the luxe brand's 11th store in the emirates and is part of its strategy to reach the largest customer base in premier shopping destinations.
The new 51,000 square feet 2XL store at The Galleria showcases the brand's latest collection of furniture, lighting and accessories designed for sophisticated and elegant living.
Inaugurating the state-of-the-art showroom, Mr. Suood Al Sadi, General Manager of 2XL Furniture & Home Décor, said, "We are proud to open our latest store in The Galleria Al Maryah Island a luxury lifestyle destination in Abu Dhabi. It is a very significant milestone for us as we continue to expand our footprint in strategic locations across the UAE. With unique and exclusive designs, the new 2XL Furniture & Home Décor offers diversified products that meet our high-end customers' tastes and needs."
Mr. Daniel Parry, Managing Director of Gulf Related, commented, "2XL have created an incredible flagship at The Galleria Al Maryah Island and we are delighted to welcome their dynamic portfolio of homeware brands to the mall. Customers looking to furnish or redecorate their home can now discover a variety of products in the 51,000 square feet store. As one of the UAE's leading luxury home furnishing retailers, 2XL Furniture & Home Décor anchors The Galleria's expanding offer. We now have the largest and broadest selection of homeware, furniture and décor stores in Abu Dhabi, reinforcing our unique position in the market."
The spectacular 2XL showroom at The Galleria is inspired by modern lifestyle concepts displayed across 38 rooms. All its corridors are beautifully designed and invite visitors to embark on a journey of discovery. The store also boasts a unique design studio for customers to style their own preferred home look using 2XL products to visualize how those items could look in their homes.
Commenting on the showroom's concept, Mr. Justin Roberts, Director of Operations – GCC, 2XL Furniture & Home Décor, stated, "The new 2XL Furniture & Home Décor showroom in The Galleria offers an immersive shopping experience. Our design team has beautifully curated and displayed the various collections giving special attention to detail. Ultimately, we want customers to spend more time in the store and enjoy every moment with stylish and engaging displays."
Mr. Amit Yadav, Head of Marketing, 2XL Furniture & Home Décor, said, "Timeless elegance and uncomplicated luxury are the pillars of our brand personality and this latest showroom beautifully unites the allure of 2XL with the vibe of The Galleria. Ultimately, the experience a customer has with our brand is as important for us as the product itself, and we are confident the 2XL at The Galleria will go far beyond our customers' expectations."
LOCATION
The 2XL Furniture & Home Décor showroom is located on Level 2 of The Galleria Al Maryah Island in Abu Dhabi. For more information visit www.2xlme.com
For media contact:
Hina Bakht
Managing Director
EVOPS Marketing & PR
Mob: 00971 50 6975146
Tel: 00971 4 566 7355
Hina.bakht@evops-pr.com
www.evops-pr.com
About 2XL Furniture & Home Décor
UAE based 2XL Furniture & Home Décor is a retailer of luxury home furnishings since 2000.
The retailer currently has 9 showrooms across Abu Dhabi, Dubai, Sharjah, Fujairah and Al Ain. The 2XL product range includes exclusive bedroom, living and dining room furniture as well as exquisitely crafted décor items, unique gifting ideas, plush rugs and gorgeous wall art, divine bed and bath linen, eye-catching tableware, and a fun, functional kitchenware range.
The 2XL range is very classic and French-inspired. Each retail item has been carefully chosen exclusively for 2XL and denotes a lifestyle that is regal, sophisticated and of a finer taste. We have something to suit every home setting – from ornate gold-plated bedroom settings to the more subdued Parisian hues of shabby chic, quirky contemporary inspirations to more ethnic Eastern-inspired décor ideas.
For more information or to shop online please visit www.2xlme.com
Connect and tag us on @2xlfurniture