ABOUT IN TECHIn Tech is our biweekly feature highlighting what people are talking about in the world of technology — everything from crypto and NFTs to smart cities and cybersecurity.
In the 2011 dark comedy "The Dilemma," schlub buds Vince Vaughn and Kevin James star as freelance auto engineers who pitch an eco-friendly muscle car to Dodge. Not only did the vehicle need to look beastly – it had to sound like it, too. Hard to do for a car without a combustion engine, hence the film's title.
"The Dilemma" came and went, but the central conceit was prophetic: Last week CNN reported that Dodge unveiled the concept for its Charger Daytona SRT, its first electric vehicle.
In fact, CNBC reports that at the end of 2023, Dodge will stop producing its gas-powered Challenger and Charger muscle cars altogether, as the company follows the rest of the industry in a shift to EVs. Yet there's one notable difference: While most EVs are eerily quiet, Dodge says it wants the car to sound like it's ready for the Cannonball Run, a loud, wild road race from the eponymous '80s movie. So … back to the dilemma of replicating the sound of shifting gears coupled with a thundering exhaust.
"We think we're going to bring a car to market that customers didn't see coming," Dodge CEO Tim Kuniskis told CNN. "But they're definitely going to hear this one coming."
Dodge has claimed that the all-wheel drive Charger Daytona would outperform the Challenger Hellcat, Dodge's gasoline-powered rear-wheel drive vehicle, "in all critical performance criteria." According to Car and Driver, the supercharged Hellcat can accelerate from zero to 60 mph in 3.7 seconds.
With such horsepower under the hood, something tells us the famed nameplate will keep roaring into the EV Age.
Autumn's annual bite of the apple
The end of summer has a slew of telltale signs that fall is coming: pumpkin spice lattes, Oktoberfest brews, back-to-school sales and a slight crisp in the night air. In the tech world, it means the proliferation of rumors of what Apple will be unveiling at its traditional fall event.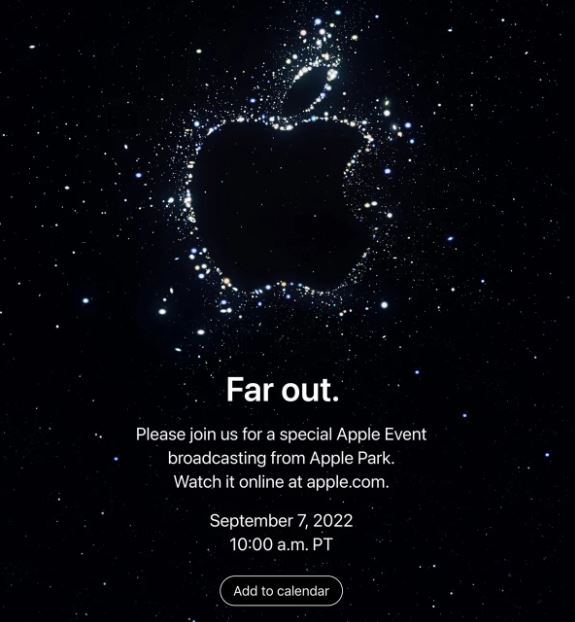 Apple confirmed today that it will host its annual autumn event — usually the company's most significant of the year — on September 7, and Bloomberg reports the Apple Watch Series 8 and iPhone 14 are expected to be unveiled.
The entry-level iPhone 14 will resemble the iPhone 13, according to Bloomberg, but the 5.4-inch "mini" variant will be dropped, and a 6.7-inch model will be added. For the first time ever, Apple will introduce a non-Pro iPhone with a display that large.
New women's health features, a body-temperature sensor and a better battery is also said to be included in Apple's newest Series 8 Apple Watches. The base watch will resemble the Series 7, but a new pro model will target customers who are more active, with a larger display, tough titanium housing, improved fitness monitoring functions and longer battery life. Additionally, Apple may release a redesigned Apple Watch SE with a speedier chip.
9to5Mac predicts that Apple may tease its rumored mixed reality headset, an item very important to CEO Tim Cook. Hmmm, the fact that Bloomberg says that some retail store employees have been told to prepare for "a major new product release" on September 16 has us really wondering if this will be a big Christmas for metaverse and AR/VR gadgets.
Mr. Roboto, courtesy of Alphabet
Google hopes to make walking robots smarter by teaching them to understand human language then act on it in the real world, CNET reports.
Google revealed last week that it grafted its latest AI tech for handling language, called PaLM (short for Pathways Language Model), onto robots from Everyday Robots, one of the experimental divisions from parent company Alphabet. The result? A new AI technology called PaLM-SayCan.
PaLM was developed by the tech giant on a massive 6,144-processor system using a substantial multilingual collection of web content, books, Wikipedia articles, discussions, and programming code discovered on Microsoft's GitHub site. The end result is an AI system that can explain jokes, finish sentences, respond to inquiries, and reason in its own way.
Karol Hausman, a senior research scientist at Google, told CNET, "As we improve the language models, the robotic performance also improves."
These robots can respond to requests that simpler AI models may not understand. For example, when a PaLM-SayCan robot hears a Google AI researcher ask, "I spilled my drink, can you help?," it will roll through a kitchen, use a motorized arm to pick up a sponge from the counter and return it to the researcher. The robot can also locate packs of chips, open drawers, and distinguish between Pepsi and Coke cans.
These robots' task is to learn how to act appropriately around humans, says Vincent Vanhoucke, the director of the robotics lab at Google. "AI has been very successful in digital worlds, but it still has to make a significant dent solving real problems for real people in the real physical world," he told CNET. "We think it's a really great time right now for AI to migrate into the real world."
With more companies throwing their hat into the robotics ring, don't look for your own C3PO just yet.
Vanhoucke told Fast Company that Google is not at the point of developing a robot for commercial release. He said: "It's still a quest of 'what are the things that the robot can do? And can we broaden our imagination about what's possible?'"