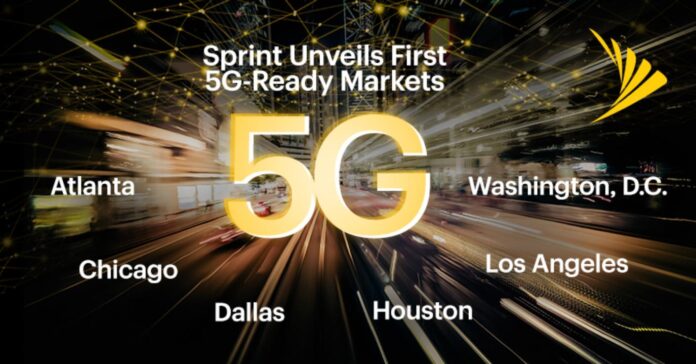 Starting in April, Sprint (NYSE: S) customers in select U.S. markets will experience the future of wireless as the company prepares to deliver the nation's first 5G mobile network in the first half of 2019.
Customers in Chicago, Dallas and Los Angeles will begin experiencing 5G-like capabilities, including significant increases in data speed and capacity, as Sprint rolls out advanced network technology called Massive MIMO. Sprint will aggressively expand to additional markets including Atlanta, Houston and Washington, D.C. later this year. In 2018 and 2019 Sprint expects to deploy thousands of Massive MIMO radios, significantly increasing network capacity for millions of customers across the country.
Massive MIMO is a critical bridge to Sprint's 5G network. 5G technology promises to connect people, places and billions of things with blazing fast speed, ultra-reliable, low-latency wireless service. This breakthrough technology will enable new levels of innovation and progress including cloud robotics, telemedicine, connected cars and drones, augmented and virtual reality and more.
"The race to 5G is heating up, and let me be clear, today's announcement is a huge step toward Sprint being first to offer a 5G mobile network," said Marcelo Claure, Sprint CEO. "Our deep spectrum position gives us an incredible advantage no other carrier has in the U.S. We're making significant investments using state-of-the-art technology, and working with leading chip and handset partners to deliver an incredible Next-Gen Network for our customers."
The Power of Massive MIMO on the Sprint Network
Sprint's first 5G-ready Massive MIMO cell sites are capable of delivering up to 10 times the capacity of current LTE systems, significantly increasing data speeds for more customers in high-traffic locations. With Massive MIMO at the foundation of Sprint's Gigabit LTE and 5G service, Sprint can keep meeting its customers' demand for unlimited data and high-bandwidth applications. Customers will have a great experience using 6K and 8K TV, and applications such as HD Virtual Reality.
"Massive MIMO is a game-changer for TDD-LTE networks that's being used by leading operators around the world to deploy Gigabit LTE and 5G," said Dr. John Saw, Sprint Chief Technology Officer. "For more than a year we've been testing this new technology, and in a few short weeks we'll be bringing the power of Massive MIMO to Sprint customers beginning with some of the largest markets in the country."
All Sprint customers using a 2.5 GHz (band 41) device will benefit from the increased capacity and speed provided by Massive MIMO. In addition, Sprint is working with Qualcomm Technologies, Inc., a subsidiary of Qualcomm Incorporated, and device manufacturers to launch 5G mobile devices in the first half of 2019. The recently announced Qualcomm® Snapdragon™ X50 5G modem supports 5G NR for Sprint's 2.5 GHz (n41) spectrum band.
Sprint will deploy 64T64R (64 transmit, 64 receive) Massive MIMO radios using 128 antennas working with technology leaders Ericsson, Nokia, and Samsung Electronics. The Massive MIMO radios from all three suppliers are software-upgradable to 5G without additional tower climbs. The Massive MIMO radios support split-mode service, enabling Sprint to offer both 4G LTE and 5G on the same radio.
With 204 MHz of spectrum and more than 160 MHz of 2.5 GHz spectrum in the top 100 markets, Sprint is uniquely positioned with enough capacity to deliver a nationwide 5G mobile network using licensed spectrum. Because of Sprint's large spectrum holdings it is also one of the only operators in the world with enough capacity to operate LTE and 5G simultaneously over 100-200 MHz on the same Massive MIMO radios.
Nishant Batra, Head of Product Area Network Infrastructure at Ericsson, said: "Our 5G-ready Massive MIMO technology helps ensure a smooth network evolution for Sprint with its easy-to-adopt and install features. Sprint can get the most out of its vast 2.5 GHz spectrum holdings, boost the capacity of its LTE network, and deliver top-quality and high-speed data services to its customers."
Marc Rouanne, President of Mobile Networks, Nokia, said: "With Nokia's 5G-ready massive MIMO radios, Sprint will build high capacity for its customers, especially in densely populated locations such as city centers and high-rise buildings. This powerful technology will be easy for Sprint to deploy on its 2.5 GHz spectrum, boosting data traffic, and we are looking forward to helping Sprint develop new levels of innovation in cloud robotics, augmented reality and more."
"After testing massive MIMO solutions in a real world situation with Sprint last year, and seeing impressive capacity gains using the same amount of spectrum, we are excited to reach this new milestone with the deployment of Samsung 5G ready MIMO solutions on Sprint's network," said Mark Louison, Senior Vice President and General Manager of Networks Division at Samsung Electronics America.  "As this technology advances to even greater levels of speed and capacity, we look forward to enabling Sprint customers to experience the full benefits of network innovation."
Massive MIMO is a key part of Sprint's Next-Gen Network strategy. Sprint is significantly increasing its investment to dramatically improve coverage, reliability, and speed across its nationwide network and launch the first 5G mobile network in the U.S in the first half of 2019. The Next-Gen Network build includes upgrading cell sites to triband service using 800 MHz, 1.9 GHz, and 2.5 GHz, adding thousands of new cell sites to expand coverage, and densifying the network with more small cells to increase capacity and speed.
About Sprint:
Sprint (NYSE: S) is a communications services company that creates more and better ways to connect its customers to the things they care about most. Sprint served 54.6 million connections as of December 31, 2017 and is widely recognized for developing, engineering and deploying innovative technologies, including the first wireless 4G service from a national carrier in the United States; leading no-contract brands including Virgin Mobile USA, Boost Mobile, and Assurance Wireless; instant national and international push-to-talk capabilities; and a global Tier 1 Internet backbone. You can learn more and visit Sprint at www.sprint.com or www.facebook.com/sprint and www.twitter.com/sprint.