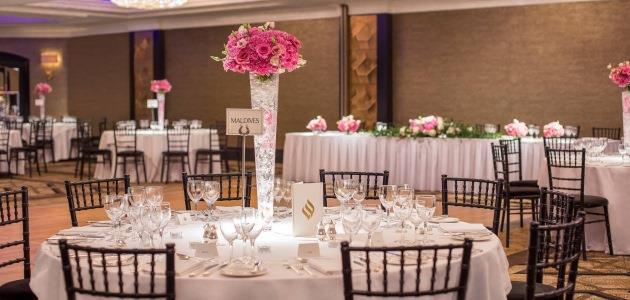 Jumeirah Carlton Tower reveals its Royal connections ahead of the Royal Wedding with Royal grade beef, a luxury Royal Suite offering and a candid interview with Meghan Markle
Jumeirah Carlton Tower, a landmark luxury hotel in the heart of Knightsbridge, is celebrating its Royal ties in time for the Royal event of the year; the wedding of HRH Prince Harry and Meghan Markle. From serving beef from the Royal Warrant holder who supplies to Her Majesty the Queen, to interviewing Meghan before she was on the Royal-scene, there is no better time to share the connections that the hotel holds.
As the world goes Royal-wedding-crazy in the lead-up to the big day, The Rib Room Bar & Restaurant at Jumeirah Carlton Tower will be undertaking its routine Royal-worthy meal preparation. The restaurant has been serving top-quality beef from the Royal Warrant Holder, Donald Russell, for four years. Executive Head Chef at The Rib Room, Simon Young comments "It's a privilege to be serving meat from Royal Warrant Holder butcher Donald Russell at The Rib Room Bar & Restaurant. Our Royal grade rib of beef dish is a bestseller and our dedicated team in the kitchen work hard so that the meat is prepared to perfection."
For over 40 years, Donald Russell has passionately upheld the highest standards of craft butchery. Renowned for the quality of its hand cut steaks and roasts, its small team of Aberdeenshire butchers were awarded the Royal Warrant for the quality of their meat and poultry in 1984, and have held it continuously ever since. It's no surprise that the Royal family choose Donald Russell as their butcher by appointment, surrounded by the rich, rolling farmland of Aberdeenshire, Donald Russell has its roots in the partnership of a butcher and a local beef farmer, back in 1974 and are proud to keep the traditional butcher's craft and hand skills alive.
Rob McFarlane, Director of Sales & Business at Donald Russell says: "Here at Donald Russell, we're very proud of our own Royal connection. We have been supplying the Royal Households for well over 30 years, which we regard as a testament to the quality of our meat. We've also worked for many years with The Rib Room, supplying our hand selected, traditionally dry-aged ribs of grass-fed British beef, delivered directly from our butchery in Inverurie, Aberdeenshire to the Rib Room in Jumeirah Carlton Tower in Knightsbridge"
Jumeirah Carlton Tower, a stone's throw away from Buckingham Palace, is also the proud owner of a high-end Royal Suite, which lives up to its elite name and is open for bookings. The Royal Suite offers a truly elevated standard of living, wowing guests with a King Size bed, butler service, truly breath-taking view over Knightsbridge and a modern kitchen with a 10 seat dining room table, as well as many other amenities designed to give guests a truly Royal service.
Finally, in May 2015 the Jumeirah magazine got its hands on a much sought after interview with Meghan Markle before she announced her engagement. The interview took place at sister property, Grosvenor House Suites by Jumeirah Living, where Meghan spoke about her stay with Jumeirah, appearing on Suits, working with the United Nations and her now-ceased blog The Tig, on top of other topics that you can find out more about from the attached interview scan.
–Ends-
Notes to Editors:
About Jumeirah Carlton Tower:
Jumeirah Carlton Tower, situated in the heart of Knightsbridge, is a landmark hotel acknowledged as one of London's finest. The hotel is noted for its fine dining, exclusive Peak Health Club & Spa and enviable location off Sloane Street – the capital's most fashionable shopping area. Jumeirah Carlton Tower offers 216 rooms and suites, individually styled with a calm and contemporary feel, together with dining in the Chinoiserie lounge, The Rib Room and The Club Room.
About Jumeirah Group:
Jumeirah Group, the global luxury hotel company and a member of Dubai Holding, operates a world-class portfolio of hotels and resorts including the flagship Burj Al Arab Jumeirah. Jumeirah Hotels & Resorts manages properties in Dubai and Abu Dhabi, UAE; Bahrain and Kuwait in the Middle East; Frankfurt, London and Mallorca (Spain) in Europe; the Maldives and Shanghai in Asia. Jumeirah Group also operates the new upscale-casual brand, Zabeel House by JumeirahTM and runs the luxury serviced residences brand Jumeirah LivingTM with properties in London and Dubai; the wellness brand TaliseTM; Jumeirah Restaurant Group DubaiTM; Wild Wadi WaterparkTM; The Emirates Academy of Hospitality ManagementTM; Jumeirah SiriusTM, its global loyalty programme; and isme by Jumeirah™ an app based rewards programme in the UAE. Future openings include luxury hotels in the UAE, Indonesia, China, Oman, Jordan, Malaysia and the Kingdom of Saudi Arabia. www.jumeirah.com