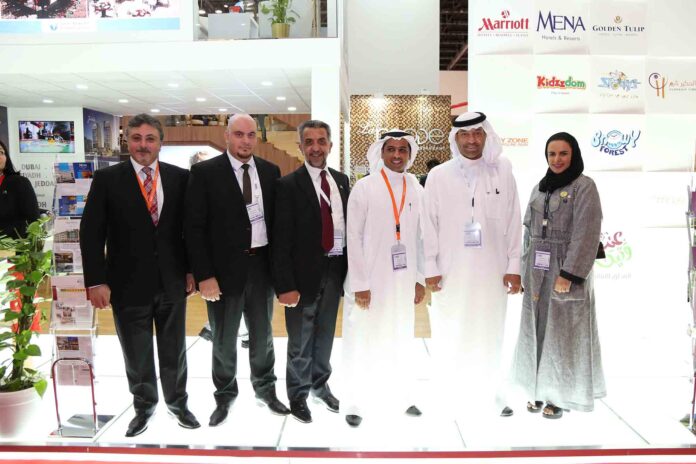 Growth of entertainment parks and amusement attractions is driving tourism at an unprecedented pace across the GCC region. Al Hokair Group, one of Saudi Arabia's leading and most established names in the hospitality and entertainment sector, unveiled today at the Arabian Travel Market (ATM) its latest developments and expansion plans in the sector.
Mr. Sami Al Hokair, Managing Director of Al Hokair Group, said, "Having played a pivotal role in the development of family entertainment centres in Saudi Arabia, we are well placed to take advantage of the massive opportunities opening up in the sector. Growth of tourism in the region is generating greater demand for such destinations. At Al Hokair we offer a unique mix of themed attractions and experiences and will soon be expanding out footprint in the region with the addition of new locations."
Mr. Omar Samara, CEO of Al Hokair Group, said, "We have come a long way to realise our ambition of becoming a leading name in the amusement industry in the last five decades. Today, our entertainment division offers unlimited attractions for families taking into account varied interests of the diverse age groups. To start with we were the first provider of safe entertainment in Saudi Arabia and now have a portfolio of 80 plus amusement centres spread across the Kingdom and the United Arab Emirates."
Capitalising on the growing demand for family entertainment in the region, Al Hokair Group has been engaged in aggressive expansion. Eight new entertainment centres were added over the past 12 months in Saudi Arabia with an additional six new locations planned for opening this year. Along with the continued expansion of activities across KSA and the UAE, the group is also eager to tap into the emerging opportunities in various other parts of the Middle East and North Africa.
Elaborating on the group's commitment to ensuring quality and value at every step, Mr. Mishal Abdul Mohsen Al Hokair, Deputy CEO & General Manager of Al Hokair Entertainment Division, stated, "We remain faithful to our core objective of providing well-certified quality service to our customers. Mr father Sheikh Abdulmohsin Al Hokair always said our goal was simply 'to bring smiles' and that remains until today integral to our philosophy while dealing with our staff and customers. Our upcoming projects will offer many new exciting games and experiences for players. In addition to entertainment they have also been chosen and developed to provide 'edutainment' value to users."
–ENDS–
Al Hokair Group will be present at Arabian Travel Market from 22 to 25 April on stand 'HC 0570' in Sheikh Saeed Hall in Dubai International Convention and Exhibition Centre.
About Al Hokair Group
Founded in 1975, under the leadership of Sheikh Abdulmohsin Al Hokair, Al Hokair Group boasts a portfolio of 80+ entertainment centres and 40+ hotels comprising more than 5000 rooms spread across KSA, UAE and JORDAN. Occupying over 882,226 sqm of space and employing over 4500 experienced professionals, the group serves over 12 million people annually.
For more information about Al Hokair Group visit www.alhokair.com
For media contact:
Hina Bakht
Managing Director
EVOPS Marketing & PR
Mob: 00971 50 6975146
Tel: 00971 4 566 7355
Hina.bakht@evops-pr.com
www.evops-pr.com
 Al Hokair Group's Entertainment Brands
 Sparky's
Lighten Up Your Life
Offering modern group computer gaming, mechanical adventure games testing strength, endurance and suspense games played on huge hydraulic screens, Sparky's Centers are the epitome of fun and happiness – as symbolized by our butterfly logo and now added 3D cinema to the mix, making Sparky's the premier family destination in the Kingdom.
Sparky's Zone Centers
The chain of Sparky's zone characterized by its digital decorations that make the visitor feels as if he is swimming inside the programs, devices and computers to take from them moments of excitement and suspense in climates that are filled with activity and vitality reflected by games that are selected with extreme care and accuracy that observe all age categories.
Sporty's
Sporty's is the latest concept in a long line of successful family play brands to be imagined, implemented and operated by the renowned Al Hokair Group.
At the heart of the groundbreaking 'Sporty' vision lies the unique concept of blending competitive sports and physical actions within a mould breaking FEC (family entertainment centre) experience.
Set with in a contemporary environment Sporty's will engage young and old in an enthralling mix of nature, technology, and customer interactivity. Custom themed rides and cutting-edge attractions will ensure families return time and again to play in this magical arena of light, sound and fun.
Snowy Forest
Al Hokair group has launched its new concept of FECs Snowy Forest in kingdom of Saudi Arabia. Snowy Forest is unique with its special interior design and the games that make the visitors feeling like he is in a Snowy forest beside the lovely Snowy special characters and the safe games and soft play areas that fit to the kids aged below 12 years. Snowy forest centers include also special areas for the kids between 1 year to 6 years which are supervised by well-trained employees to take care of the kids. Beside the educational games which fit to their ages. You may also hold your little one's birthday special at any of Snowy forest branches and give them memories they will never forget.
Sky Zone
Trampoline Park
 Sky Zone is dedicated to providing you with the pure joy that comes with flying. They're sky lovers, thrill seekers and people who believe that jumping is freedom. They believe fitness can be fun and play can be smart. They're healthy and bursting with energy. They believe in how to fly high and keep it safe. They are Sky Zone. The trampoline parks will operate under the Sky Zone name and will cover, 1,400 square
metres and 2,500 square metres respectively. They will be the first Sky Zone installations
to open in Saudi Arabia and will be equipped not just with basic trampolines, but features
such as side-walls, slopes and basketball hoops will be added plus foam pits. Staff will be
on hand to oversee the operation of the parks, specially trained by Sky Zone.
This will carry on the theme of exercise. Trampolines are recognised as one of the finest
forms of exercise available.
 Go Go Toys
Kids Toys Shop
The Group was keen to provide all the services that visitors to amusement centers need. Therefore, the chain of Go Go Toys stores was launched. They are characterized by different formations of games that suit all categories and ages. The Group concluded contracts with the biggest companies that supply the games, so children can access the latest and best games, which focus on developing children's sensory and intellectual skills.
 For media contact: