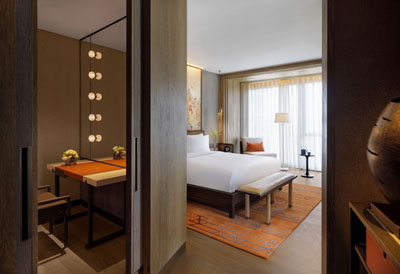 Hyatt Hotels Corporation (NYSE: H) announced today the opening of a Grand Hyatt hotel in one of China's most ancient cities, Xi'an. Reinterpreting the city's rich history and multicultural influences with a contemporary splendor, the Grand Hyatt Xi'an hotel places guests center stage for a memorable journey in this legendary destination and marks another important milestone for Hyatt's continued brand expansion in Northwest China.
"The heritage and history of Xi'an have been the backdrop for an impressive atmosphere of hospitality," said Christopher Koehler, Hyatt's vice president of operations and managing director for China. "As early as 1990, Xi'an has been of special importance for Hyatt as it was one of the first locations in which our brands entered China and where we have cultivated great talent and leaders over the years. We are grateful to Maike Group for developing such a spectacular property and are excited to support the development of the Silk Road in the process."
The oldest amongst the four great ancient capitals of China, Xi'an was the starting point of the Silk Road connecting east and west and is also home to one of the world's most recognizable UNESCO sites, the Terracotta Army of Emperor Qin Shi Huang, China's first emperor. Today, Xi'an is a key component of the renewed focus on the Silk Road, whose development is spearheading growth across the region and establishing the city as an important economic and cultural center for Northwest China.
"We are excited to welcome guests from all over the world to enjoy a stay beyond the ordinary at Grand Hyatt Xi'an," said Sidney Hardy, the hotel's general manager. "Grand Hyatt Xi'an is an iconic embodiment of the city's transformation as well as the boldness and worldliness of the Grand Hyatt brand. We are determined to provide our guests with an extraordinary journey and create many unforgettable moments in this legendary destination."
Strategically located within the Xi'an High-Tech Industries Development Zone, home to more than 200 Fortune 500 companies, Grand Hyatt Xi'an forms part of the landmark Maike Center, comprised of high-end retail and offices. Xi'an Greenland PICO International Convention & Exhibition Center as well as Xi'an Qujiang International Conference Exhibition Center are also situated nearby. Iconic tourist attractions, key transportation hubs and the international airport are also easily accessible from the hotel.
Design and Guestrooms
Inspired by a palatial mirage in the desert, the Grand Hyatt Xi'an hotel's impressive glass tower may appear cutting-edge, but its dramatic and bold design is firmly rooted in the history of Xi'an. Representing the Silk Road, the 396-room hotel connects to an office tower via a Sky Bridge 328 feet above ground. At ground level, the striking, faceted exterior of the hotel shapes the unique entrance comprised of a two-story atrium lobby topped with a triangular sloping glass roof. Inside, guests are greeted with striking design inspired by the exotic desert wildlife, geography and culture of the modern Silk Road.
Marrying contemporary luxury and modern comforts, ample space is afforded to all guests, with standard rooms starting at a generous 538 square feet and deluxe rooms starting at 807 square feet, all with expansive floor-to-ceiling windows. Light brushed woods and terracotta or crimson accents create a warm and relaxing ambience, like coming home.
Dining and Drinking
From the Sky Bridge, visitors can take in the dramatic 360-degree views of the metropolis below.  The scene is particularly beautiful in the evenings, when floor-to-ceiling windows frame views of the glittering city lights. Against this backdrop, numerous dining experiences are available ranging from local to global gastronomical fare at The Lounge, Grand Café, Chang'an Bridge Chinese Restaurant and Allegro Restaurant & Bar.
Grand Café conjures a vibrant marketplace along the Silk Road, where chefs prepare local and global cuisines within interactive, open kitchens during breakfast, lunch and dinner. Dressed in warm desert tones, The Lounge is a welcoming spot for high-flyers to relax and meet.
Chang'an Bridge Chinese Restaurant serves the regional cuisines of Canton and Shaanxi in a chic ambience that contrasts dramatic abacus-styled screens and red booth seating with rustic woods and Persian carpets. In addition to the main dining room, nine dining suites are available for exclusive private experiences with butler service.
Opening later this year, Allegro Restaurant & Bar will bring a new level of personality to dining and nightlife in Xi'an. An Italian restaurant by day serving classic dishes and artisanal pizzas from the wood-fired oven, Allegro Restaurant & Bar will transform into a vibrant gastro lounge with specialty cocktails, wines and spirits, and live entertainment at night. The space can also be converted into a special event venue for meetings or events with natural light and impressive views.
Later this year, Maple House will specialize in Pan-Asian and local Shaanxi BBQ specialties in a stylish setting enclosed by floor-to-ceiling windows and glass doors. In sunny weather, guests can also enjoy alfresco dining on the podium terrace atop the fifth floor, which is beautifully landscaped with fire pits and colorful gardens.
Meetings and Events
Grand spectacles are a hallmark of the Grand Hyatt brand, and the 24,907 square feet of futuristic and customizable spaces at Grand Hyatt Xi'an host the city's most prestigious and extraordinary events. Both the Grand Ballroom and the Grand Salon are enclosed by lavishly curving walls that emulate the natural beauty of desert sand dunes. Encircling the space is a nearly 10 foot high LED screen that can be used by event organizers for tailored presentations that "travel" around the entire Grand Ballroom, enabling infinite creative possibilities.
An additional 11 meeting rooms are available in varied sizes for customized business meetings or intimate social gatherings as well as a large open kitchen that offers a site for creative catering and networking.
Well-being and Activities
Grand Hyatt Xi'an houses a 24-hour fitness center equipped with the latest contemporary cardio and strengthening equipment to cater to all guests' training routines while traveling. Guests can also take a dip in the indoor swimming pool which mirrors the ocean waves with undulating textured patterns on the walls and floor.
Conceived as an oasis amidst the sand dunes, the spa on the sixth floor is a calming sanctuary in soothing natural shades of green and wood, with pops of orange and yellow, where guests can be pampered with traditional Chinese-inspired massages and treatments. The spa will open in summer 2018.
Special Offer
To celebrate its opening, Grand Hyatt Xi'an is now offering a special promotion. For every room night booked now through June 30, 2018, guests may enjoy an opulent breakfast at the Grand Café with rates starting at $189 (subject to 15% service charge). The offer is valid for stays now through August 31, 2018.
For additional information or to make a reservation for Grand Hyatt Xi'an, please visit www.GrandHyattXian.com or by calling Hyatt's Global Contact Center 1 (888) 591-1234.
The term "Hyatt" is used in this release for convenience to refer to Hyatt Hotels Corporation and /or one or more of its affiliates.
About Grand Hyatt 
Around the world, Grand Hyatt hotels unlock the extraordinary in every moment by creating experiences beyond expectation. Located at the crossroads of local culture and global business within major gateway cities and resort destinations, each Grand Hyatt hotel is uniquely designed to reflect its own distinct environment and provides a hub for travelers and locals alike. Grand Hyatt hotels exemplify the pursuit of life lived grandly offering guests superior service, first-class accommodations and an abundance of options within a multicultural backdrop of dramatic architecture and innovative design. Grand Hyatt properties boast inventive restaurants, luxury spas, fitness centers, and business and meeting facilities. Grand Hyatt hotels stand to make every moment memorable through their commitment to living grand every day. For additional information or to make a reservation, please visit grandhyatt.com. Follow @GrandHyatt on Facebook and Instagram, and tag photos with #GoGrand.
About Hyatt Hotels Corporation
Hyatt Hotels Corporation, headquartered in Chicago, is a leading global hospitality company with a portfolio of 14 premier brands. As of December 31, 2017, the Company's portfolio included more than 700 properties in more than 50 countries across six continents. The Company's purpose to care for people so they can be their best informs its business decisions and growth strategy and is intended to attract and retain top colleagues, build relationships with guests and create value for shareholders. The Company's subsidiaries develop, own, operate, manage, franchise, license or provide services to hotels, resorts, branded residences, vacation ownership properties, and fitness and spa locations, including under the Park Hyatt®, Miraval®, Grand Hyatt®, Hyatt Regency®, Hyatt®, Andaz®, Hyatt Centric®, The Unbound Collection by Hyatt®, Hyatt Place®, Hyatt House®, Hyatt Ziva™, Hyatt Zilara™, Hyatt Residence Club® and exhale® brand names. For more information about Hyatt Hotels Corporation, please visit www.hyatt.com.
Forward-Looking Statements
Forward-Looking Statements in this press release, which are not historical facts, are forward-looking statements within the meaning of the Private Securities Litigation Reform Act of 1995.  Our actual results, performance or achievements may differ materially from those expressed or implied by these forward-looking statements. In some cases, you can identify forward-looking statements by the use of words such as "may," "could," "expect," "intend," "plan," "seek," "anticipate," "believe," "estimate," "predict," "potential," "continue," "likely," "will," "would" and variations of these terms and similar expressions, or the negative of these terms or similar expressions. Such forward-looking statements are necessarily based upon estimates and assumptions that, while considered reasonable by us and our management, are inherently uncertain. Factors that may cause our actual results, performance or achievements to differ materially from current expectations include, among others, the rate and pace of economic recovery following economic downturns; levels of spending in business and leisure segments as well as consumer confidence; declines in occupancy and average daily rate; the financial condition of, and our relationships with, third-party property owners, franchisees and hospitality venture partners; the possible inability of third-party owners, franchisees or development partners to access the capital necessary to fund current operations or implement our plans for growth; risks associated with potential acquisitions and dispositions and the introduction of new brand concepts; changes in the competitive environment in our industry, including as a result of industry consolidation, and the markets where we operate; general volatility of the capital markets and our ability to access such markets; and other risks discussed in the Company's filings with the U.S. Securities and Exchange Commission, including our Annual Report on Form 10-K, which filings are available from the U.S. Securities and Exchange Commission. These factors are not necessarily all of the important factors that could cause our actual results, performance or achievements to differ materially from those expressed in or implied by any of our forward-looking statements.  We caution you not to place undue reliance on any forward-looking statements, which are made only as of the date of this press release. We undertake no obligation to update publicly any of these forward-looking statements to reflect actual results, new information or future events, changes in assumptions or changes in other factors affecting forward-looking statements, except to the extent required by applicable law. If we update one or more forward-looking statements, no inference should be drawn that we will make additional updates with respect to those or other forward-looking statements.
###
CONTACTS:
Lillian Zhang
Hyatt – China
lillian.zhang@hyatt.com
+86 10 5928 1234
Gloria Kennett
Hyatt
gloria.kennett@hyatt.com
312-780-5506