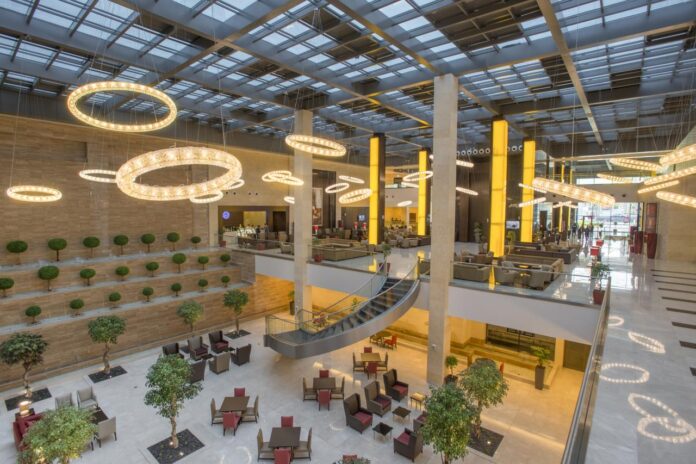 IHG (InterContinental Hotels Group), one of the world's leading hotel companies has today announced the opening of Crowne Plaza Riyadh Palace in partnership with DUR Hospitality. The 304-room hotel adds to the growing portfolio of IHG hotels in the Kingdom of Saudi Arabia.
Crowne Plaza Riyadh Palace is strategically located in the Ministries Quarter, a popular business district that is close to major Saudi financial institutions and Government offices. The hotel is conveniently located 15 minutes from King Fahd Stadium and the King Fahd Cultural Centre, and is less than 30 minutes' drive from King Khalid International Airport, making it easily accessible for visitors to the city.
Productivity and rejuvenation go hand in hand at the Crowne Plaza Riyadh Palace, which is redefining the business travel experience and offering a comprehensive range of facilities to meet the needs of corporate and MICE travelers. For those in town on business, the hotel features five meeting rooms spanning 1,400 sqm and a dedicated team to execute seamless events. With free Wi-Fi access throughout the hotel, the guests can stay connected to their business or home. Additionally, the 24-hour business center is fully equipped with the latest technology and amenities, providing a great working space to the hotel guests.
During downtime, guests can enjoy the hotel's outdoor pool, Club Lounge or rejuvenate and relax at the spa. The guests staying at the hotel can keep their workouts on track at the well-equipped fitness centre. At the end of a busy day, guests can sleep better with help of the Crowne Plaza Sleep Advantage System, which includes a relaxing aromatherapy kit and ultra-soft premium bedding, so that they are more alert, productive and energized the next day.
Crowne Plaza Riyadh Palace offers exceptional dining options, including 24-hour room service, to guests staying at the hotel for business or leisure. Guests can enjoy an array of delectable food options at the poolside restaurant, while soaking up the sun or spend time at the lobby lounge for a casual business meeting or relaxing with friends over afternoon tea.
Pascal Gauvin, Managing Director, India, Middle East & Africa, IHG said: "We are delighted to announce the opening of the Crowne Plaza Riyadh Palace. Tourism is an integral part of Vision 2030 as the country endeavours to attract more foreign visitors as part of the economic diversification strategy. As a result, the hospitality landscape is developing at an astonishing pace and we are keen to take advantage of this massive opportunity. We are delighted to be working with a reputed industry player such as Dur Hospitality and look forward to extending true hospitality to our guests staying at Crowne Plaza Riyadh Palace."
Hassan Ahdab, President of Hotel Operations Dur Hospitality added:  "We are proud to build on our existing partnerships with IHG, who clearly understand the Saudi market and have a proven track record of success here. This opening demonstrates our shared confidence in the future growth of the Saudi tourism sector and we have no doubt that Crowne Plaza Riyadh Palace will add significant value to the city's hospitality offering."