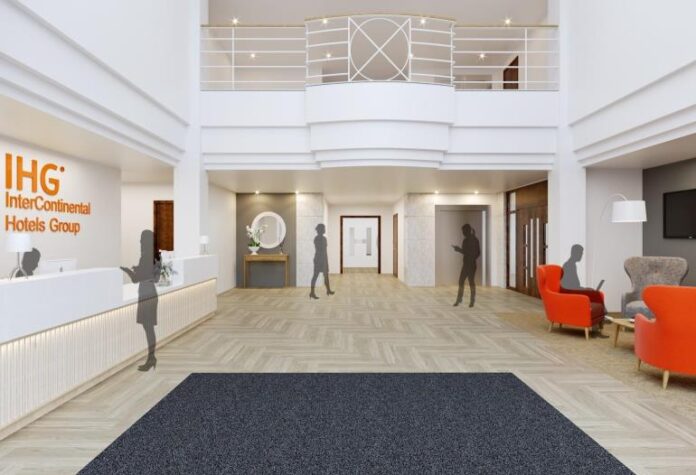 As part of a major reinvestment, IHG® (InterContinental Hotels Group), one of the world's leading hotel companies known for its popular brands such as Crowne Plaza and Holiday Inn, is creating over 70 jobs and refurbishing 60,000 square feet of office space at its three-storey corporate facilities in Branston, Burton upon Trent. 
Working alongside IHG's existing Branston-based talent, many of the recruits will form part of the hotel group's newly created Finance Centre of Excellence. Due to go into full operation later this year, the Finance Centre of Excellence will be a centrally located corporate support hub. It will provide financial insight and analytics expertise to IHG's wider business, which covers its regional headquarters and nearly 5,400 hotels in almost 100 countries.
John Evans, Head of Finance Transformation, IHG, commented: "At IHG we put huge effort into making our business a great place to work. We looked at several potential locations for our new Finance Centre of Excellence, including outside of the UK, however our existing Branston site won hands down.
We have a long history here and experienced talent in place, as well as a great location, strong local labour market and excellent transport links. As an organisation, we've laid out ambitious growth plans and our recruitment campaign and reinvestment in the facilities here will create a real hub for finance talent in Burton."
Work is already underway to completely modernise the office space. The interior of the building has been re-designed to create new workspace and recreation areas, which include state-of-the-art technology, new coffee shop, restaurant and gym.
IHG's newest recruits will be joining 100 colleagues currently based at the site. IHG traces its origins back to 1777 when William Bass first opened a brewery in Branston. The business later transformed from a domestic brewer into a global hospitality company.
IHG has been accredited as a Top Employer for corporate employees in the UK for four consecutive years, in recognition of its exceptional employee environments, with a focus on nurturing and developing talent across the organisation.