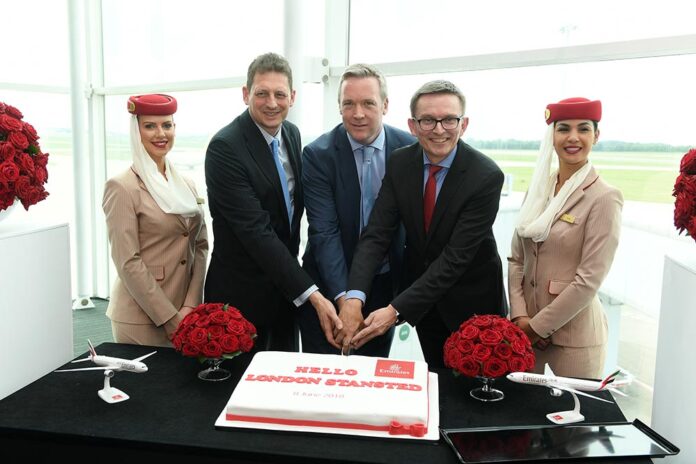 Emirates celebrated the inaugural flight of its new daily service from Dubai (DXB) to London Stansted (STN).
The Emirates Boeing 777-300ER touched down just before 1400hrs local UK time yesterday, and marked London Stansted as the 7th airport in the UK from which Emirates operates. This brings to 10 the number of daily flights between Dubai and three different London airports, with Stansted joining Gatwick and Heathrow.
The aircraft deployed on the route is Emirates' new three-class Boeing 777-300ER, featuring its state-of-the-art, fully-enclosed private suites in First Class, and refreshed Business and Economy Class cabins. With floor to ceiling sliding doors and sleek design features, the new First-Class suites take luxury to the next level. The aircraft also sports newly-designed seats and upgraded inflight entertainment systems in all cabins. The new offering was first unveiled at the Dubai Air Show in 2017 and this will the first time travellers are able to experience the updated product to and from the UK.
To celebrate the airline's arrival to the airport, Emirates and Stansted airport held a launch event for local dignitaries and stakeholders, hosted by Hubert Frach, Emirates Divisional Senior Vice President, Commercial Operations West, and Richard Jewsbury, Divisional Vice President, UK, alongside Stansted Airport's CEO, Ken O'Toole.
"We decided to add London Stansted to our network because we saw an opportunity to directly connect the local community with some of the world's most popular leisure and business destinations. Previously, London's north east, and the wider 7.5 million people that live within Stansted's catchment areas had to travel into the city, or further, to access airports with global reach. Now, this daily flight to Dubai connects passengers seamlessly to Emirates points across the Middle East, Africa, Asia and Australasia," said Mr Frach.
"The new service also offers travellers into and out of the greater London area, more flexibility and convenience when planning their travel with Emirates, as they now have the choice of 10 flights a day across three airports," he added.
Ken O'Toole, London Stansted's CEO said: "Today is a truly significant moment in the history of London Stansted and we are delighted that our millions of passengers, based in London and the East of England, will see huge benefits from the direct connectivity between the airport and Emirates hub in Dubai and its vast array of onward connections.
"In 2018 Stansted is set to be the fastest growing London airport and a key enabler of economic growth for both the UK and East of England, and the addition of the new Emirates service will provide a further boost to our long haul ambitions and ultimately save local passengers valuable time and money that is associated with flying from other airports across London."
London Stansted Airport will also be important for Emirates SkyCargo, the freight division of Emirates, allowing it to offer additional cargo capacity and choice to customers. The carrier connects cargo customers to over 155 cities across 85 countries in six continents and flies 140,000 tonnes of cargo in and out of the UK in an average year. The Boeing 777-300ER will offer local businesses about 20 tonnes of cargo capacity per flight.
The new gateway is the seventh UK airport that Emirates operates out of in the UK; with Edinburgh to follow in October. Other locations include London Heathrow, London Gatwick, Birmingham, Newcastle, Manchester and Glasgow.
The daily flight from Dubai (DXB) to London Stansted (STN), EK33, departs Dubai at 0930hrs and arrives in London Stansted at 1410hrs. The return flight, EK34, departs London Stansted at 2110hrs and arrives in Dubai at 0705hrs the next day.