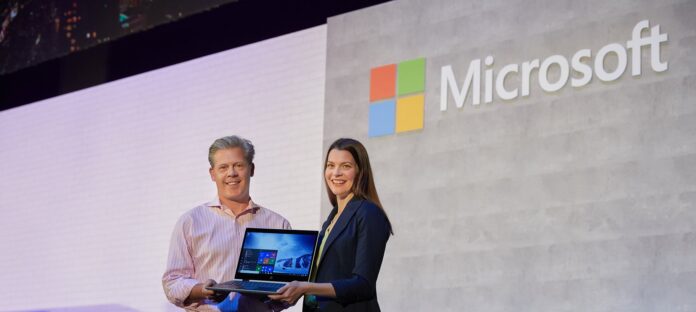 Wednesday at Computex Taipei, Microsoft Corp. underscored its commitment to the partner ecosystem and announced new programs and a new category of intelligent devices, designed to take advantage of a digitally connected world and drive new growth and opportunity for the industry. At the event, Microsoft shared how the era of the intelligent cloud and intelligent edge will usher in the next phase of innovation and create a broad portfolio of devices that will blend more naturally into people's lives.
Nick Parker, corporate vice president, Consumer and Device Sales, showcased how Microsoft is bringing the industry together to build the intelligent cloud and intelligent edge, delivering new experiences and solutions not previously possible.
"For Microsoft, it's more than just screens and devices; it's about creating services and experiences with technology that support ambitions and aspirations," Parker said. Imagine the devices and experiences we can create with ubiquitous computing, infused with AI and connected to the cloud. This is such an incredible time for the industry."
Parker was joined on stage by Roanne Sones, corporate vice president, Platforms, who announced a new partner community for the intelligent edge, a new category of Windows 10 devices called Windows Collaboration Displays and a new offering with Windows 10 IoT Core Services.
New programs to help build the intelligent edge
The intelligent cloud and intelligent edge will offer a new world of possibilities for the industry to deliver more flexible and custom experiences for everyone, whether a thermostat in a smart home or an interactive display in a smart office. In addition to modern devices from leading partners, Sones shared news and momentum in areas including these:
New intelligent edge partner community: To accelerate innovation in this new era we invite all our partners to join our intelligent edge partner community. The community will help partners connect with one another to identify opportunities to collaborate on technology innovation and achieve shared business goals. In addition, community members will be able to participate in trainings and community events, and can participate in early adopter programs that provide access to documentation, specs, OS builds and certification details. Those wanting to sign up should visit http://microsoft.com/intelligentedge.
Windows IoT core services: Microsoft revealed a new service offering that will enable partners to commercialize a secure IoT device, backed by industry-leading support. The service offering helps make it easier to manage updates for the OS, apps, settings and OEM-specific files; includes Device Health Attestation (DHA); and is backed with 10 years of support. More about the service offering can be found on the Windows blog.
A new category of devices: Windows Collaboration Displays
Microsoft 365 brings together Office 365, Windows 10 and Enterprise Mobility + Security that delivers a complete, intelligent and secure solution to empower employees. It's a global productivity platform that enables multisense, multidevice experiences that put people at the center for both work and life. People around the world already use the power of Microsoft 365 across PCs, tablets, phones and other devices from our partners to work how, when and where they want.
Along with its partner ecosystem, Microsoft announced new opportunities to bring Microsoft 365 experiences to life through a new category of devices called Windows Collaboration Displays. These new devices allow users to experience Microsoft 365 collaboration tools, Office, Teams and Whiteboard, at room scale. A variety of Collaboration Displays from Sharp and Avocor will be available later this year.
Microsoft at Computex
Visitors to Computex Taipei can view the new Windows 10 devices and IoT solutions at the Microsoft Booth, on the 4th floor of the NanGang Exhibition Hall, L Area #0110. The show is open June 5–9.
Microsoft (Nasdaq "MSFT" @microsoft) enables digital transformation for the era of an intelligent cloud and an intelligent edge. Its mission is to empower every person and every organization on the planet to achieve more.
For more information, press only:
Rapid Response Team, WE Communications, (425) 638-7777, rrt@we-worldwide.com
Note to editors: For more information, news and perspectives from Microsoft, please visit the Microsoft News Center at http://news.microsoft.com. Web links, telephone numbers and titles were correct at time of publication, but may have changed. For additional assistance, journalists and analysts may contact Microsoft's Rapid Response Team or other appropriate contacts listed at http://news.microsoft.com/microsoft-public-relations-contacts.