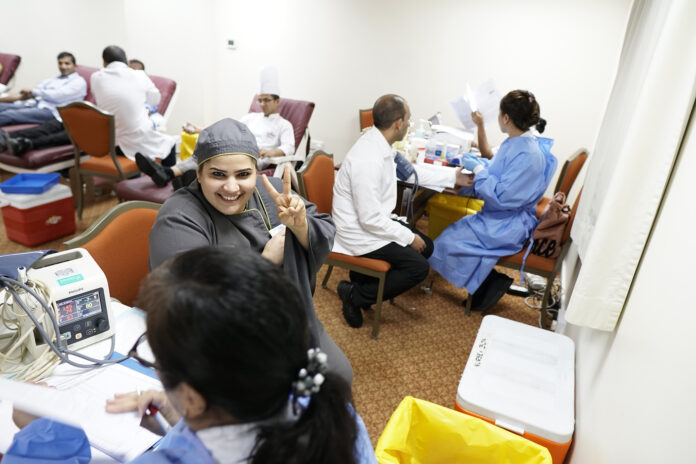 In keeping with its Corporate Social Responsibility (CSR) policy the Millennium Airport Hotel Dubai participated recently in a Blood Donation campaign organised in collaboration with the Dubai Blood Donation Centre (DBDC) and Latifa Hospital.
Mr. Simon Moore, General Manager of Millennium Airport Hotel Dubai, said, "We are extremely grateful to Latifa Hospital for having given us the opportunity to support this essential life-saving cause, that also serves to raise awareness for the need of blood donations.  As part of our CSR policy, we are committed to support humanitarian causes such as these in the broader interest of our community. I would like to thank all Millennium Airport Hotel Dubai colleagues who responded to our call for blood and made this initiative a true success by collecting 34 bottles of blood".
The Dubai Health Authority's Blood Donation Center (DBDC) is the main blood donation center in Dubai and it is committed to providing a safe and adequate supply of blood to all DHA hospitals & private hospitals in Dubai.
Transfusion of blood and blood products helps save millions of lives every year. Every blood donation can potentially save up to three lives. It can help patients suffering from life-threatening conditions live longer and with higher quality of life and supports complex medical and surgical procedures. It also has an essential, life-saving role in maternal and child care and during man-made and natural disasters. Today, only 62 countries get close to 100% of their national blood supplies from voluntary unpaid blood donations, with 40 countries still dependent on family donors and even paid donors.
For hotel marketing contact:
Sheryl Aquiatan
Assistant Marketing Managers
Millennium Airport Hotel Dubai
Mob: 00971 56 506 0983
Tel: 00971 4 702 8888
sheryl.aquiatan@millenniumhotels.com
For media contact:
Hina Bakht
Managing Director
EVOPS Marketing & PR
Mob: 00971 50 6975146
Tel: 00971 4 566 7355
Hina.bakht@evops-pr.com
www.evops-pr.com
Millennium Hotels and Resorts, Middle East and Africa
Millennium Hotels and Resorts is a dynamic, global hotel company, which owns, asset manages and operates over 130 hotels worldwide. With almost 40,000 rooms and a portfolio of brands; including Biltmore, Grand Millennium, Millennium, Millennium Place, M Hotel, Copthorne, Kingsgate, Millennium Executive Apartments and Studio M, that serve different market segments, representing quality and value in every class.
Currently operating 35 hotels in the Middle East and Africa, the Group has an extensive expansion strategy in place, with 40 hotels in the pipeline. Each property in the region is unique, catering to the varying tastes and needs of the international business and leisure traveller but with a consistent promise to provide a first class service and a rewarding experience for guests. Millennium Hotels and Resorts is committed to differentiating itself by embracing the true spirit of diverse traditions, with a sincere respect to historical heritage and local culture.
With the motto "More than Meets the Eye", Millennium & Copthorne is committed to a customer-centric philosophy and complete guest satisfaction.
For more information, please visit www.millenniumhotels.com