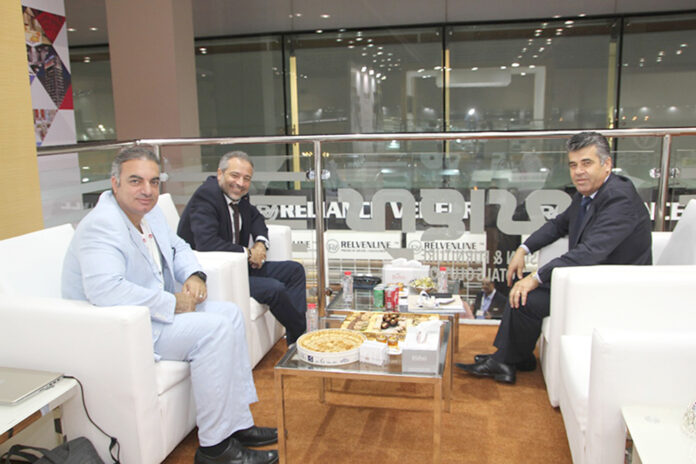 Saudi based Designs Group has announced its strategic alliance with Warwick Hotels & Resorts (WHR) for the management of new properties featuring 1000 rooms in the Kingdom. The agreement will come into effect from the beginning of 2019.
Making the announcement at The Hotel Show in Dubai, Eng. Mohammad Al-Nadi, CEO of Designs Group, stated, "We are very pleased to collaborate with Warwick Hotels & Resorts for our upcoming projects in Saudi Arabia. These hotels are situated in prime locations and are being developed to offer world-class facilities. We are confident WHR will add great value to the projects with their vast global and regional experience and expertise. Our business strategy is in line with Saudi Vision 2030 that recognises the role religious tourism can play in diversifying the economy and is therefore fuelling the demand for quality hotels. The market is currently under supplied in terms of hotels and projected to show strong growth in future that we are well placed to capitalise on."
With the expected completion of the Holy Mosque and various infrastructure developments coupled with the anticipated recovery in feeder market's economies in the mid to long term, the Kingdom aims to welcome 30 million pilgrims by 2030.
Mr. Jamal Serhan, Senior Vice President WHR / Chief Executive Officer MENA, stated, "Saudi Arabia is an extremely significant market for us with a growing demand for hotels. We are delighted to expand our footprint in the Kingdom where we already have seven hotels and very excited to penetrate new destinations with a reputable partner like Designs Group. We are truly grateful to them for having given us this fantastic opportunity."
Religious pilgrims currently contribute 2-3% of Saudi's GDP. Therefore, there are plans to roughly double the capacity to accommodate both Umrah and Hajj visitors to around 15 million and five million respectively by 2020. In addition to massive development of hotels, the Saudi government is investing in major transport infrastructure to grow tourism such as the new Jeddah airport and the Haramain High Speed Rail line linking the holy cities of Medina and Mecca via King Abdullah Economic City, Rabigh, Jeddah, and the new Jeddah airport. It is also doing significant investment in large-scale leisure, cultural and entertainment projects.
Visit Designs Group at The Hotel Show on Stand No. 5E219 from 16-18 September 2018 at Sheikh Saeed Hall, Dubai World Trade Centre.
About Designs Group
Designs Group is a pioneer in providing integrated hotel solutions as well as construction and management services. With over three decades of outstanding experience and 13 specialized companies, Designs Group (ProArt Intl, PerfectTech, B2B Hotel Furniture, and other subsidiaries co.) has served a prestigious list of more than 10,000 clients across the Middle East and Africa region since the 1990s delivering some of the most complex and award-winning projects. B2B Hotel Furniture is a specialized furniture, fixtures and equipment (FF&E) and operating supplies equipment (OS&E) purchasing firm.
For more information about Designs Group please visit  www.designs.sa
or www.b2bhotelfurniture.com
About Warwick Hotels and Resorts
Warwick Hotels and Resorts (WHR) was launched in 1980 with the purchase of Warwick New York, a hotel originally built by William Randolph Hearst for his Hollywood friends. The WHR now includes more than 55 prestigious Hotels, Resorts & Spas worldwide located in city centres and resort destinatssions in the United States, Caribbean, Europe, Asia, Bali, the South Pacific, the Middle East and Africa. Further details can be found at www.warwickhotels.com
For media contact:
Hina Bakht
Managing Director
EVOPS Marketing & PR
Mob: 00971 50 6975146
Tel: 00971 4 566 7355
Hina.bakht@evops-pr.com
www.evops-pr.com