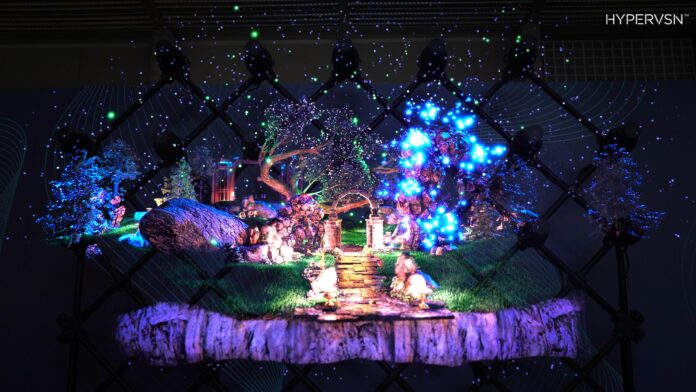 October 14, 2018 – HYPERVSN, the world's only fully integrated 3D holographic display system, has announced that it is launching into the UAE market. The company will exclusively reveal its technology at this year's GITEX, the largest technology show in the Middle East, Africa & South Asia which takes place 14th – 18th October in Dubai. There will be a further full rollout into the UAE market following the launch.
The revolutionary technology allows 3D videos to appear as though floating in the air enabling content to be perceived by viewers as hi-resolution holograms. The product is made up of individual projection units and a proprietary management platform that allows the user to manage all devices remotely from a single location. Content can automatically synchronize across several units and be scheduled into media campaigns all in one click. The technology offers cutting edge visual marketing – from digital signage and out-of-home, to experiential events and more.
Having secured initial investment and endorsement from business tycoons including Mark Cuban and Sir Richard Branson, co-founders Kiryl Chykeyuk and Art Stavenka have grown the business to over 120 employees with a presence in over 80 countries. HYPERVSN's customers include Renault, Moët Hennessy, Coca-Cola, Adidas and M&M Mars, and its team created a jaw-dropping campaign for Louis Vuitton at London's iconic Selfridges store in May.
Kevin Gordon, CMO, HYPERVSN said: "The UAE market continues to be strong and there are lots of opportunities within luxury and retail, we are excited about the opportunities this market holds for us. Brands here are constantly looking for ways to creatively communicate with their audiences – we can offer them that solution through our technology."
HYPERVSN has already received several global awards for its technology including: Top 3 British Innovations of the Year and was also named among the World's 10 most Impressive Technologies by Mashable and USA Today.
The proprietary HYPERVSN hardware works in conjunction with a platform of unique and robust software/content, to provide customers with an integrated 360, high-quality business solution. Targeted business verticals include: Digital Signage, Retail, Events, Education, Public Safety and many more – the future possibilities are endless.
About HYPERVSN
HYPERVSN is a young technology company responsible for developing the innovative and disruptive 3D holographic system that provides an immersive experience for viewers. From our global HQ in London, HYPERVSN services our partners and customers across the globe.
The company founded in 2012 and initially backed by Sir Richard Branson has recently attracted additional investment from Mark Cuban among others.
Our Brand Line "See Extraordinary" encapsulates the approach we stand for. Seeing is believing. We create extraordinary experiences for people who view our holographic visuals with a sense of childlike awe and wonder.