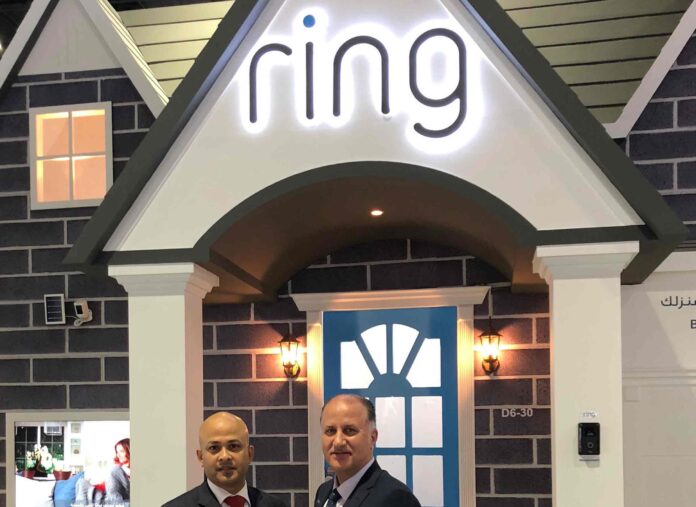 Ring, a leader in neighborhood security, today announced that it has partnered with PRO TECHnology, a leading provider of exceptional innovative IT solutions in the Gulf region at GITEX 2018.  This partnership will help Ring foray and expand its reach across the regional market offering residential real estate developers & homeowners Ring's innovative home security products and solutions.
"Ring believes in keeping homes and communities safe rather than just comfortable, and we hope to change the way homeowners view security by keeping an eye on their family and property, even when they can't. Ring re-imagined the doorbell so consumers could respond – using a smartphone – to someone at their front door from anyplace, anytime while simplifying the technology with the combination of App, Cloud and Security hardware. PRO TECHnology has been providing technology-driven business solutions in the region for over 20 years and in that time, has succeeded in garnering an unparalleled regional presence. We look forward to working with PRO TECHnology to address the home security needs by extending Ring's reach and making our home security solutions more readily available to homeowners in the UAE," said Mohammad Meraj Hoda, Vice President of Business Development – Middle East and Africa at Ring.
Ring has evolved as a leading brand in the home security space represented by 18,000 plus stores across North America, and Ring's products globally have been hailed as a dependable second set of eyes and ears to deter would-be thieves from entering homes and communities. Following a pilot program with the Los Angeles Police Department in the US, within six months it was proven that Ring's Video Doorbell which provides a live view of any doorway and includes adjustable motion sensors and night vision, was able to reduce crime in a Los Angeles neighborhood by over 55%.  The goal is to bring the same convenience and security to the UAE neighbourhoods.
PRO TECHnology will act as a value added reseller for Ring's latest suite of smart home security products such as Ring Video Doorbell 2 that helps you communicate with visitors from anywhere; Ring Video Doorbell Pro which in addition to the features of the Video Doorbell 2 has improved motion detection features; Video Doorbell Elite which requires professional installation with power over ethernet offering the most reliable connection in home security; Ring Floodlight Cam, the first motion-activated security camera with two-way audio, HD video, built-in floodlights and a siren; and the new Ring Spotlight Cam Battery, a long-lasting battery-powered powered HD camera with two-way audio and a siren; the Spotlight Cam Wired with two-way talk and a siren solution. PRO TECHnology will also focus on residential real estate projects where Ring be great value addition to home owners and communities by keeping the safer neighborhood.
"PRO TECHnology has a long history in offering sophisticated IT solutions to our clients and one of our main expertise is security and CCTV applications and we are constantly looking at introducing innovative solutions to build that portfolio. When we were introduced to the state-of-the-art Ring products and solutions, we knew we had found the best home security provider," said Jamal H. Maraqa, Managing Director, PRO TECHnology. "The awareness and demand for smart home security devices, such as smart doorbells that keep families, neighborhoods and communities safe are growing and therefore we believe that our partnership with Ring is a perfect fit. We see exciting new possibilities in this partnership with Ring across the Gullf region and it will help PRO TECHnology to better address our customer's needs in today's environment of ever-increasing demand for home security solutions."
– Ends –
About Ring
Ring's mission is to reduce crime in neighborhoods and empower consumers by creating a Ring of Security around homes and communities with its suite of smart home security products: Ring Video Doorbell 2, Ring Chime Pro, Ring Video doorbell Elite, Ring Floodlight Cam, Ring Spotlight Cam Wired and Ring Spotlight Cam Battery. With these security devices, Ring has created the neighborhood watch for the digital age and continues to keep homes around the world safe. For more information, visit www.ring.com. With Ring, you're always home.
About PRO TECHnology
Headquartered in Dubai, PRO TECHnology continues to evolve, embrace and gain its significant reputation as a leading IT solution provider in MENA region. The company today, has unparalleled regional presence. Since its establishment in 1998, the company incessantly introduced to the region a well selected range of unique products, an array of vertical solutions, and implemented sophisticated and high-end applications.
With the efficiency of a goal-oriented team, and the continued trust of renowned vendors, partners and clients, PRO TECHnology remains to stay at the helm of IT standards and affirms its thrust tap to provide technological professionalism.