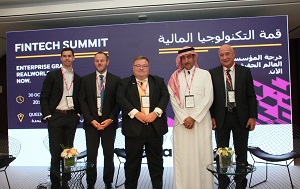 Fintech Summit, organised by leading regional deal facilitation company Naseba, brought together the Middle East and Africa region's most prominent Banking, Financial Services and Insurance (BFSI) institutions, technology providers and funders to share the latest trends and disruptive developments transforming the industry. Innovations in the field of RegTech, blockchain, robotics, AI and digital-only banking are fuelling fintech's rapid growth in the region.
The panelists from different verticals of the financial services sphere, exchanged their views on fintech's power to disrupt the financial sector across the MENA region with innovative solutions. Digitalisation of financial services is still the greatest opportunity for fintech with banks being the largest investors. Changes in customer preferences and technological advances have pushed large banks to take a lead in digitalisation in the region followed by Islamic finance. A great example is Emirates NBD that increased its investments in digitalization to 1billion over the last three years.
Urging to unleash the potential of fintech wide across the banking and financial services industry, Naseba's Production Director Naveen Bharadwaj said: "To evolve with customers' preferred trends, stay ahead of competition and achieve a cashless economy, all major banks and financial institutions are placing huge strategic bets on blockchain, robotics, artificial intelligence and predictive analytics under the umbrella of Fintech. Naseba is very proud to continue helping the region's fintech transformation and bridge the ecosystem through our Enterprise Fintech Summit."
Max Liu, Co-founder and CEO of EMQ said, "The whole payments ecosystem is undergoing significant transformation with the rise of local and cross-border cashless payments underpinned by a tech-savvy population. For this reason, enterprises will increasingly require a settlement network that streamlines cross-border payments that are low-cost, secure, and real-time."
Quoting on the regional BFSI ecosystem, Emre Karter, MD Treasury and Trade Solution at Citibank, said, "To stay relevant to clients, major banks are enhancing payments, liquidity management, and lending, through deployment of new technologies like AI, machine learning, Blockchain and better usage of big data. The most successful banks will be those that improve agility and reduce costs by using collaboration to bring various components together and build the strongest ecosystem."
With a significant amount of capital waiting to be deployed, investment in finech is expected to remain strong. According to industry forecasts, the Middle East and North Africa region's financial technology market is predicted to grow by 270 per cent achieving a growth of approximately $125 million a year to reach $2.5 billion in 2022. The Mena fintech market is currently worth $2bn but increased annual investment will boost the number of fintech start-ups from six in 2005 to around 250 by 2020. The market's largest segment is Digital Payments with a total transaction value of US$41,447m in 2018. Total transaction value is expected to show an annual growth rate (CAGR 2018-2022) of 12.8% resulting in the total amount of US$67,004m by 2022.
Four countries account for almost 75 per cent of all start-ups in the MENA region – the UAE, Lebanon, Jordan and Egypt. The UAE is the centre of the new frontier with a combination of accelerators, rising investments and cross-industry partnerships. High smartphone penetration, young and tech-savvy people and the government's support are all turning the region into an attractive hub for fintech. Alongside that, initiatives like Dubai International Financial Centre's (DIFC) FinTech Hive, whose start-ups raised over $10 million in funding in 2017, are significantly disrupting the fintech ecosystem in the region.
Key speakers at the Fintech Summit included Nasir Zubairi, CEO, Luxemburg House Of Financial Technology; Peter Smith, Managing Director, Policy and Strategy, Dubai Financial Services Authority; Nick Lee, Authorisation Director, BFSI, Abu Dhabi Global Markets; Abdul Malik Al Sheikh, Senior Advisor, Saudi Arabian Monetary Authority; Max Liu, Co-Founder & CEO, EMQ. 
About Naseba
Naseba creates growth opportunities, connecting people, partners and ideas. Focused on deal facilitation, it helps clients: raise capital, close sales, enter new markets, secure partners and educate workforces. Naseba's goal is to create opportunity and add economic value at every stage of its client's journey. It does this through three key areas: investor services, commercial services and leadership services.
Since 2002, Naseba has facilitated more than a billion dollars' worth of deals and has connected over 100,000 global executives through more than 1,000 proprietary business platforms in liquid growth markets.
Naseba is a signatory of the Women's Empowerment Principles – Equality Means Business, produced and disseminated by the United Nations Entity for Gender Equality and the Empowerment of Women (UN Women) and the United Nations Global Compact.
For media contact:
Hina Bakht
Managing Director
EVOPS Marketing & PR
Mob: 00971 50 6975146
Tel: 00971 4 566 7355
Hina.bakht@evops-pr.com
www.evops-pr.com