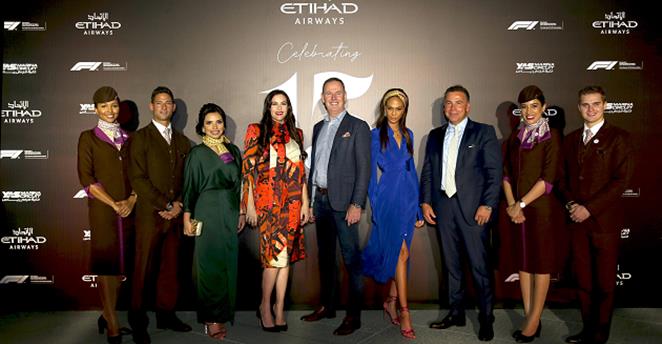 Abu Dhabi, United Arab Emirates – Etihad Airways is celebrating fifteen years since its first flight and its subsequent rise as one of the world's leading airlines. The major milestone is being marked with a series of events and initiatives in Abu Dhabi and around the world, beginning with the unveiling of an exclusive collaboration with iconic New York fashion designer, Diane von Furstenberg.
Etihad one of the youngest and most innovative global airline brands
Exclusive Formula 1 collaboration with designer Diane von Furstenberg launches series of 15-year celebratory events
Etihad Airways commenced flying on 5 November 2003, with a single Airbus A330-200 aircraft, which performed a symbolic flight to the emirate of Abu Dhabi's historic city of Al Ain. Regular commercial flights were launched on 12 November of the same year from Abu Dhabi to the Lebanese capital, Beirut.
The UAE national airline now operates a next-generation fleet of over 110 modern Boeing and Airbus aircraft, flying to 84 passenger and cargo destinations. Over the span of 15 years, Etihad Airways has operated over 840,000 passenger flights and has carried 139 million guests globally, served by a dedicated workforce of over 22,000 talented individuals hailing from over 150 countries.
Tony Douglas, Group Chief Executive Officer, Etihad Aviation Group, said: "We are tremendously proud of Etihad's achievements in just fifteen years. In this short time, we have emerged as one of the world's most respected and recognised airline brands, known for leading the way through innovation, and upholding the best aspects of Arabian hospitality, delivered to millions of customers with a style and flair synonymous with the national airline of the United Arab Emirates. We can look to the future with renewed vigour and vitality, as the airline of choices, showcasing Abu Dhabi everywhere we fly.
"We express sincere thanks to our customers, our corporate and travel trade partners here in Abu Dhabi and around the world, and our people for their invaluable loyalty and support."
To mark the occasion, Diane von Furstenberg has worked with Etihad Airways to design limited edition cabin crew scarves and ties, which were introduced at a star-studded event at the spectacular Louvre Abu Dhabi. The stylish new accessories will be worn by the airline's cabin crew throughout the month of November to celebrate its 15-year anniversary and its 10-year partnership with the Formula 1 Etihad Airways Abu Dhabi Grand Prix.
There are three distinguished patterns for the various cabin crew positions on board, chosen to match the airline's colour pallet: bold yellow for cabin managers, purple for cabin crew and white for Food and Beverage Managers.
Diane Von Furstenberg, the designer, said: "Formula 1 is such an elegant event and I was thrilled to collaborate with Etihad Airways on this exciting project. The geometric pattern was inspired by the Yas Marina Circuit and there are so many layers of meaning to the colours. Purple is the colour of royalty and the orange is inspired by the beautiful hues of the desert sand at sunset. I hope the cabin crew feels very proud to wear the scarves and ties. They reflect everything Etihad is about – elegance and style."
The event at Louvre Abu Dhabi was jointly hosted by Etihad Airways, IMG supermodel Joan Smalls, who unveiled the new scarves via a model diary video, and actress Liv Tyler, and attended by some of the UAE's most influential figures including global fashion and lifestyle media.