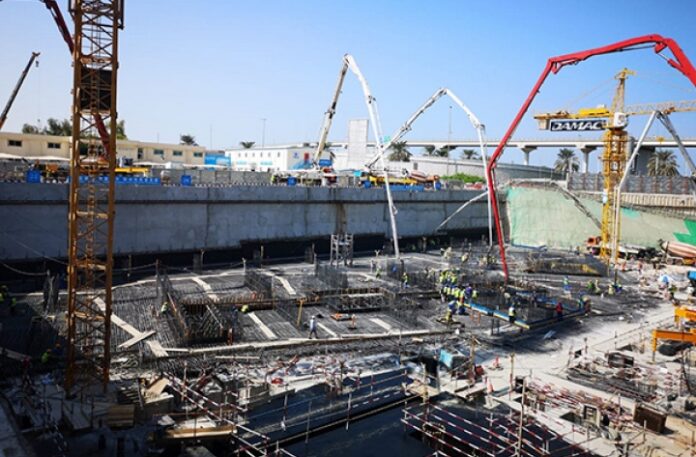 DAMAC Properties announced the completion of the raft foundation for tower C of AYKON City, its 4 million square feet development centrally located between Sheikh Zayed Rd and the Dubai Water Canal. The setting of the foundation slab, the second one at the development, saw over 288,600 cubic feet of concrete poured within a 30-hour period, and requiring more than 1,500 metric tons of steel.
"The foundation work presented a complex challenge for the project management team as the site is in the middle of a busy metropolitan." said Niall McLoughlin, Senior Vice President at DAMAC. "To ensure that the setting of the raft did not disturb the flow of traffic in the area, the team orchestrated the job across several shifts, ensuring to complete the feat within 30 hours."
In adherence to best standards, the slab required concrete to be poured in a temperature-controlled environment. With the successful completion of the foundation, construction can now begin on the main columns and core walls, accelerating the pace at which the tower will rise to complement the existing skyline.
Slated for completion in 2021, the multi-tower AYKON City community, centred in the heart of Dubai, consists of residences with ample lifestyle facilities, serviced apartments, a hotel property and office spaces. It also offers stunning views of the popular Dubai Water Canal, rated as one of the top attractions in the city. The promenade of Dubai Canal is the ideal place for residents and visitors to relax, and indulge in world-class experiences, owing to the scenic pedestrian tracks, waterways and bridges, as well as restaurants and stores that dot the area.