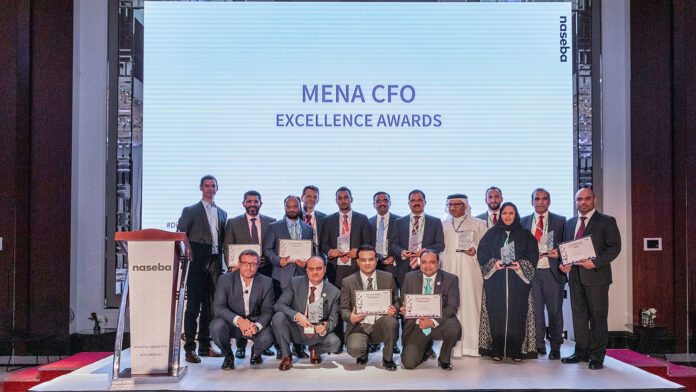 Over 200 top finance professionals gathered at the MENA CFO Awards organised as part of the CFO Strategies Forum MENA by Naseba. On the occasion, the Middle East and Africa region's leading chief financial officers and their teams were honoured for their work in driving digital change in the CFO role.
Celebrating excellence, the prestigious annual awards spanned six categories and recognised the most successful financial leaders across the public and private sectors. Yuvraj Narayan, Group CFO of DP World, was declared the winner of the coveted MENA CFO of the Year award while Nidal Al Khatib, Group CFO Al Hail Holding, won the trophy for the Revolutionary CFO of the Year.
Commending the winners, Sophie Le Ray, CEO of Naseba, said, "The scale of transformation sweeping the financial landscape is incredible. Technological innovation, regulatory reforms, digitalisation and cyber security challenges are redefining the business environment. MENA CFO Awards, recognise and celebrate outstanding leaders in the industry who are successfully managing this disruption and leading their organisations into the new era."
Change management and digital native CFOs is a key priority in organisations, espeically as CFOs are the 'co-pilots' with the CEO for decision making.
Winners of 2018 MENA CFO Awards include:
MENA CFO of the Year: Yuvraj Narayan, CFO DP World
Revolutionary CFO of the Year: Nidal Al Khatib, Group CFO Al Hail Holding
Finance Team of the Year: Public Sector: Telecommunications Regulatory Authority, Saud Abdulaziz Al Doseri
Finance Team of the Year: PrivateSector: Kuwait International Bank, Firoz Ali Hussain
Emerging CFO of the Year: Ather Mobeen: Finance Manager Kirnaf Finance
Finance Professional of the year: Subhas Chandra, CFO at Diyar Al Muharraq (Kuwait Finance House Group)
Woman in Finance: Latifa Al Sabhan, Chief Financial Officer at Arab National Bank
About Naseba
Naseba creates growth opportunities, connecting people, partners and ideas. Focused on deal facilitation, it helps clients: raise capital, close sales, enter new markets, secure partners and educate workforces. Naseba's goal is to create opportunity and add economic value at every stage of its client's journey. It does this through three key areas: investor services, commercial services and leadership services.
Since 2002, Naseba has facilitated more than a billion dollars' worth of deals and has connected over 100,000 global executives through more than 1,000 proprietary business platforms in liquid growth markets.
Naseba is a signatory of the Women's Empowerment Principles – Equality Means Business, produced and disseminated by the United Nations Entity for Gender Equality and the Empowerment of Women (UN Women) and the United Nations Global Compact.
For media contact:
Hina Bakht
Managing Director
EVOPS Marketing & PR
Mob: 00971 50 6975146
Tel: 00971 4 566 7355
Hina.bakht@evops-pr.com
www.evops-pr.com