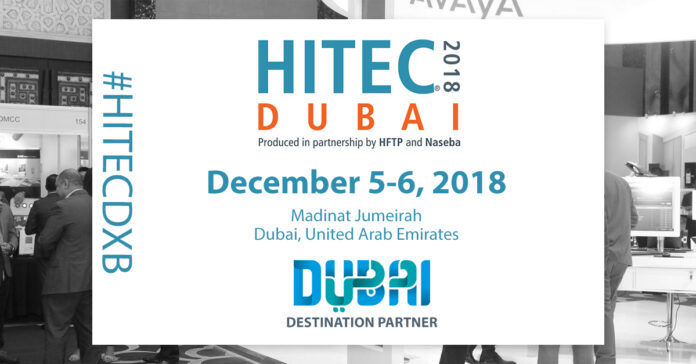 HITEC Dubai 2018, the Middle East's largest hospitality technology exhibition and conference taking place on 5th and 6th December 2018, has opened a unique opportunity for startups to present their breakthrough business concepts at the show by participating in HFTP's expanding Entrepreneur20X (E20X) competition. The E20X start-up competition at HITEC Dubai will be held on December 5th at 15:30 – 16:30 and is open to all attendees.
Competitors will receive fabulous exposure and validation from top companies by presenting their ideas to a room full of HITEC attendees as well as a panel of expert judges including hospitality CIOs, investors, and industry insiders. The winner, who will be determined by the judges' panel, will be rewarded the opportunity to pitch at either the HITEC Europe or HITEC Minneapolis competitions in 2019 including an exhibition kiosk in the E20X Innovation Lab and two full conference registrations at the corresponding conferences, and extensive media coverage via HFTP's BYTES and Pineapplesearch hospitality industry news distribution networks.
Frank Wolfe CAE, CEO of HFTP, said "The E20X competition has been designed to celebrate innovation and entrepreneurship while giving businesses the opportunity to become part of a global network at HITEC Dubai. We are eager to encourage and incentivize such experiments even if it is a work in progress and can be improved by others in the know. We believe it is critical to value innovation and disruption as we move towards the future driven by technology. And startups are at the forefront of this transformation."
To qualify for E20X competition, the startup must be less than three years old, have at least a demo version of the product / service, should not have raised more than $100K of investments and have a hospitality solution
Nicola Bettio, Managing Director of Naseba Capital said, "Startups are today the main source of radical disruption in many sectors, including in hospitality. In the last few years we have seen new leaders emerge with radically new business model and novel ways to augment the consumer experience. We are very excited to make those ideas emerge at HITEC Dubai, help find investment, and support their journey to become the next big thing."
HITEC Dubai's Advisory Council Chairperson Laurent A. Voivenel, Senior Vice President, Operations and Development for the Middle East, Africa and India for Swiss-Belhotel International, said, "HITEC Dubai is a great platform and vehicle for startups to get the much-needed exposure and recognition by leading players in the industry. Large companies have the resources and the brand reputation, but it is the startups that are fostering major disruptions in our industry due to their innovative ideas and thinking. We believe disruption initiatives should be prioritized at every level and we are very happy to support and welcome any such change."
HITEC Dubai will be inaugurated by Dubai Tourism and will give Middle East buyers, currently worth over USD 75 billion, access to the world's leading technology solution providers and experts in the hospitality sector. Co-produced by Hospitality Financial and Technology Professionals (HFTP®) and Naseba, the two-day trade show will be held at the Madinat Jumeirah Dubai.
For more information or to register for HITEC Dubai 2018
visit https://www.hitec-dubai.com/
Call Amir Abdin on +971 44 55 7920 or Rouf Hyder Beigh +971 44 55 79 32
ABOUT HFTP
Hospitality Financial and Technology Professionals (HFTP) is a global non-profit hospitality association, headquartered in Austin, Texas, USA, that uniquely understands the industry's problems. HFTP has members and stakeholders across the globe. HFTP assists its members in finding solutions to industry problems more efficiently than any organization via its expert networks, research, conferences such as HITEC and certification programs. HFTP also owns the world's only hospitality specific search engine, PineappleSearch.com. HFTP is recognized as the spokes group for the finance and technology segment of the hospitality industry. 
ABOUT NASEBA
Naseba offers global business facilitation services. The company creates growth opportunities by bringing together people, partners and ideas. It helps clients raise capital, enter new markets, secure partners, close sales and educate workforces. Naseba's goal is to create opportunity and add economic value at every stage of its client's journey. It does this through three key areas: investor services, commercial services and leadership services. Since inception in 2002, Naseba has facilitated deals totalling billions of dollars for its clients. The company has connected over 100,000 global executives through more than 1,000 proprietary business platforms and is an expert in growth markets.
About Dubai's Department of Tourism and Commerce Marketing (Dubai Tourism)
With the ultimate vision of positioning Dubai as the world's leading tourism destination and commercial hub, Dubai Tourism's mission is to increase the awareness of Dubai among global audiences and to attract tourists and inward investment into the emirate. Dubai Tourism is the principal authority for the planning, supervision, development and marketing of Dubai's tourism sector. It markets and promotes the Emirate's commerce sector, and is responsible for the licensing and classification of all tourism services, including hotels, tour operators and travel agents. Brands and departments within the Dubai Tourism portfolio include Dubai Business Events, Dubai Calendar, and Dubai Festivals and Retail Establishment.
For media contact:
Hina Bakht
Managing Director
EVOPS Marketing & PR
Mob: 00971 50 6975146
Tel: 00971 4 566 7355
Hina.bakht@evops-pr.com
www.evops-pr.com