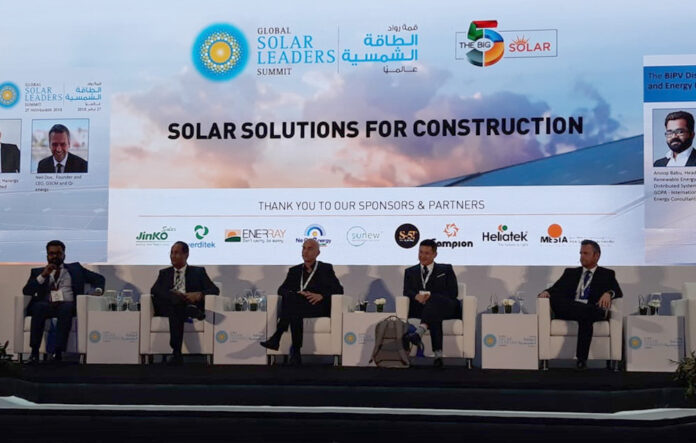 Dubai – Devinder K. Sharma, Regional Director of Technical Services, Swiss-Belhotel International, participated in a panel of experts on BIPV at the Big 5 Global Solar Leaders' Summit. The topic discussion was 'Innovation in Solar Building Skins and Energy Efficiency towards Sustainable Cities'.
Renewable energy is a global phenomenon and the adoption of solar PV systems in the Middle East is starting to accelerate which will soon lead to a more diversified national energy supply portfolio. Devinder said, "We are seeing massive investments in renewable energy projects in the region with a wave of projects underway and the UAE is leading the way."
Talking about the hotel industry, Devinder highlighted the need for development of innovative design concepts for achieving energy efficiency in hotel buildings. He stressed, "Key issue is the collaboration among the various stakeholders of the building design and construction process, such as building owners, developers, architects, building material suppliers, regulatory authorities and specialized PV/BIPV industry experts. Increasing awareness among all people involved can lead to significant benefits for our sector. Therefore, it is important to start a dialogue, so we can all collaborate for a better future."
There are multiple factors that are driving solar energy solutions in the urban sector. Industry experts agreed that in order to prepare for an urban influx of 2.5 billion people by 2050, it is critical to create cities that are low-carbon, resilient and affordable. Solar energy solutions are greener and cheaper than the alternatives.
According to recent reports, the UAE is among the world's top investors in clean energy and is set to invest AED 600 billion by 2050 in the sector with a target to have 75 per cent of the total power output from it. Mohammed Bin Rashid Solar Park has announced plans to build one of the world's largest solar energy plants, which will be able to generate 5GW of power by 2030.
For media contact:
Hina Bakht
Managing Director
EVOPS Marketing & PR
Mob: 00971 50 6975146
Tel: 00971 4 566 7355
Hina.bakht@evops-pr.com
www.evops-pr.com
About Swiss-Belhotel International
Swiss-Belhotel International currently manages a portfolio of more than 150* hotels, resorts and projects located in Cambodia, China, Indonesia, Malaysia, Philippines, Vietnam, Bahrain, Egypt, Iraq, Kuwait, Oman, Qatar, Saudi Arabia, United Arab Emirates, Australia, New Zealand, Bulgaria, Georgia, Italy and Tanzania.  Awarded Indonesia's Leading Global Hotel Chain for six consecutive years, Swiss-Belhotel International is one of the world's fastest-growing international hotel and hospitality management groups. The Group provides comprehensive and highly professional development and management services in all aspects of hotel, resort and serviced residences. Offices are located in Hong Kong, New Zealand, Australia, China, Europe, Indonesia, United Arab Emirates, and Vietnam.
 *Numbers may fluctuate
For further information visit http://www.swiss-belhotel.com