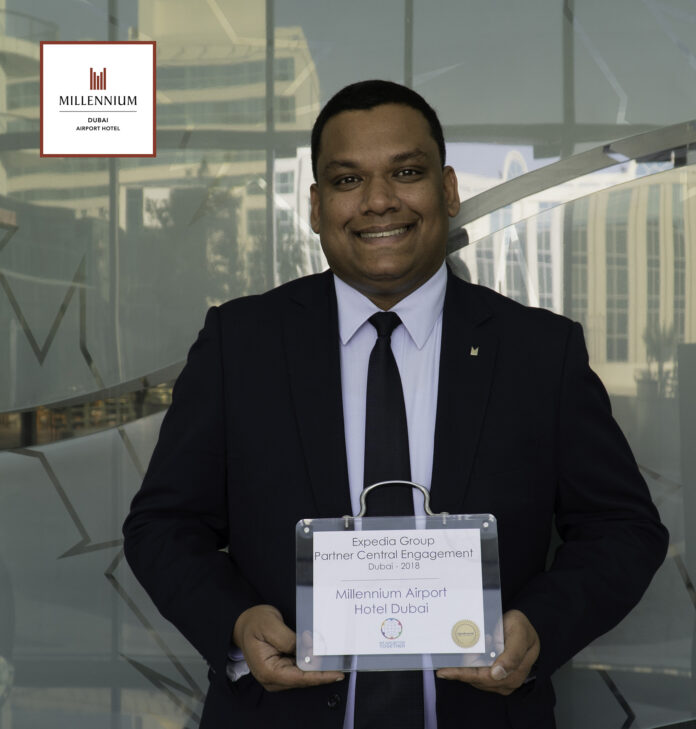 The Millennium Airport Hotel was declared the winner of Expedia Group Partner Central Engagement Award at the Expedia Dubai Summit 2018. Expedia Group is the world's largest travel platform. The award, that is given to the best partners who delight travellers, was received by Flynn Pinto, Revenue Manager of Millennium Airport Hotel Dubai.
Mr. Simon Moore, General Manager of Millennium Airport Hotel Dubai, said, "Awards such as these inspire us to build on our success and deliver the highest quality and service standards. We are delighted to have been recognised by our trusted partner Expedia. This recognition is a testament to the hard work and dedication of our team and we look forward to building on our continued success."
Millennium Airport Hotel Dubai is known for its unswerving commitment to excellence and always looking for creative ways of enhancing the guest experience. Mr. Moore continued, "We understand the importance of online guest engagement. Communication is key to connect with guests in order to create memorable experiences and wow them".
For further hotel information, call 04 702 8888 Or visit www.millenniumhotels.com
Millennium Hotels and Resorts, Middle East and Africa
Millennium Hotels and Resorts is a dynamic, global hotel company, which owns, asset manages and operates over 130 hotels worldwide. With almost 40,000 rooms and a portfolio of brands; including Biltmore, Grand Millennium, Millennium, Millennium Place, M Hotel, Copthorne, Kingsgate, Millennium Executive Apartments and Studio M, that serve different market segments, representing quality and value in every class.
Currently operating 35 hotels in the Middle East and Africa, the Group has an extensive expansion strategy in place, with 40 hotels in the pipeline. Each property in the region is unique, catering to the varying tastes and needs of the international business and leisure traveller but with a consistent promise to provide a first class service and a rewarding experience for guests. Millennium Hotels and Resorts is committed to differentiating itself by embracing the true spirit of diverse traditions, with a sincere respect to historical heritage and local culture.
With the motto "More than Meets the Eye", Millennium & Copthorne is committed to a customer-centric philosophy and complete guest satisfaction.
For more information, please visit www.millenniumhotels.com