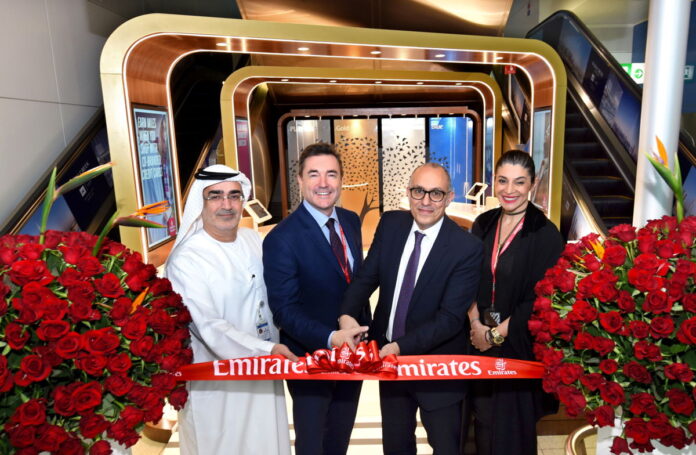 Emirates Skywards, the award-winning loyalty programme of Emirates and flydubai, today celebrated the opening of its new Emirates Skywards Centre in Terminal 3 at Dubai International Airport (DXB). The centre was inaugurated by Dr Nejib Ben Khedher, Senior Vice President, Emirates Skywards and Nick Moore, Senior Vice President, Passenger Services, Emirates.
The Emirates Skywards Centre at DXB will function as a one-stop customer touchpoint for all new and existing members of the Emirates Skywards loyalty programme and will provide assistance across a wide range of services including programme enrolment, profile creation and luggage tag printing. Emirates Skywards staff will also be available onsite to consult with members on all Tiers and Miles related queries including how to earn, purchase, spend Miles and make optimum use of expiring Miles.
"With our new Emirates Skywards Centre, the aim is to be one step closer to our members and to help them maximise their experience and value from the programme," said Dr Nejib Ben Khedher. "Members can stop by at any time for all their Skywards needs – whether it is getting information on membership tiers, finding out about our latest partners or using their Skywards Miles to access special events at their destination," he added.
The Emirates Skywards Centre is now open and located at the Departures Level in Concourse B at Dubai International Airport Terminal 3. The Centre is accessible to all current and new Emirates Skywards members departing from and connecting to flights in Terminal 3.
In addition to the Emirates Skywards Centre, members can get more information on the loyalty programme and linked offers to earn and spend miles through the Skywards section on the Emirates app, as well as online on the Emirates Skywards website. Members can also use any of Emirates' contact channels including live chat and 24/7 phone links for their Emirates Skywards enquiries.
Emirates Skywards has over 23 million members currently. Membership to the loyalty programme is free and members can earn and redeem Skywards Miles on flights and through a wide range of global partners across the travel and lifestyle space. Over the last year, the programme has launched a number of new initiatives such as the 'My Family' programme for 100% pooling of miles and new partnerships including co-branded credit cards with leading banks to make travel and rewards more accessible to its members.
About Emirates Skywards
Emirates Skywards, the award-winning loyalty programme of Emirates and flydubai, offers four tiers of membership – Blue, Silver, Gold and Platinum – with each membership tier providing exclusive privileges. Emirates Skywards members earn Skywards Miles when they fly on Emirates, flydubai or partner airlines, or when they use the programme's designated hotels, car rentals, financial, leisure and lifestyle partners. Skywards Miles can be redeemed for an extensive range of rewards, including tickets on Emirates or flydubai plus Emirates Skywards partner airlines, hotel accommodation, excursions and exclusive shopping. Visit Emirates Skywards online at: www.emirates.com/skywards or https://skywards.flydubai.com/en/login Sukanya RamanujanEmirates Public Relations, Emirates Group