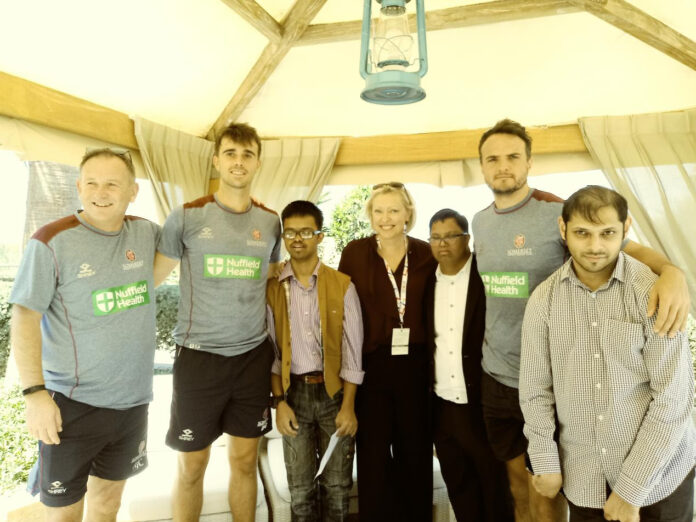 – By Bilal Hafeez, with contributions from Brendyn Monsorate & Christopher Swaminathan
With the start of Special Olympics World Games Abu Dhabi 2019 just a few days away, the World Games' team of special correspondents sat down to meet the players and coaches of Somerset Cricket Club.
The UK team was in the UAE capital to show its support for the Special Olympics movement and to enjoy a warm-weather pre-season training camp.
Special correspondents, Brendyn Monsorate, Bilal Hafeez and Christopher Swaminathan – popularly known as the 'BBC' by their initials – met up with the team to get their views on the upcoming World Games and how sport can empower people to achieve their dreams.
Andrew Cornish, CEO of Somerset CC, said: "It's not just participation in the sport but everything that goes with it. It's the media – written and social media — which plays a really, really, important part.
"It's only your ambition or your desire that holds you back or drives you forward. People of determination all around the world demonstrate this every day."
Andrew said he was thrilled to be able to meet Brendyn, Bilal and Christopher during his time in UAE capital and to see how preparations for the World Games Abu Dhabi are shaping up.
"I'm loving it, being with these boys [the Somerset team] and also getting an opportunity to meet the 'BBC'.
"I congratulate this Middle Eastern 'BBC' trio for being part of such a global event. They have set a new benchmark for people of determination all around the world from the UAE, to the UK and beyond," he said.
Somerset all-rounder Ben Green said he was impressed by the facilities and opportunities that are available for athletes and individuals with intellectual disabilities in the UAE and would like to see this reflected back home in the UK.
"In Somerset, we have the Disabled Cricket Organisation and it's accessible for everyone.
"One of the highlights of Somerset Cricket Club is its indoor training facility. It's all geared up just for boys and men right now, it's not geared up for girls and women, it's not geared up for physical disability or visually impaired people, so there's a big piece of work to be done there."
Ben added that he believed Specials Olympics World Games Abu Dhabi 2019 will help to create a world of new and exciting opportunities for people of determination in all walks of life, from sports to forging professional careers.
Set to begin on March 14th, the World Games Abu Dhabi is a major milestone for the UAE and the Middle East as a whole.
A sense of camaraderie, inclusivity and unity is flourishing across the capital as people from across the world prepare to take part in the biggest World Games in the history of the Special Olympics and the first World Games to be held in the region.