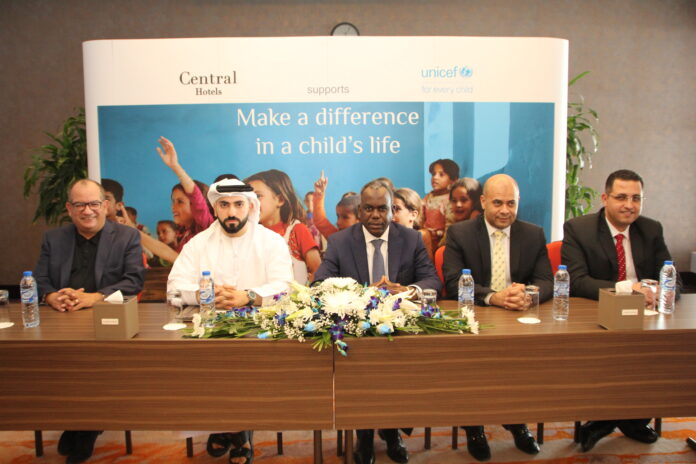 Central Hotels and UNICEF renewed their partnership to help some of the thousands of children fleeing poverty and conflict in the Middle East.
"We are committed to support UNICEF 's campaign to 'Make a difference in a child's life, said Abdulla AlAbdulla, Chief Operating Officer of Central Hotels and a member of UNICEF Gulf Area Office Leadership Circle of Champions for Children and Young People.
"Every initiative in this journey is a major advance in creating a better future for children by helping them achieve their full potential. We look forward to our collaboration with UNICEF as every life changed is a testament to the difference we can make by working together," he said.
ElTayeb Adam, UNICEF's GAO Representative: "We are very grateful to Central Hotels for joining us in our mission. Every child deserves a fair chance to life. By supporting UNICEF, you are not only making a difference to a child's life today, you are making the difference to children everywhere. Every dollar you donate helps children around the world to grow up healthy, stay protected from harm and to go to school."
The partnership between Central Hotels and UNICEF began in 2017 and demonstrates how private organisations can contribute to the welfare of the community. Central Hotels has been working closely with UNICEF to support the organisation's causes.
The money is raised through an optional 10 dirham surcharge on guests' bills.
UNICEF has been present in the UAE for more than 40 years. The Leadership Circle of Champions for Children and Young People is a network of UNICEF supporters and advocates committed to advancing the rights of children.
Connect with Central Hotels on:
@RoyalCentralAE
@CanalCentralAE
@FirstCentralAE
#RoyalCentalAE #CanalCentalAE #FirstCentalAE #CentralHotels #StayFresh
About UNICEF
UNICEF promotes the rights and wellbeing of every child, in everything it does. Together with its partners, the organization work in 190 countries and territories to translate that commitment into practical action, focusing special effort on reaching the most vulnerable and excluded children, to the benefit of all children, everywhere. The UNICEF Gulf Area Office works in the United Arab Emirates, Kingdom of Saudi Arabia, Kuwait and Bahrain in partnership with the respective governments supporting national policy development, sector level strategies and approaches, and generating knowledge products for the survival, development and protection of children within the region. www.unicef.org
About Central Hotels
Central Hotels has very quickly established itself as a reputed hotel management group in the UAE with its flagship property First Central Hotel Suites located in Barsha Heights (TECOM) near Sheikh Zayed Road. Building up on this amazing success, the brand is now poised to expand its footprint targeting the UAE as the primary market for growth in addition to other lucrative destinations in the Middle East. The group has recently added to its portfolio spectacular new 5-star hotels such as Canal Central Business Bay and Royal Central The Palm followed by Central House Citywalk focused on millennials, Beach Central The Palm, Diamond Central – Business Bay, and Island Central in Dubai.
For more information visit www.central-hotels.com
About Royal Central Hotel The Palm
The stunning Royal Central Hotel The Palm is a place where fantasy lives up to reality. The 5-star hotel features 207 elegantly-appointed rooms and suites, each beautifully designed to intuitively meet the needs of discerning travelers. Set in the iconic Palm Jumeirah, Royal Central Hotel offers an array of recreational activities from water sports to an outdoor infinity pool, state-of-the-art gym and health spa, along with exciting dining options. Guests have access to one of the best private beaches in the city while enjoying unhindered views of the world-famous architectural landmarks such as Atlantis The Palm and Burj Al Arab as they unwind and relax in a beautiful setting. It is also the best spot to watch the city's spectacular fireworks. Book your stay at Royal Central Hotel on +971 4 873 9300.
About Canal Central Hotel Business Bay
If you are looking for the magical allure of the iconic Burj Khalifa then Canal Central Hotel Business Bay is the place to be. It is only a few minutes away from The Dubai Mall, Burj Khalifa and Dubai Fountains. Equipped with the finest amenities, each of Canal Central's 280 spacious rooms and suites offer spectacular views of the Dubai Canal or Burj Khalifa. Completing the experience are a hand-picked selection of dining outlets, flexible meeting spaces, state-of-the-art gymnasium and spa, a stunning infinity swimming pool and salon. Book your stay at Canal Central Hotel on +971 4 873 2100.
About First Central Hotel Suites
Equally well-located is First Central Hotel Suites within easy reach of the emirate's key leisure hubs. In close proximity to the hotel are Dubai Internet City Metro Station, Dubai Media City, Dubai Marina, Montgomerie, Emirates Golf Club, and Mall of the Emirates. The deluxe hotel features 524 spacious and modern apartments equipped with top-notch facilities combined with award-winning hospitality. Book your stay at First Central Hotel Suites on +971 4 454 4900.
For Media Contact:
Hina Bakht
Managing Director
EVOPS Marketing & PR
M: +971 50 6975146 | T: +971 4 566 7355
Hina.bakht@evops-pr.com
www.evops-pr.com