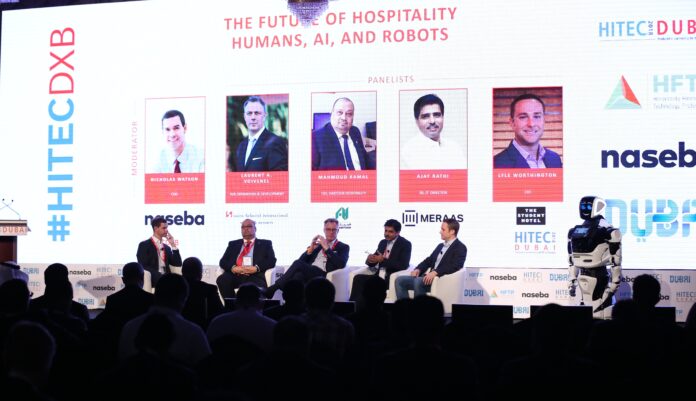 Dubai Tourism confirmed as Destination Partner for event
It has been announced that Dubai's Department of Tourism & Commerce Marketing (Dubai Tourism) will once again be the destination partner for 'HITEC Dubai 2019' taking place on 12 and 13 November. Building on last year's success, the Middle East's largest hospitality technology exhibition and conference that is co-produced by Hospitality Financial and Technology Professionals (HFTP®) and Naseba, will be held in Dubai at a twice larger venue – The Festival Arena by InterContinental Dubai Festival City. The annual business-to-business (B2B) exhibition is expected to welcome more than 2500 trade visitors and industry stakeholders over the two days giving Middle East buyers, currently worth over USD 75 billion, access to the world's leading hospitality technology solution providers and experts.
Issam Kazim, CEO of Dubai Corporation for Tourism and Commerce Marketing, said: "We are pleased to support HITEC Dubai again as it continues to put the spotlight on technology in hospitality. As a city that strives to be at the forefront of innovation across all sectors, it is vital that we host events like this, focusing on technologies that could redefine and enhance the visitor journey and experience. Driven by the city's leadership and guided by Dubai's Tourism Vision 2025, we understand that a tourism industry that is able to provide smart, seamless and sustainable experiences for visitors is one primed for success. We look forward to continuing to work with HITEC Dubai and our stakeholders and partners to ensure this is delivered."
Frank Wolfe CAE, CEO of HFTP, said: "We are glad that Dubai Tourism is endorsing HITEC Dubai for the third successive year. Last year we saw more than 200 percent increase in the attendance. As Dubai has firmly established itself as a global technology hub emerging as one of the fastest growing smart cities in the world and we are very excited to be part of its success. With the targeted growth in tourism and events such as Expo 2020 Dubai, the hospitality industry will inevitably continue to evolve and, therefore, will need more technology to be successful. HITEC Dubai will give an opportunity to regional hospitality buyers to learn about and introduce the latest technologies into their organisations.
HITEC Dubai's Advisory Council Chairperson Laurent A. Voivenel, Senior Vice President, Operations and Development for the Middle East, Africa and India for Swiss-Belhotel International, said, "We are very excited about HITEC Dubai that will introduce new technologies, ideas and innovations in our industry designed to elevate the experience of guests as well as optimise business processes and operational efficiency. We are eager to see how advancements in areas of artificial intelligence (AI), augmented reality (AR) and biometrics, etc can take us to a new level of enablement and transformation of customer experiences."
According to recent industry reports, Dubai attracted $21.66 billion worth of foreign direct investment in high-end technology transfers in three years. This consequently earned the emirate the top rank globally in 2018 in the share of FDI in technology transfers like artificial intelligence (AI) and robotics.
For more information or to register for HITEC Dubai 2019
visit https://www.hitec-dubai.com/
Call Rouf Hyder Beigh +971 44 55 79 32
ABOUT HFTP
Hospitality Financial and Technology Professionals (HFTP) is a global non-profit hospitality association, headquartered in Austin, Texas, USA, that uniquely understands the industry's problems. HFTP has members and stakeholders across the globe. HFTP assists its members in finding solutions to industry problems more efficiently than any organization via its expert networks, research, conferences such as HITEC and certification programs. HFTP also owns the world's only hospitality specific search engine, PineappleSearch.com. HFTP is recognized as the spokes group for the finance and technology segment of the hospitality industry.
ABOUT NASEBA
Naseba offers global business facilitation services. The company creates growth opportunities by bringing together people, partners and ideas. It helps clients raise capital, enter new markets, secure partners, close sales and educate workforces. Naseba's goal is to create opportunity and add economic value at every stage of its client's journey. It does this through three key areas: investor services, commercial services and leadership services. Since inception in 2002, Naseba has facilitated deals totalling billions of dollars for its clients. The company has connected over 100,000 global executives through more than 1,000 proprietary business platforms and is an expert in growth markets.
For media contact:
Hina Bakht
Managing Director
EVOPS Marketing & PR
Mob: 00971 50 6975146
Tel: 00971 4 566 7355
Hina.bakht@evops-pr.com
www.evops-pr.com