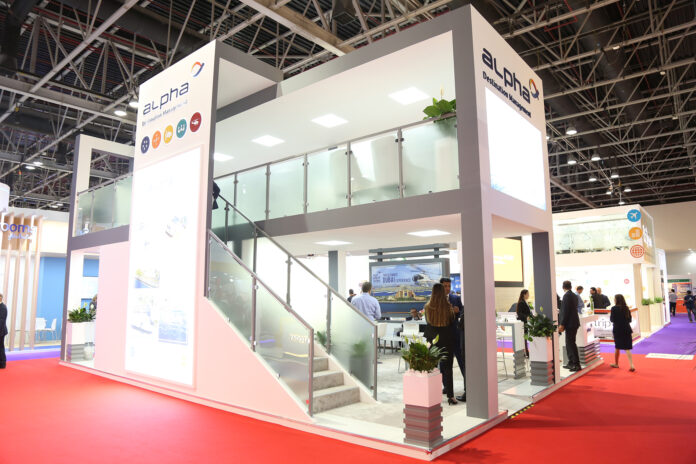 Alpha Destination Management is out in full force at the Arabian Travel Market (ATM) 2019 hosting over 100 high-profile international buyers from Europe, USA and Asia in association with the Department of Tourism and Commerce Marketing (DTCM). An attractive hosted buyer programme has been designed for them with tailor-made itineraries to showcase Dubai's main attractions including fam trips to the various theme parks as well as iconic landmarks such as the Burj Khalifa. During the four days of ATM from 28th April to 1st May, Alpha will also be receiving more than 200 tour operators at their stand to discuss stronger business to the destination in 2019.
Samir Hamadeh, General Manager of Alpha Destination Management, said, "At Alpha we remain committed to work hand-in-hand with the authorities to support Dubai's ambitious tourism vision aimed at being the leading travel, business and events destination targetting 20 million visitors annually by 2020. To achieve these objectives, the emirate has made massive investment in the development of world-class infrastructure, global connectivity and accessibility by growing and opening new routes, creation of diverse and iconic attractions, relaxation of visa policies and launch of dedicated tourism packages."
Samir further added, "With as many as 40,000 industry professionals and key stakeholders representing 141 countries attending ATM, the exhibition presents us with the perfect opportunity to leverage awareness about these latest developments in Dubai as well as give our strategic partners a first-hand understanding of the unique experiences awaiting global travellers all year round. Our focus during ATM, where we continue to have a strong presence for the last 26 years, will be on highlighting Dubai's exceptional tourism offerings and discuss strategies to drive the growth of visitors to the city."
Alpha Destination Management has recently expanded its incredible list of excursions and activities in Dubai with the creation of fascinating new tours.
Visitors to ATM can find Alpha Destination Management on Stand No. TT1130 located in Sheikh Saeed Hall 1 in Dubai International Convention and Exhibition Centre.
#AlphaTours #AlphaToursDubai #AlphaDMC #AlphaToursAe #Dubai #VisitDubai #Dxb #DubaiTourism #MyDubai #travel #tours #ilovedubai #TravelGram #hostedbuyer #IdeasArriveHere #ArabianTravelMarket #ATMDubai #ArabianTravelMarket2019 #ATM2019 #TravelTradeShow
About Alpha Destination Management
Founded in 1996, by Mr. Ghassan Aridi and his partners, Alpha Destination Management is the leading destination management company and a pioneer in the tourism sector in the Arabian Gulf. Over the last two decades, the company has established itself as one of the most credible and reputed brands not only in the Gulf region but also in the international tourism industry. Controlling a significant market share of the lucrative tourism sector in the GCC, Alpha Destination Management is a market leader in the region with the largest annual turnover and wide network of international partners offering the highest levels of service and innovative and exciting experiences. Our extensive global and local knowledge and network, outstanding expertise and sound reputation is the key to success for us and all our partners.
For more information about Alpha Destination Management visit
www.alphadestinationmanagement.com
Or call +971 4 701 9111
For media contact:
Hina Bakht
Managing Director
EVOPS Marketing & PR
Mob: 00971 50 6975146
Tel: 00971 4 566 7355
Hina.bakht@evops-pr.com
www.evops-pr.com