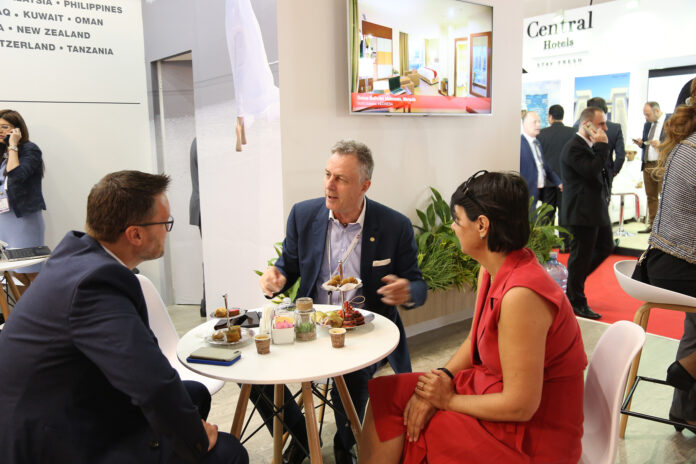 Swiss-Belhotel International, the global hospitality management chain, has concluded a highly successful four days at the Arabian Travel Market (ATM), where it updated the Middle Eastern travel trade on its impressive plans for global expansion, brand development and environmental sustainability.
The company sent a high-level delegation to ATM, which took place in Dubai from 28th April to 1st May 2019 and was attended by over 39,000 travel professionals, government ministers and media. The group's presence was led by Gavin M. Faull, Chairman and President, Matthew Faull, Senior Vice President of E-Commerce, Distribution & IT, and Laurent A. Voivenel, Senior Vice President, Operations & Development for the Middle East, Africa & India.
From a prominent booth on the main show floor, Swiss-Belhotel International's executives revealed the company's latest global expansion strategy, including the goal of reaching 250 hotels and 50,000 rooms worldwide, either in operation or under development by 2022. The group currently holds a portfolio of 145 hotels and projects spread across 24 countries.
"We are seeing an excellent growth momentum across our portfolio of brands, with owners increasingly wanting their hotels to be managed by an international brand which is different from large internationalhotel companies," Mr. Faull said. "We will continue to strengthen and develop our various brands while maximising returns for owners and accelerating growth in emerging countries, as they get easier to reach with greater global accessibility and connectivity."
This rapid expansion has already started; 2019 will be a significant year for the company, with 28 new hotels scheduled to open. This growth will cover a wide range of global destinations, including theMiddle East, China, Southeast Asia, Europe and Oceania.
Seven of this year's openings will be located in the Middle East, including Swiss-Belboutique Bneid Al Gar, Kuwait and Swiss-Belinn Doha (both opening in Q2 2019), Swiss-Belsuites Admiral Juffair Bahrain and Swiss-Belinn Airport Muscat (both Q3), and Swiss-Belhotel Al Aziziyah Makkah, Grand Swiss-Belresort Seef, Bahrain and Swiss-Belresidences Al Sharq, Kuwait (all Q4). Overall, Swiss-BelhotelInternational is targeting 25 properties in the Middle East by 2025.
A series of new brands will be introduced to the region, including Grand Swiss-Belresort (Bahrain), Swiss-Belsuites (Bahrain), Swiss-Belboutique (Kuwait) and Swiss-Belinn (Oman and Qatar), creating further choice for guests and greater options for owners and developers.
Swiss-Belhotel International is continuing its impressive expansion in Indonesia, where it currently operates more than 60 properties. Already this year, the company has signed Swiss-Belhotel Bogor, Swiss-Belinn Gajah Mada Medan and Swiss-Belresidences Rasuna Epicentrum, Jakarta, and opened Swiss-Belresort Tanjung Binga on Belitung Island. Meanwhile in Europe, Swiss-Belhotel Du Parc Baden marks the group's debut in Switzerland.
Also at ATM, Laurent A. Voivenel participated in a panel discussion to address the critical issue of reducing the industry's carbon footprint. In front of a large audience at the ATM Inspiration Theatre, Mr. Voivenel emphasised the importance of being energy efficient and using renewable resources. He also revealed that Swiss-Belhotel International is working to make all its Middle Eastern hotels carbon neutral in the coming years.
Keen to reward the travel trade for their enduring support, Swiss-Belhotel International used ATM to launch a series of exciting packages for wholesalers and tour operators. Targeted at Middle Easttravellers, these offers included special golf packages in Indonesia and Vietnam, discounted wholesale rates in Australia and New Zealand, early bird discounts in Australia, and free room upgrades in the Philippines.
Finally, Swiss-Belhotel International's VIP guests were treated to an award-winning experience at ATM. Following the "Meylas 2XL Interior Design Challenge", which was organised in partnership with 2XL Furniture & Home Décor, Swiss-Belhotel International's VIP Room was transformed into a luxurious and stylish space. The winner of the contest was Fabidha Safar Rahman, a member of in5/DDFC, who, with the help of Swiss-Belhotel International, was able to bring her design vision to life.
Swiss-Belhotel International will continue to attend the world's largest B2B shows in future, as part of its commitment to working with the travel trade globally.
For more information about Swiss-Belhotel International, please visit www.swiss-belhotel.com.
For media contact:
Hina Bakht
Managing Director
EVOPS Marketing & PR
Mob: 00971 50 6975146
Tel: 00971 4 566 7355
Hina.bakht@evops-pr.com
www.evops-pr.com
For further information and high-resolution photography, please contact:
Brayna Tolledo
Group Communication and Loyalty Programme Manager
Swiss-Belhotel International, Group Sales and Marketing Office
Tel: (62 21) 2952 7277, 2952 7278
Fax: (62 21) 2952 7275, 2952 7276
Email: braynatolledo@swiss-belhotel.com
www.swiss-belhotel.com
Notes to Editors
Swiss-Belhotel International currently manages a portfolio of more than 145* hotels, resorts and projects located in Cambodia, China, Indonesia, Malaysia, Philippines, Vietnam, Bahrain, Egypt, Georgia, Iraq, Kuwait, Oman, Qatar, Saudi Arabia, United Arab Emirates, Australia, New Zealand, Bulgaria, Germany, Italy, Switzerland and Tanzania. Awarded Indonesia's Leading Global Hotel Chain for eight years, Swiss-Belhotel International is one of the world's fastest-growing international hotel and hospitality management groups. The Group provides comprehensive and highly professional development and management services in all aspects of hotel, resort and serviced residences. Offices are located in Hong Kong, New Zealand, Australia, China, Europe, Indonesia, United Arab Emirates, and Vietnam.
*Numbers may fluctuate