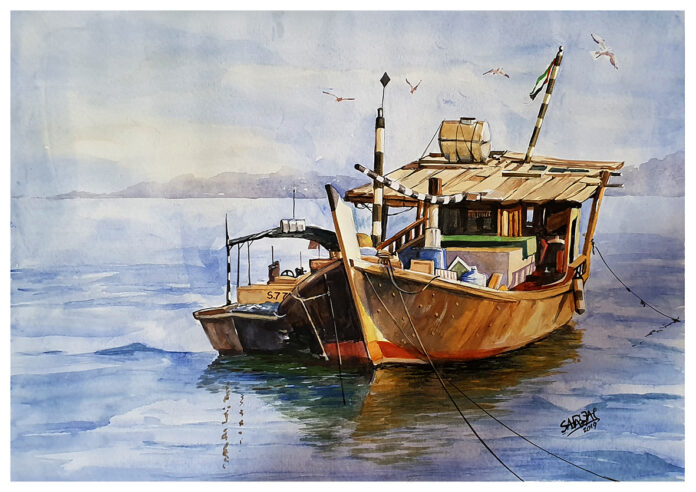 Over 100 leading and emerging, local and international artists, will come together in Dubai from 11th to 14th September in a unique group art exhibition by 2XL Furniture & Home Décor to pay tribute to the Year of Tolerance in the UAE. The spectacular show, which will be held at the 2XL store on Al Wasl Road in Jumeirah, will feature more than 300 artworks with a message of 'Tolerance'.
Amit Yadav, Head of Marketing, 2XL Furniture & Home Décor, said, "As a tribute to UAE's spirit of peace and equality, the exhibition will serve to celebrate diversity. Radically different artworks will coexist at the show to create intercultural connections. We have received an overwhelming response to the exhibition not just from local artists but also from artists living in other parts of the world. What's remarkable is many artists will be coming all the way from places as far away as Brazil, Ecuador, Australia, United Kingdom, Germany, France, Saudi Arabia, Kuwait, India and Iran to participate in the show."
Sensorially rich and immersive, each painting in the collection has a story to tell. Amit explained, "Despite a common theme, every artwork is unique with a drastic difference in scale of density. While some are simple others are complicated constructs of thought and pattern."
Emirati Artist Rashid Al Mulla is focused on delivering human emotions through his paintings while UAE national Fatima Alhammadi is showcasing intriguing acrylics such as 'Harmony' and 'Dream'.
Sarah bin Hendi's work, who is also from the UAE, are a result of her emotional experiences combined with her imagination and personal interpretation of those interactions.
Winner of bronze Lion award twice at Cannes Festival, Leonardo Dolfini is participating all the way from Brazil and will be paying the UAE a tribute with spectacular pieces such 'The New Man' and 'Brazilian Birds' among others.
Pakistani artist Sadaqat Pervaiz will showcase the UAE's historical sites that he has personally visited with masterpieces such as 'White Horse'; 'Bricks in Passing' and 'Dhow'. Sadaqat said, "There is no shortage of inspiration in the UAE. All over the seven emirates, there is a wealth of old forts and historic sites just waiting for an artist to capture on canvas. As part of the exhibition, I will be displaying a few select pieces from my 'Heritage Collection', which pay homage to the history and culture of the UAE."
Moroccan artist Ichraq Bouzidi will convey her message with interesting illustrations named 'Connected' and 'Contemplation'.
Aysha Esra Olgun Mustafa from Turkey will pay ode to the UAE along side her monther Saynoor Olgun who is also and artist. Both will present beautiful paintings inspired by nature.
British artist Emma Skinner's take on tolerance is related to marine life. Commenting on the theme she stressed, "We need to be more mindful of the wonders of the sea and how our actions impact them. I do this with subtly, thoughtful compositions to resonate beauty and highlight what could be lost." Accordingly, one of her paintings is named, 'The ocean was silent, a reef of broken butterfly wings'.
Part of this show is also a young talent from Bulgaria – 9-year-old Alessandra Teodorova, who lived in Dubai few years back, and sent in a special request to display two of her paintings in the exhibition. Flowers are the centerpiece of her works.
Russian artist Julia Smolenkova is especially travelling from Moscow for the exhibition bringing six stunning paintings. A highlight among these is 'Dubai Under the Golden Sky'.
Year of Tolerance Art Exhibition by 2XL Furniture & Home Decor
Venue: 2XL Furniture & Home Décor store on Al Wasl Road, Jumeirah, Dubai
Show Preview & Welcome Reception: 6pm on Wednesday, 11th September 2019
Open to Public: 11th to 14th September 2019
Show Timings: Daily 10am to 10pm and on Friday from 2.30pm to 11pm
Participation in the show is absolutely free of charge.
For More Information about the exhibition call 050-6975146 or email hina.bakht@evops-pr.com
For media contact:
Hina Bakht
Managing Director
EVOPS Marketing & PR
Mob: 00971 50 6975146
Tel: 00971 4 566 7355
Hina.bakht@evops-pr.com
www.evops-pr.com
About 2XL Furniture & Home Décor
UAE based 2XL Furniture & Home Décor is a retailer of luxury home furnishings since 2000.
The retailer currently has 9 showrooms across Abu Dhabi, Dubai, Sharjah, Fujairah and Al Ain. The 2XL product range includes exclusive bedroom, living and dining room furniture as well as exquisitely crafted décor items, unique gifting ideas, plush rugs and gorgeous wall art, divine bed and bath linen, eye-catching tableware, and a fun, functional kitchenware range.
The 2XL range is very classic and French-inspired. Each retail item has been carefully chosen exclusively for 2XL and denotes a lifestyle that is regal, sophisticated and of a finer taste. We have something to suit every home setting – from ornate gold-plated bedroom settings to the more subdued Parisian hues of shabby chic, quirky contemporary inspirations to more ethnic Eastern-inspired décor ideas.
For more information or to shop online please visit www.2xlme.com
Connect and tag us on @2xlfurniture
#2XLfurniture