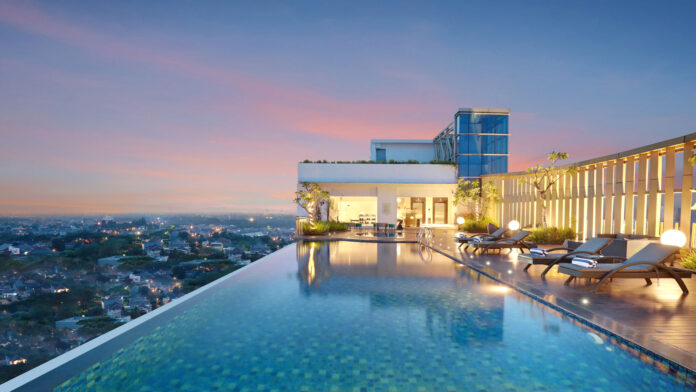 Hong Kong – Swiss-Belhotel International, the global hospitality management chain, is celebrating reaching 10,000 rooms in Indonesia, the largest country in Southeast Asia and a key focus market for the company.
This major milestone was achieved following the launch of a series of new Indonesian hotels in recent weeks. The 104-room Swiss-Belinn Gajah Mada Medan in North Sumatra and 150-room Swiss-Belhotel Bogor in West Java both started welcoming guests in May 2019, and the 107-room Swiss-Belhotel Serpong opened in southwest Jakarta on 1st June.
This trio of new openings helped to boost Swiss-Belhotel International's Indonesian collection to 72 hotels and resorts comprising 10,873 rooms and suites.
"Reaching 10,000 rooms in Indonesia is a huge achievement for our company, and I would like to thank our entire team and our esteemed local partners for making it possible. Indonesia is one of the world's most exciting markets, with rising affluence and accessibility helping to drive tourism all over the archipelago. We look forward to unveiling even more exceptional Indonesian hotels in future, as we continue to expand our presence nationwide," said Gavin M. Faull, Chairman and President, Swiss-Belhotel International.
Since arriving in Indonesia over 25 years ago, Swiss-Belhotel International has built an impressive portfolio of hotels and resorts across the country, from vibrant first tier cities to emerging second and third tier destinations. The company's diverse collection now encompasses 11 Indonesian islands, stretching from Sumatra in the west to Papua in the east.
This portfolio also covers a wide range of products, from five-star Grand Swiss Belhotel and Grand Swiss Belresort to classic three- and four-star Swiss-Belhotel, Swiss-Belresort and Swiss-Belboutique, extended-stay Swiss Belresidences and Swiss-Belsuites, three-star Swiss-Belinn and two-star Swiss-Belexpress. The company is also rolling out its contemporary budget brand, Zest Hotels, in a series of Indonesian destinations.
Whichever destination or brand guests choose, they will be greeted with a warm Indonesian welcome and provided with intuitive, international standard amenities.
"From Jakarta to Jayapura, Bali to Batam, Medan to Manado, Swiss-Belhotel International's Indonesian inventory now reaches every corner of the country. As Indonesia continues to emerge on to the international stage, our mission is to provide high-quality accommodation and graceful hospitality in every part of this exquisite archipelago," commented Mr Emmanuel Guillard, Senior Vice President of Operations and Development – Indonesia, Malaysia and Cambodia, Swiss-Belhotel International.
The next phase of Swiss-Belhotel International's Indonesian expansion is already in underway; the company will open the 227-room Swiss-Belhotel Darmo Surabaya late this year and the 252-room Swiss-Belhotel Solo early 2020.
Swiss-Belhotel International's success in Indonesia has not gone unnoticed; the group was named was named as "Indonesia's Leading Global Hotel Chain" at last year's Indonesia Travel and Tourism Awards (ITTA). This marked the eighth time it had won the award.
To learn more about Swiss-Belhotel International and to book your next Indonesian adventure, please visit www.swiss-belhotel.com.
For media contact:
Hina Bakht
Managing Director
EVOPS Marketing & PR
Mob: 00971 50 6975146
Tel: 00971 4 566 7355
Hina.bakht@evops-pr.com
www.evops-pr.com
Notes to Editors
Swiss-Belhotel International currently manages a portfolio of more than 145* hotels, resorts and projects located in Cambodia, China, Indonesia, Malaysia, Philippines, Vietnam, Bahrain, Egypt, Georgia, Iraq, Kuwait, Oman, Qatar, Saudi Arabia, United Arab Emirates, Australia, New Zealand, Bulgaria, Germany, Italy, Switzerland and Tanzania. Awarded Indonesia's Leading Global Hotel Chain for eight years, Swiss-Belhotel International is one of the world's fastest-growing international hotel and hospitality management groups. The Group provides comprehensive and highly professional development and management services in all aspects of hotel, resort and serviced residences. Offices are located in Hong Kong, New Zealand, Australia, China, Europe, Indonesia, United Arab Emirates, and Vietnam.
*Numbers may fluctuate