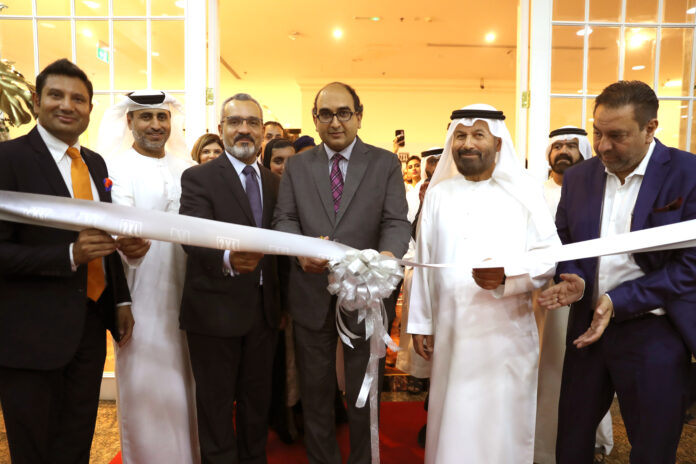 The Year of Tolerance Art Exhibition by 2XL Furniture & Home Décor was inaugurated last evening by H.E. Fernando Luís Lemos Igreja, Ambassador of Brazil, H.E. Vipul, Consul General of India, Mr. Abdul Qader Alrais, Celebrated Emirati Artist and Mr. Khalil Abdulwahid from Dubai Culture & Arts Authority.
The four-day event running from 11th to 14th September brings together over 100 leading and emerging, local and international artists from diverse nationalities to pay tribute to the UAE's spirit of peace and equality. On display at the show are over 250 spectacular artworks reflecting . Part of the exhibits is also Mr. Ram Kumar Tolani's precious Coin Collection that includes many rare coins and masterpieces.
Commenting on the exhibition, H.E. Fernando Luís Lemos Igreja, Ambassador of Brazil, stated, "In the UAE's Year of Tolerance it is a great initiative by 2XL Furniture & Home Décor to invite artists from all over the world for this wonderful exhibition. For Brazil, which is a country very proud of its diversity and culture of tolerance, it is very important to take part in this event through the works of distinguished Brazilian artists."
Mr. Suood Al Sadi, General Manager of 2XL Furniture & Home Décor, said, "We are proud to host this unique exhibition in commemoration of the Year of Tolerance in the UAE. Our objective with this show at 2XL has been to celebrate and salute the emirates as a global capital for tolerance."
Amit Yadav, Head of Marketing, 2XL Furniture & Home Décor, said, "The potential of art is enormous – be it in terms of interior design or bringing cultures and people together. Best of all art ignites ideas and allows people to share their experiences even if they see the world in radically different ways."
This year also marks the 150th birth anniversary of Mahatma Gandhi who is remembered the world over for his teachings of tolerance and respect and during the opening ceremony Midhun Mohan, a member of Art4You Gallery supported by Jesno, paid tribute to Gandhiji with his live painting.
Year of Tolerance Art Exhibition by 2XL Furniture & Home Decor
Venue: 2XL Furniture & Home Décor store on Al Wasl Road, Jumeirah, Dubai
Open to Public: 12th to 14th September 2019
Show Timings: Daily 10am to 10pm and on Friday from 2.30pm to 11pm
For More Information about the exhibition call 050-6975146 or email hina.bakht@evops-pr.com
For media contact:
Hina Bakht
Managing Director
EVOPS Marketing & PR
Mob: 00971 50 6975146
Tel: 00971 4 566 7355
Hina.bakht@evops-pr.com
www.evops-pr.com
About 2XL Furniture & Home Décor
UAE based 2XL Furniture & Home Décor is a retailer of luxury home furnishings since 2000.
The retailer currently has 9 showrooms across Abu Dhabi, Dubai, Sharjah, Fujairah and Al Ain. The 2XL product range includes exclusive bedroom, living and dining room furniture as well as exquisitely crafted décor items, unique gifting ideas, plush rugs and gorgeous wall art, divine bed and bath linen, eye-catching tableware, and a fun, functional kitchenware range.
The 2XL range is very classic and French-inspired. Each retail item has been carefully chosen exclusively for 2XL and denotes a lifestyle that is regal, sophisticated and of a finer taste. We have something to suit every home setting – from ornate gold-plated bedroom settings to the more subdued Parisian hues of shabby chic, quirky contemporary inspirations to more ethnic Eastern-inspired décor ideas.
For more information or to shop online please visit www.2xlme.com
Connect and tag us on @2xlfurniture
#2XLfurniture