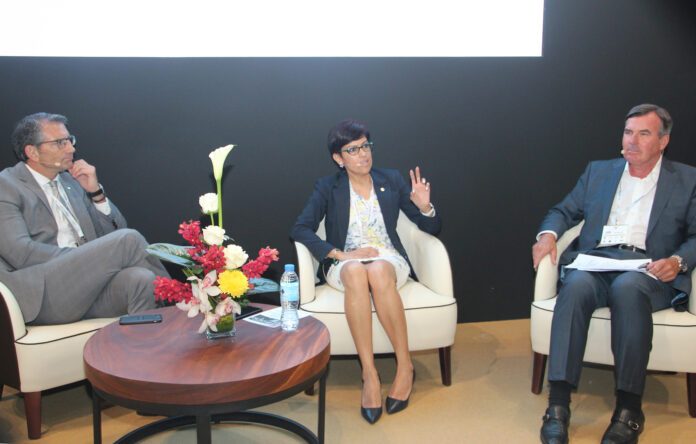 Priyanka Kapoor, Regional Director of Sales and Marketing for the Middle East and Africa at Swiss-Belhotel International participated last afternoon in an exciting panel discussion at the Hospitality Leadership Forum at The Hotel Show in Dubai.
Speaking on 'Managing the Ever-Changing Dynamics of Owner-Operator Communication, Priyanka stated, "New patterns of ownership, finance and management are emerging. Therefore, operators need to understand better today's owners and investors who are far more active and involved in all areas of hotel operations from selection of general managers to driving social media."
The business is becoming more complex and competitive for both owners and operators who are grappling with multiple challenges. Market is being disrupted by new forms of competition. Rates are constantly under pressure due to oversupply of rooms. Increasing costs of operations are adversely affecting profitability. Guests profiles and preferences are changing too who are looking for greater value for money along with better quality, greater convenience and unique experiences.
So, what needs to be done to manage the gabs between owners and operators? Priyanka stressed, "Both parties have to look at the equation differently. There is need for greater communication to build lasting relationships. It is important for operators to understand and listen to owners and react with solutions. Innovation is the key in every aspect of the business. We need to be inventive by outsourcing services, clustering roles and boosting efficiency by tapping into new technology. Alternative revenue generators should be developed. For their part owners must give operators a fair chance to implement new ideas with ample space and time."
For media contact:
Hina Bakht
Managing Director
EVOPS Marketing & PR
Mob: 00971 50 6975146
Tel: 00971 4 566 7355
Hina.bakht@evops-pr.com
www.evops-pr.com
About Swiss-Belhotel International
Swiss-Belhotel International currently manages a portfolio of more than 145* hotels, resorts and projects located in Cambodia, China, Indonesia, Malaysia, Philippines, Vietnam, Bahrain, Egypt, Georgia, Iraq, Kuwait, Oman, Qatar, Saudi Arabia, United Arab Emirates, Australia, New Zealand, Bulgaria, Germany, Italy, Switzerland and Tanzania. Awarded Indonesia's Leading Global Hotel Chain for eight years, Swiss-Belhotel International is one of the world's fastest-growing international hotel and hospitality management groups. The Group provides comprehensive and highly professional development and management services in all aspects of hotel, resort and serviced residences. Offices are located in Hong Kong, New Zealand, Australia, China, Europe, Indonesia, United Arab Emirates, and Vietnam.
*Numbers may fluctuate
For further information visit https://www.swiss-belhotel.com