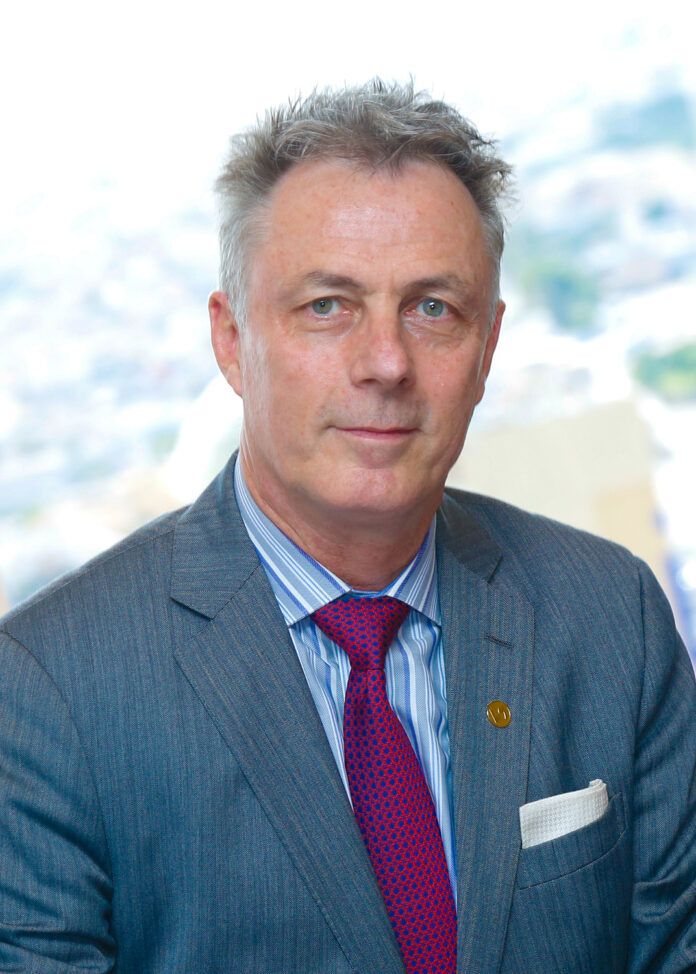 The much-awaited annual Hotelier Middle East Power 50 list is finally out! Laurent A. Voivenel, Senior Vice President, Operations and Development for the Middle East, Africa and India for Swiss-Belhotel International, has been ranked for the 6th consecutive year among the top hoteliers in the MENA region. Rising by 7 ranks compared to last year Laurent stood at spot 13. The prestigious Hotelier Power 50 list by Hotelier Middle East recognises and celebrates the region's 50 most influential hotel professionals for their outstanding performance.
Expressing his delight on this superb achievement, Laurent stated, "It is wonderful to be recognised by the region's most reputed and popular trade publication. It is an exceptional resource for the hospitality sector providing key industry insights and business trends. I would like to take this opportunity to thank the entire team of Hotelier Middle East who puts in tremendous effort and energy in bringing out this amazing list that is considered the definitive ranking of the region's hospitality players. I would also like to congratulate all fellow hoteliers who made it to the list."
With more than 32 years of experience, including 18 in the Middle East, Laurent is focused on accelerating the growth of Swiss-Belhotel International in the region.
Elaborating on the group's expansion, Laurent said, "The next few months are very significant for Swiss-Belhotel International. We are very excited to introduce this year four new brands in the Middle East region from our unique and diversified portfolio of 14 brands giving greater choice to our guests. This creates a tremendous opportunity for growth as we expand our brand portfolio in the market offering more options to both owners and travellers in more destinations. For the first time in the region we have introduced brands such as Grand Swiss-Belresort, Swiss-Belboutique, Swiss-Belsuites and Swiss-Belinn."
The Middle East is the third largest growth market for Swiss-Belhotel International after Asia, New Zealand and Australia. Laurent stressed, "With 17% of our global portfolio of hotels centered in the Middle East and Africa region, comprising 3000 rooms, it is a very important region for us. Overall our strategy is to accelerate expansion across the MENA region whereby we have mapped out exciting opportunities. Our target is to have 25 hotels representing approximately 6000 rooms in the region. However, GCC will continue to be our biggest market with 60 per cent of portfolio concentrated here in high-growth business and leisure destinations by 2025."
For media contact:
Hina Bakht
Managing Director
EVOPS Marketing & PR
Mob: 00971 50 6975146
Tel: 00971 4 566 7355
Hina.bakht@evops-pr.com
www.evops-pr.com
About Swiss-Belhotel International
Swiss-Belhotel International currently manages a portfolio of more than 145* hotels, resorts and projects located in Cambodia, China, Indonesia, Malaysia, Philippines, Vietnam, Bahrain, Egypt, Georgia, Iraq, Kuwait, Oman, Qatar, Saudi Arabia, United Arab Emirates, Australia, New Zealand, Bulgaria, Germany, Italy, Switzerland and Tanzania. Awarded Indonesia's Leading Global Hotel Chain for eight years, Swiss-Belhotel International is one of the world's fastest-growing international hotel and hospitality management groups. The Group provides comprehensive and highly professional development and management services in all aspects of hotel, resort and serviced residences. Offices are located in Hong Kong, New Zealand, Australia, China, Europe, Indonesia, United Arab Emirates, and Vietnam.
*Numbers may fluctuate
For further information visit https://www.swiss-belhotel.com