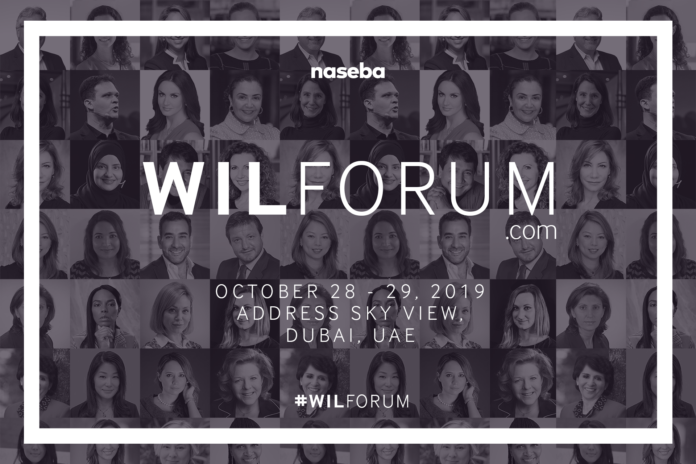 Women in Leadership Economic Forum (WIL) by Naseba, the largest female economic empowerment platform in the Middle East will take place in Dubai on October 28 and 29 at the soon to be opened Address Sky View Hotel Dubai. Supported by corporate partners such as Siemens, Allergan, FedEx, Philip Morris, PWC, Emaar and General Motors and co-hosted by Emaar Hospitality, this year's forum will gather senior executives, men and women who want to shape the economies and societies of tomorrow to 'Dare to Build a Better Future', to lead in times of constant change with vision and courage, to learn from those organisations that are closing the gender gap and to build a community of game changers.
According to industry reports, gender empowerment means higher growth, a reduction in inequality, an improvement in the strength of the economy and a more diversified work force. It has been established that more women in the workplace could boost economy by up to 35%.
Sophie Le Ray, CEO of Naseba, said, "Change is rippling through business and social spheres. However, only when talk turns to action, will we see a level playing field once and for all. In addition to support the development of gender equity in society, WIL Forum is a platform for people and organisations with bold ideas, vision for progress, in a post #metoo era where the gender divide discussion has finally made it to the boardroom. We (men and women) cannot afford to lose this momentum and must leave our society in a better shape than we found it".
WIL Economic Forum will bring to the fore regional and international leaders who are pioneering new possibilities in their fields to positively impact and promote a gender inclusive economy. Plenary discussions debating game changing mega trends such as the future of the workforce, AI and gender bias, migration, education as an inclusion tool will alternate with highly interactive breakout sessions giving practical takeaways and toolkits to the audience on a variety of topics such as: managing a corporate career, connecting and building an effective network.
About Naseba
Naseba creates growth opportunities, connecting people, partners and ideas. Focused on deal facilitation, it helps clients raise capital, close sales, enter new markets, secure partners and educate workforces. Naseba creates opportunity and adds economic value at every stage of our client's journey.
Since 2002, Naseba has facilitated more than a billion dollars' worth of deals and has connected over 100,000 global executives through more than 1,000 proprietary business platforms in liquid growth markets.
Naseba is a signatory of the Women's Empowerment Principles – Equality Means Business, produced and disseminated by the United Nations Entity for Gender Equality and the Empowerment of Women (UN Women) and the United Nations Global Compact.
For media contact:
Hina Bakht
Managing Director
EVOPS Marketing & PR
Mob: 00971 50 6975146
Tel: 00971 4 566 7355
Hina.bakht@evops-pr.com
www.evops-pr.com