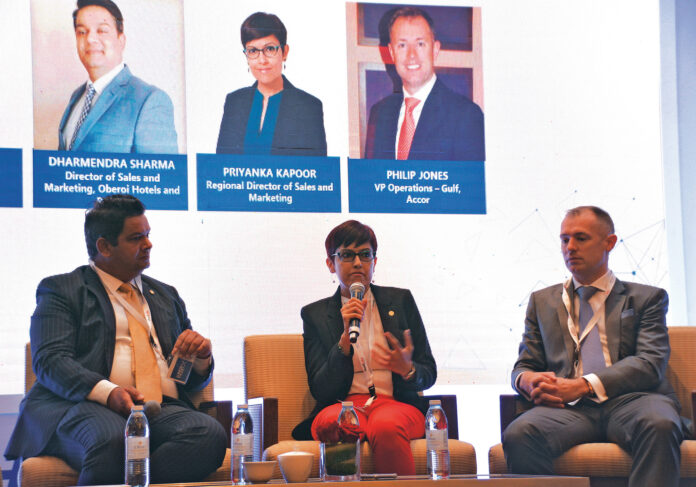 Participating in a panel discussion today on Future Techniques for Customer Satisfaction in Hotels and Airlines at the Travel Tech Middle East, Priyanka Kapoor, Regional Director of Sales and Marketing for the Middle East and Africa at Swiss-Belhotel International highlighted the continued significance of API and CRM.
Priyanka said, "With the changing demographics of the traveler, API and CRM are becoming more important and also evolving into more complex structures. Of course, we all know that data is the key to making any of these interfaces effective. However, it is interesting to note how the interface is currently using extensive 'Data Analytics' and looking at further becoming heavily dependent on 'Artificial Intelligence' … in order to provide the impact that the customers desire."
Elaborating on the importance of partnering with the right technology providers, Priyanka stressed, "It is a fact that hotels do not spend as much as some other sectors on technology but that is where the industry must understand the need to partner with the right technology providers in order to enhance the offering of API and CRM to the customer. And while partnering with other parties, we prefer to go with a few key providers (even exclusive ones) at the Group level, because our first and foremost objective is 'responsibility towards data protection'… which is a growing concern as we move forward with technological advancements. Whatever we offer through our systems, we want the customer to feel safe and comfortable in sharing their information with us."
According to Priyanka, people and service will continue to be the cornerstone of hospitality despite the advances in technology. She said, "Let's use technology and data analysis, not just to understand our customers, but also to understand our changing work force better. We are seeing a shift in work culture with newer generations coming into the workspace – Millennials to Gen Z and after a few years Gen Alpha will be a part of it. All of them have their peculiar traits and being in the people industry if we don't understand our own people and don't make the necessary work culture changes, it will be challenging to have happy customers."
For media contact:
Hina Bakht
Managing Director
EVOPS Marketing & PR
Mob: 00971 50 6975146
Tel: 00971 4 566 7355
Hina.bakht@evops-pr.com
www.evops-pr.com
About Swiss-Belhotel International
Swiss-Belhotel International currently manages a portfolio of more than 145* hotels, resorts and projects located in Cambodia, China, Indonesia, Malaysia, Philippines, Vietnam, Bahrain, Egypt, Georgia, Iraq, Kuwait, Oman, Qatar, Saudi Arabia, United Arab Emirates, Australia, New Zealand, Bulgaria, Germany, Italy, Switzerland and Tanzania. Awarded Indonesia's Leading Global Hotel Chain for eight years, Swiss-Belhotel International is one of the world's fastest-growing international hotel and hospitality management groups. The Group provides comprehensive and highly professional development and management services in all aspects of hotel, resort and serviced residences. Offices are located in Hong Kong, New Zealand, Australia, China, Europe, Indonesia, United Arab Emirates, and Vietnam.
*Numbers may fluctuate
For further information visit https://www.swiss-belhotel.com