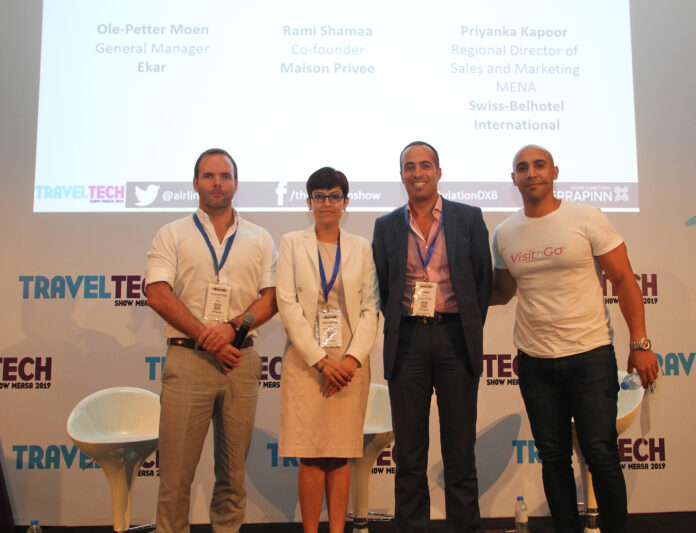 Priyanka Kapoor, Regional Director of Sales and Marketing for the Middle East and Africa at Swiss-Belhotel International joined a panel discussion today on 'how sharing economy is disrupting the norm' at the Travel Tech Show MEASA 2019.
Commenting on adopting alternative travel, accommodation and activity products into the customer facing shelf, Priyanka said, "We are in an era of sharing economy which has created a healthy ecosystem with alternative accommodation innovations. In the last two decades we have seen many disruptions in our industry by a number of non-traditional hotel players such as Airbnb and HomeAway. The rise in the popularity of private accommodation platforms presents opportunities as well as challenges for hotels."
According to Priyanka non traditional accommodation options and hotels complement each other and help to grow and diversify tourism in a destination giving more choice to tavellers. She stressed, "We all need each other. A lot of boutique hotels are using Airbnb just the way they use OTA platforms. Typically OTAs charge hotels 15 to 25% fee per reservation while Airbnb charges 10 to 15% commission from hosts on every booking. So any hotel that needs to fill up rooms can benefit from Airbnb as one of their marketing arms."
Commenting on other facets of sharing economy, she added the need to look at the wider aspect of being a part of the digital marketplace, where the offering has to be diversified to meet the changing demographics of the travelers. Travel platforms need to come together with other industries in order to give a one-stop solution to the traveler that is seeking an overall experience.
Elaborating on how Swiss-Belhotel International is leveraging existing data to capitalise on the new norm of sharing, Priyanka continued "At Swiss-Belhotel International we are well placed to take advantage of the evolving digital marketplace by listing our properties on alternative travel sites. We have integrated the CRM with real-time data in order to provide information to our guests about the ongoing events and activities across our hotels. In addition, to communicate better with our partners we are making use of the growing share of XML-API connectivity and much more."
For media contact:
Hina Bakht
Managing Director
EVOPS Marketing & PR
Mob: 00971 50 6975146
Tel: 00971 4 566 7355
Hina.bakht@evops-pr.com
www.evops-pr.com
About Swiss-Belhotel International
Swiss-Belhotel International currently manages a portfolio of more than 145* hotels, resorts and projects located in Cambodia, China, Indonesia, Malaysia, Philippines, Vietnam, Bahrain, Egypt, Georgia, Iraq, Kuwait, Oman, Qatar, Saudi Arabia, United Arab Emirates, Australia, New Zealand, Bulgaria, Germany, Italy, Switzerland and Tanzania. Awarded Indonesia's Leading Global Hotel Chain for eight years, Swiss-Belhotel International is one of the world's fastest-growing international hotel and hospitality management groups. The Group provides comprehensive and highly professional development and management services in all aspects of hotel, resort and serviced residences. Offices are located in Hong Kong, New Zealand, Australia, China, Europe, Indonesia, United Arab Emirates, and Vietnam.
*Numbers may fluctuate
For further information visit https://www.swiss-belhotel.com