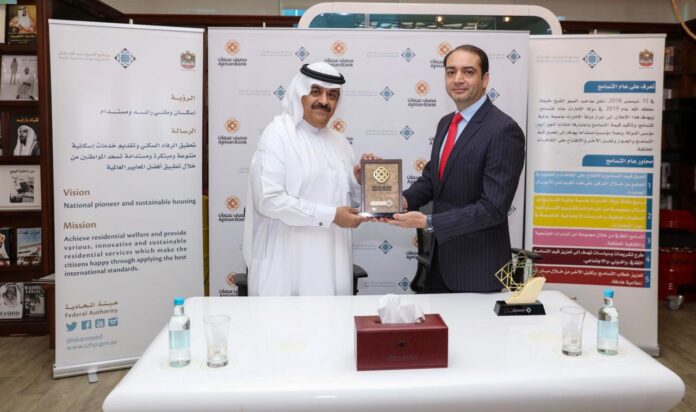 Ajman Bank has been declared the winner of GCC's Best Brand Citation Award by CMO Global. Endorsed by World Federation of Marketing Professionals, World Sustainability and World CSR Day, the prestigious accolade seeks to identify and celebrate outstanding brand building and marketing by organisations, individuals and teams from across the region. The award was presented to Ms Maryam Al Shorafa, the Vice President and Head of Marketing and Corporate Communications for Ajman Bank, at a gala ceremony held at The Address Dubai Mall, Dubai.
Mr. Mohamed Amiri, Chief Executive Officer, Ajman Bank, said, "We are honoured to receive this distinguished award that benchmarks ingenuity and excellence while celebrating professionals that make a real difference in our industry. With an outstanding all-round experience, Maryam represents the successful leadership model at Ajman Bank who has been playing an instrumental role in supporting the bank's vision and long-term growth through her strategic marketing perspective and innovative policy acumen in the most critical areas".
Accepting the award, Ms Maryam, stated, "I am really honoured to receive this prestigious award and would like to share it with all my team members. I would also like to take this opportunity to thank our entire management who have been extremely supportive at every step of our journey. The scale of transformation sweeping the marketing sector is truly remarkable. Technological innovation and digitalisation are creating major disruption in our industry and it is exciting to continue building on our success. Awards such as this motive us to do better."
The purpose behind the awards is to foster innovative marketing practices in the GCC as well as recognize those brands and marketers who have achieved extraordinary success. The winners are chosen for marketing excellence based on consumer preference supported by an independent academic council.
As a member of the executive committee, Ms Maryam is responsible for the strategic market positioning of Ajman Bank and leads the enterprise-wide brand and media strategy for both consumer and commercial products and services. In addition, she overseas customer research and analytics as well as wealth management marketing programs for the organization.
About Ajman Bank
Ajman Bank is an Islamic bank with an ambitious vision based on values of integrity, trust and transparency seeks to provide a wide range of Sharia-compliant and high-quality banking services to customers from individuals, companies and government institutions across the UAE. It is also keen to be updated with the latest technology that will ensure customers a distinctive experimental banking with the revival of human touch that is lost in the modern era of banking application.
Ajman Bank is headquartered in Ajman and enjoys the strong support of the Government of Ajman and is a key pillar in the emirate's economic development strategy. The bank continues its tireless efforts to establish a prominent position in the banking sector as a sustainable Islamic banking institution, with an emphasis on the need to achieve an optimal balance in the community and caring staff, in order to provide real value for shareholders and customers alike. For more information visit http://www.ajmanbank.ae
For media contact:
Hina Bakht
Managing Director
EVOPS Marketing & PR
Mob: 00971 50 6975146
Tel: 00971 4 566 7355
Hina.bakht@evops-pr.com
www.evops-pr.com