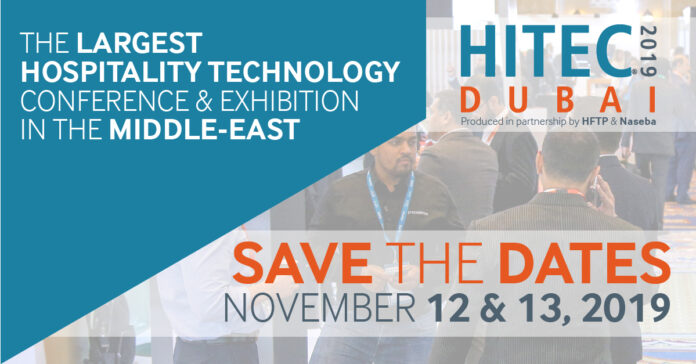 DUBAI: HITEC Dubai 2019, the Middle East's largest hospitality technology show for hotels organised by Hospitality Financial and Technology Professionals (HFTP®) and Naseba, and endorsed by Dubai Tourism, will bring together over 2000+ Hospitality professionals, 100+ exhibitors and 30+ leading thought leaders from across the region. The mega event will be held this year on November 12 and 13 at the Festival Arena by Intercontinental at Dubai Festival City.
HITEC will give Middle East buyers – currently worth over USD 75 billion – access to top solution providers exhibiting the latest in hospitality technology at the show, an intensive education program planned by the expert HITEC Dubai 2019 Advisory Council, as well as a summit with one-to-one business meetings. The show is expected to grow by 15% compared to last year in terms of number of exhibitors.
HITEC Dubai's Advisory Council Chairperson Laurent A. Voivenel, Senior Vice President, Operations and Development for the Middle East, Africa and India for Swiss-Belhotel International, said, "Technology and digitalisation are transforming the hotel industry like never before which has boosted competitiveness and efficiency at every step of our business. As a result, we are all eager to know about and assess the most suitable technologies to invest in. HITEC Dubai will be great opportunity to see the latest trends and innovations shaping our industry."
Ammar Shunnar, General Manager, Sky Software Co. LLC, commented, "We are excited to be at HITEC Dubai this year to showcase our next generation hospitality Cloud based products and solutions. Our recent developments range from Sky Horizon Quality Management & Guest Services Suite to Bayan Human Resources Management Suite and Jana Purchase & Materials Management Suite including the multiple Mobile applications associated with those systems."
Sky Software had recently announced its complex cluster multi property cloud-based solutions in response to the ever increase demand from hospitality groups on clustering and outsourced models of management. Sky Software is also focused on enhancing various mobility applications – both management and client facing – in terms of connectivity and integration.
Anoop Paul, Chief Sales Officer of VDA Middle East, said, "We are very excited to be at HITEC Dubai. 2019 is an important year for VDA Group, because It marks two important milestones: the Next generation vision, where VDA unveils its new brand identity and prepares to take on the new challenges of Guest Experience in Room Automation & Interactive TV and secondly the twenty-year anniversary of VDA Middle East."
Denis George, Chief Operating Officer of VDA Middle East, stressed, "With R&D support and our fourty-years of experience, VDA Group has recently developed – for a project in Dubai called JA Lake View Resort – an integration between our GRMS & Interactive TV and Amazon Alexa. Thanks to Volara, a NY based company which specializes in Alexa based integrations, the guest can control using voice commands the lights, curtains, AC, TV and also interact with other hotel systems like HotSOS to request for services like housekeeping. For us this project is a milestone in terms of integration with voice control, and this shows that VDA Group believes in innovation and that we are able to give concrete answers to a constantly evolving market."
Mohamed Tawfik, ACT International CEO: "Unlocking the true POWER of Customer Experience and unleashing possibilities of the Hospitality Industry has been our mission for 30+ years. Being in the era of revolutionizing the future of the hospitality industry, the Hotels' IT function is no longer a supportive function, but a strategic focus of pioneer Hoteliers who are working to create a more customer centric experiences that is linked to their business strategies, hence we are excited to be at HITEC this year since it's the largest hospitality platform in the region, in which we can connect to the hospitality industry stakeholders worldwide."
About HITEC Dubai
Hospitality Industry Technology Exposition and Conference (HITEC®) is the world's largest and oldest hospitality technology exposition and conference brand. HITEC offers a unique combination of top-notch education and brings together the brightest minds and hottest technologies from across the globe to one place.
Hospitality Financial and Technology Professionals (HFTP®), producers of HITEC, will partner with Naseba, a business facilitation company, to bring the brand to Dubai. Making the event accessible to buyers from the lucrative Middle Eastern market, currently worth over USD 75 bn.
The show will offer an education program and exhibits. In addition, HITEC Dubai will feature a summit with one-to-one business meetings that have become the hallmark of Naseba's platforms. Hoteliers attending the summit portion of HITEC Dubai will be pre-qualified to confirm their purchasing authority, budgets, timelines and solutions of interest.
About HFTP
Hospitality Financial and Technology Professionals (HFTP®), established in1952, is a hospitality nonprofit association headquartered in Austin, Texas USAwith offices in Hong Kong, United Kingdom, The Netherlands and Dubai. HFTP isrecognized as the spokes group for the finance and technology segments of thehospitality industry with an international network of members and stakeholders.HFTP uniquely understands the industry's pressing issues, and assists itsstakeholders in finding solutions to their challenges more efficiently than anyorganization. HFTP offers expert networks, educational resources, careerdevelopment programs, research, leadership opportunities and conferences andevents. HFTP produces international events throughout the year, including theworld's largest hospitality technology tradeshow and conference brand: HITEC. The association also owns theworld's only hospitality-specific search engine: PineappleSearch.com®. Formore information about HFTP, visit www.hftp.org.For thelatest news, visit the HFTP News page at news.hftp.org and the HFTP Connect blog at blog.hftp.org.
Follow HFTP on social media Facebook(@HFTPGlobal); LinkedIn; Twitter(@HFTP); Instagram(@HFTP_HITEC). Stay tuned to HFTP's industry-specific, informational newssites: HFTPNews, HITEC Bytes, HFTP Club Bytes, HFTP Finance Bytes, HFTP GDPR Bytes and HFTP FB Bytes. HFTPevent photos are available on Flickr, andHFTP event videos are available on YouTube.
For media contact:
Hina Bakht
Managing Director
EVOPS Marketing & PR
Mob: 00971 50 6975146
Tel: 00971 4 566 7355
Hina.bakht@evops-pr.com
www.evops-pr.com