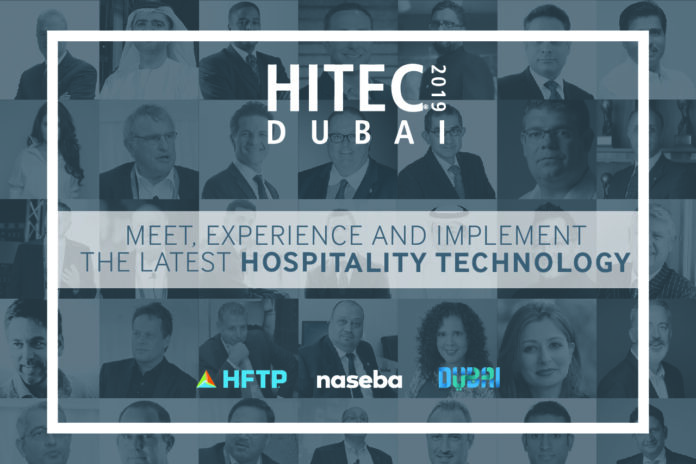 DUBAI: What will the hotel room look like in the future?Those wanting to know the answer must attendHITEC Dubai 2019, the Middle East's largest hospitality technology show for hotels organised by Hospitality Financial and Technology Professionals (HFTP®) and Naseba, and endorsed by Dubai Tourism. The mega event will be held on November 12 and 13 at the Festival Arena by Intercontinental at Dubai Festival City.
HITEC Dubai's Advisory Council Chairperson Laurent A. Voivenel, Senior Vice President, Operations and Development for the Middle East, Africa and India for Swiss-Belhotel International, said, "Technology is offering us new and almost unimaginable options which in turn is transforming our business faster than ever. In-room technology is a critical choice that needs to be made by hotels to meet the guest expectations and maximize their experience. We are eager to see at HITEC Dubai the latest systems and products that are breaking new ground in our industry.
Among the leading companies present at HITEC will be SAWA that offers bespoke packaging per hotel based on both national travellers' statistics and individual hotel's experience. In addition to SAWA's extensive International channel lineup from the MENA region, China, Germany, UK, UAE, France, Spain and more, SAWA offers hotels advanced movie on demand solution ensuring the latest blockbusters from Hollywood for hotel guests.
"We are excited to showcase our solutions and services to all hotels and system integrators during HITEC 2019. HITEC is an effective platform to introduce our products and services to every hotel embracing new technologies to serve guests better and maximize guest loyalty", Ali Ajouz, CEO of SAWA Technology.
Avaya will use HITEC Dubai as the launchpad for its latest intelligent Hotel Room Experience solutions, which includes the award-winning Avaya Vantage™ portfolio of Avaya IX™ Multimedia Devices as the smartphone application platform designed to transform any hotel room for a unique guest experience. The digital solutions can provide services at the touch of a screen or even on voice command, including venue information, promos, a city guide, in-room dining, housekeeping, spa reservations, restaurant bookings, thermostat control, door lock, door camera, plus IPTV and set-top-box integration.
At the event, Avaya will demonstrate numerous case studies on the Avaya hospitality phones series and Avaya Vantage, using solutions that showcase the power of the company's Client SDK for hospitality. Avaya will also demonstrate the latest version of its Avaya hospitality application, which has been leveraged to provide powerful and compelling features for hoteliers, as well as offer visuals for new user interfaces.
"According to our research, being a step ahead of customers with great recommendations, easy identification, and using new technologies to make stays super-efficient, are among the top priorities for UAE residents regularly engaged with hotel groups. Avaya's solutions not only deliver these capabilities, and more, for the region's hoteliers, but go the extra mile by seamlessly blending them into the overall guest experience to create unforgettable stays. Indeed, we're enabling leading hotels and resorts to provide the experiences that convert customers into full-scale brand advocates," said Frederick Sabty, Vice President – Hospitality and Healthcare Solution, Avaya International.
HITEC will bring together leading Hospitality professionals, 100+ exhibitors and 30+ leading thought leaders from across the region. It will give Middle East buyers – currently worth over USD 75 billion – access to top solution providers exhibiting the latest in hospitality technology at the show, an intensive education program planned by the expert HITEC Dubai 2019 Advisory Council, as well as a summit with one-to-one business meetings.
About HITEC Dubai
InboxHospitality Industry Technology Exposition and Conference (HITEC®) is the world's largest and oldest hospitality technology exposition and conference brand. HITEC offers a unique combination of top-notch education and brings together the brightest minds and hottest technologies from across the globe to one place.
Hospitality Financial and Technology Professionals (HFTP®), producers of HITEC, will partner with Naseba, a business facilitation company, to bring the brand to Dubai. Making the event accessible to buyers from the lucrative Middle Eastern market, currently worth over USD 75 bn.
The show will offer an education program and exhibits. In addition, HITEC Dubai will feature a summit with one-to-one business meetings that have become the hallmark of Naseba's platforms. Hoteliers attending the summit portion of HITEC Dubai will be pre-qualified to confirm their purchasing authority, budgets, timelines and solutions of interest.
About HFTP
Hospitality Financial and Technology Professionals (HFTP®), established in1952, is a hospitality nonprofit association headquartered in Austin, Texas USAwith offices in Hong Kong, United Kingdom, The Netherlands and Dubai. HFTP isrecognized as the spokes group for the finance and technology segments of thehospitality industry with an international network of members and stakeholders.HFTP uniquely understands the industry's pressing issues, and assists itsstakeholders in finding solutions to their challenges more efficiently than anyorganization. HFTP offers expert networks, educational resources, careerdevelopment programs, research, leadership opportunities and conferences andevents. HFTP produces international events throughout the year, including theworld's largest hospitality technology tradeshow and conference brand: HITEC. The association also owns theworld's only hospitality-specific search engine: PineappleSearch.com®. Formore information about HFTP, visit www.hftp.org.For thelatest news, visit the HFTP News page at news.hftp.org and the HFTP Connect blog at blog.hftp.org.
Follow HFTP on social media Facebook(@HFTPGlobal); LinkedIn; Twitter(@HFTP); Instagram(@HFTP_HITEC). Stay tuned to HFTP's industry-specific, informational newssites: HFTPNews, HITEC Bytes, HFTP Club Bytes, HFTP Finance Bytes, HFTP GDPR Bytes and HFTP FB Bytes. HFTPevent photos are available on Flickr, andHFTP event videos are available on YouTube.
For media contact:
Hina Bakht
Managing Director
EVOPS Marketing & PR
Mob: 00971 50 6975146
Tel: 00971 4 566 7355
Hina.bakht@evops-pr.com
www.evops-pr.com