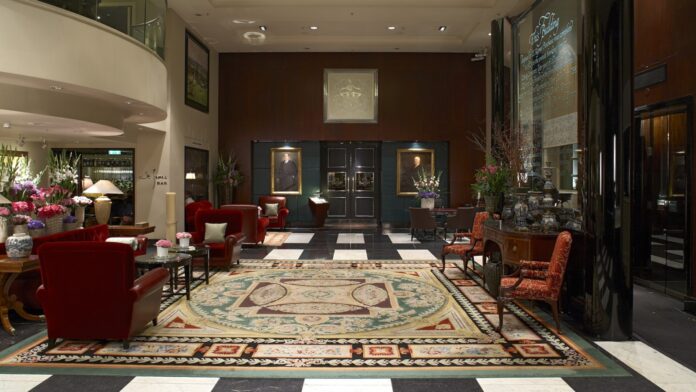 Known as one of the most prestigious hotels in London, this Grade- II listed building – Sofitel St James needs no introduction. 2019 marks a special era for the hotel as it boasts of a luxurious redesign by renowned French interior designer Pierre-Yves Rochon. Rochon's update to his original 2002 design is a masterpiece inspired by the creative, dynamic feel of society and culture of 1960's London through the blending of bold British design with contemporary French elegance. The hotel encapsulates the 'modern luxury' of the Sofitel brand, continuing the mix of modern French and British designs, with a fresh, contemporary feel in the rooms.
The Lobby
Upon entering through the impressive entrance, guests are instantly immersed in an atmosphere of traditional English décor combined with refined French elegance. The lobby welcomes you onto a strikingly gorgeous carpet overlooked by a semi-circular mezzanine demonstrating the contemporary yet classically elegant style of the hotel with its high ceilings, large windows adorned with beige blinds and white marble floors. There is a fascinating balance created in the entrance hall to signify the old-world allure and modernism created by the presence of carefully placed vestiges of the building's past and modern design elements, including specially commissioned pieces of English and French contemporary artists. Little known fact – the entrance hall was formerly the banking hall of Cox's & King's, to honour this former existence you'll see the original Cox's & King's coat of arms hanging at one end of the lobby, a subtle blend into Pierre-Yves Rochon's smartly envisioned design element.
Room Décor
Pierre-Yves Rochon's renovation of the guestrooms and suites at Sofitel London St James elevates the spirit of its historic neoclassical exterior by infusing a more modern, yet still distinctly British design in the guest rooms. The hotel blends contemporary French elegance with a bold British design scheme that recalls the creative, dynamic feel of the 1960's and 70's society and culture in London, the new design showcases Sofitel's commitment to celebrating local culture in every property. Vibrant, edgy British design is conveyed through the use of striking colours, modern pop art pieces and whimsical accents and accessories. A classic British tartan carpet and custom designed lamps are given a playful spirit through bold patterns and colours. The pop-art style artwork is a mix of abstract pieces and iconic British celebrities of the 60s, such as Twiggy, reinforcing the upbeat atmosphere and sense of place.
The prominent use of eclectic accessories, as well as a new bar and desk area, adds an inviting, residential touch. The reflective mirror, chrome and lacquered finishes create a generous sense of space and modernity, while fabric wall panelling, and whimsical geometric printed wall coverings add to the sense of luxury and warmth. The quality of finishes and custom pieces reinforce a design approach that places the modern guest on top of ones mind, where functionality, comfort and technology are equally considered and integrated in line with Sofitel brand standards. While these design elements are a part of all room categories, The Prestige Suites and Junior Suites spread across each of the floors, include impressive views of Waterloo Place and Pall Mall.
Wild Honey St James
Formerly known as The Balcon, this space has now transformed into an exciting collaboration with renowned chef Anthony Demetre and a re imagination of his iconic restaurant concept Wild Honey (previously in Mayfair). Now called the Wild Honey St James the restaurant offers the finest seasonal British produce complimented by a contemporary French cooking style. Redesigned and refurbished by renowned designer Jim Hamilton, the restaurant's aura comes across as an apt extension sitting in harmony with the hotel's overall new design direction. St James Bar, a cocktail destination within the restaurant is also redesigned to create a truly decadent and intimate space.
The famous combo of head Chef Simon Woodrow and chef Anthony Demetre from the old gem Arbutus fame and the original Wild Honey in Mayfair have collaborated once again to recreate the magic at Wild Honey St James on menus which feature contemporary French cooking with nods to the British Isle.
Signature dishes we tried were:
– Burrata, trumpet courgettes, nasturtium, dukkha
– Traditional bouillabaisse
– Hand cut macaroni 'Cacio e Pepe'. Crisp chicken wings
– Roast saddle of rabbit with slow-cooked shoulder cottage pie
– Classic English custard tart
– London Wild Honey ice cream
– Peach Clafoutis
The wine list features an extensive collection, covering both new and old world, we were served a classic Negroni to start with followed by connoisseur picked champagne, white wine and red wine all paired perfectly that complimented the flavours and courses finely. Wild Honey also has the ideal private setting for a business lunch or social gathering for up to 16 guests. The Private Dining Room of Wild Honey St James has a contemporary and creative feel, surrounded by striking art pieces. With a fabric curtain, the space can be divided into two smaller intimate spaces.
The Rose Lounge
The Rose Lounge sets a feminine tone with its cream and pink colour scheme, creating a fresh ambience complemented by stunning displays of fresh flowers. The Rose Lounge is the ideal place to unwind and socialise or to enjoy afternoon tea.
Spa
Distributed over three floors, the spa has retained the original features of the building with an elegant oak staircase, rose coloured marble walls, high plaster ceilings with intricate detailed decorative mouldings and Corinthian style marble columns. A dark oak pavilion structure houses a social Tea Bar and retail boutique flooded with natural light coming from large windows, where guests can relax after treatments while enjoying a cup of tea. The spa journey begins with the view of a small French parterre style garden guarded by a large topiary French poodle, giving the space a very relaxing and refined ambience.
Other Information
Experience all that London has to offer, with many of the capital's renowned attractions just steps away, from world-class museums and iconic landmarks to fabulous shopping and unforgettable dining.
Iconic Landmarks : Sofitel London St James is minutes from London's iconic historical attractions, including Westminster Abbey, Big Ben and Trafalgar Square.
Parks Many of London's Royal parks are close to the hotel. Stroll through London's Royal parks, including St James's Park, Green Park, Hyde Park and Kensington Gardens.
Museums & Galleries: Experience visual art at Tate Modern, or visit the Serpentine Galleries in Hyde Park. The hotel is close to West End museums, including the Saatchi Gallery, V&A and Tate Britain.
Theatre: Minutes from world-class theatres: The Victoria Palace Theatre, Apollo Theatre, St James Theatre and The Royal Opera House.
Social Channels
Facebook: @SofitelLondonSaintJames
Twitter: @SofitelLondonSJ
Instagram: @sofitellondon

Facebook: @WildHoneyStJames
Twitter: @WildhoneySJ
Instagram: @WildHoneyStJames

Instagram: @StJamesBarLondon
Contact details
Sofitel London St James 6 Waterloo Place SW1Y 4AN, London – United Kingdom
Tel: +44 (0)20 7747 2200
E-mail: H3144@sofitel.com
W: https://sofitelstjames.com/