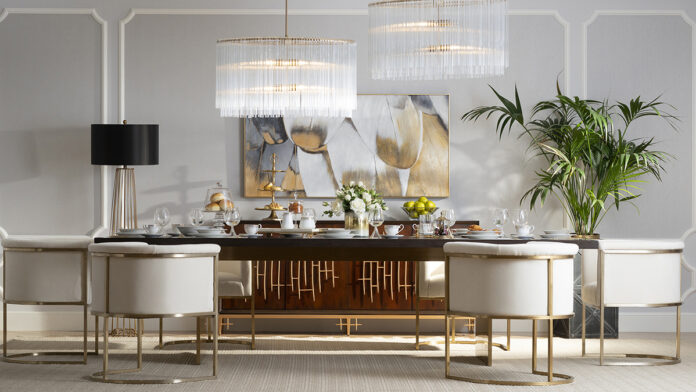 The festive season is here, and it is time to jazz up your dining room. Be it an intimate dinner, family celebration or a grand holiday bash, 2XL Furniture & Home Décor, has got you covered. The festive collection at 2XL includes superb range of luxe dining tables, gorgeous decorations, spectacular centerpieces, creative candle lights and extravagant tableware and cutlery sets.
Amit Yadav, Head of Marketing at 2XL Furniture & Home Décor, said, "The festive season calls for opulence. You can elevate the dining experience of your guests by transforming the entertainment space into a statement spot. At 2XL we have a wide selection of products in gold, white and black to help you achieve the right balance between classic sophistication and over-the-top glamour."
Here's what is on offer at 2XL Furniture & Home Décor:
Product Description: Mariano dining chair
Dimension: 66x58x76cm
Material: Velvet
Price: AED 784
Colour: Off white
Product Description: Bowl with Gold base
Dimension: 20x13cm
Material: Clear Glass
Price: AED 119
Product Description: Nut Dish in Matt Gold
Dimension: L16cm
Material: Stainless Steel
Price: AED 74
Product Description: Tray Marble with Knife
Dimension: L38-BC
Colour: Gold & white
Material: Marble
Price: AED 246
Product Description: Syros Dining Table
Dimension: 240x115x76cm
Colour: Black
Material: Marble
Price: AED 8,621
Product Description: Glass Bowl with Base
Dimension: 25x20cm
Colour: Champagne Colour
Material: Glass
Price: AED 141
Product Description: Set of 45 Rosica Dinner Set
Colour: Grey
Material: New Bone China
Price: AED 474
Product Description: Pendant Lamp Gold
Dimension: 110x110x37cm
Material: Aluminium
Price: AED 2,996
Product Description: Set of 6 Tea Glass Guelmim
Dimension: 6×9.5cm
Material: Glass
Price: AED 44
Product Description: Set of 2 Cheese Server
Dimension: 38x14x5cm
Material: Brass
Price: AED 66
Product Description: Glass Container with Cover
Dimension: 18.5cm
Material: Glass
Price: AED 108
For media contact:
Hina Bakht
Managing Director
EVOPS Marketing & PR
Mob: 00971 50 6975146
Tel: 00971 4 566 7355
Hina.bakht@evops-pr.com
www.evops-pr.com
About 2XL Furniture & Home Décor
UAE based 2XL Furniture & Home Décor is a retailer of luxury home furnishings since 2000.
The retailer currently has 9 showrooms across Abu Dhabi, Dubai, Sharjah, Fujairah and Al Ain. The 2XL product range includes exclusive bedroom, living and dining room furniture as well as exquisitely crafted décor items, unique gifting ideas, plush rugs and gorgeous wall art, divine bed and bath linen, eye-catching tableware, and a fun, functional kitchenware range.
The 2XL range is very classic and French-inspired. Each retail item has been carefully chosen exclusively for 2XL and denotes a lifestyle that is regal, sophisticated and of a finer taste. We have something to suit every home setting – from ornate gold-plated bedroom settings to the more subdued Parisian hues of shabby chic, quirky contemporary inspirations to more ethnic Eastern-inspired décor ideas.
For more information or to shop online please visit www.2xlme.com
Connect and tag us on @2xlfurniture
#2XLfurnituress